Shopping for bras in general is never easy, but finding a plus-size bra that offers both support and style can be even more difficult.
If you've been searching for your perfect fit for quite some time and are ready to throw in the towel, we feel your pain. But we also have a few handy tricks to share, courtesy of four excellent bra experts. Applying their insight, we've also sourced what we think are the best options to help you look and feel your best.
Read on to find out what you should consider when shopping and which plus-size bras are best — or jump directly to our list of the 16 best plus-size bras in multiple style categories.
What to look for | What bra styles are best? | Bras with molded cups | Plunge, demi and T-shirt bras | Sports and active bras | Wire-free bras and bralettes | Full-coverage and minimizer bras | Plus-size bra FAQs | Meet our experts
What to consider when shopping for a plus-size bra
Great plus-size bras can be particularly tricky to track down; we may get frustrated when we discover that we fit in multiple sizes in different brands. But the pros recommend paying more attention to how something feels than what the label says.
"The bra industry tends to generalize weight with size, and for plus-sized ladies, that means starting with a general sense of your size is key," says Athena Kasvikis, founder of Behave Bras. That means knowing your general measurements and figuring out how those equate to your cup and band sizes — and only once you've done that will you be ready to start the hunt for your perfect bra, she adds.
And Kasvikis speaks from both professional and personal experience; she says she wears a few different cup sizes from different brands.
"No two brands run the same. What I'm concerned with, though, is not what the size tag says, but how it fits and flatters my unique body," she explains.
Curvy ladies typically need a bit more support when it comes to their bras, so Kasvikis offers a few tips for getting the best fit.
If you want more support: "Try band sizes that are close to your measurements and ensure that your band is doing the heavy lifting (pun intended)," she says.
If you prefer a looser band: "Size ... to the next band up (next cup down) to ensure that you're customizing to fit your preferences and body," the fit expert suggests.
Focus on comfort: "Pay attention to the strap and side-wing size of the bras. You want to go for wider straps to better distribute breast weight across the shoulders (and avoid painful shoulder divots), and wider sides to decrease bulging and pinching under the arms," Kasvikis says.
Go for plus-size bra specialists: "If you have fuller breasts, look for a bra retailer that's a specialist in larger cup sizes, as they'll have a variety of options that not only work for your size but also range in styles so you aren't limited," advises Laura Franklin, a bra fitting expert at Bravissimo, a brand that caters to bust sizes D and above.
What bra styles are best for plus-size women?
There's not a particular bra style that works best for every beautiful curvy gal, but a few work quite well. Here's a quick cheat sheet from the pros.
Molded cups vs. unlined cups: "If you're more asymmetrical between breasts, you'll want to focus on molded cups, as the pre-shaped cup can hide asymmetry better and help balance out breasts. Adjusting each individual strap can also help to prevent gaping in cups for the smaller of the two breasts," Kasvikis explains.
Plunge, T-shirt and demi bras: "If you have a more bell-shaped breast (heavy on the bottom and sides), I recommend focusing on bras that are going to pull your side breast to the front of the chest and up-lift all that bottom weight. These three styles will be more flattering than balconettes because of how and where they're redistributing breast weight," Kasvikis says.
Top-notch technology: "Look for back-smoothing bras, no bounce solutions, light lift foam pad underwire and bras that offer cups with full coverage," says Dora Lau, founder and president of Dora L International, an intimate apparel global sourcing and design company. She adds, "Try wire-free bras, sports or active bras that can offer support and no bounce. ... Also try minimizer bras, which are particularly good for DDD and above, that offer slight compression, which give greater coverage, containment and support."
Best plus-size bras with molded cups
Style: Seamless unlined | Sizes: 30C-44H | Support level: Not specified | Coverage: Full | Straps: Adjustable
Prima Donna's soft, seamless satin bra gives a natural-looking shape with its luxuriously smooth material. The close-set straps are fully adjustable and won't slip off your shoulder. And, if you struggle with contact allergies, the padded underwire is nickel-free for a comfortable fit on the most sensitive skin.
Style: Double-layer, underwire cups | Sizes: 32C-44DDD | Support level: High, built-in inner sling support | Coverage: Full | Straps: Adjustable, close-set
Franklin says that a closer fit can give your cups extra support. She adds that styles with stretchy lace can feel more comfortable on the skin and give you fit flexibility — particularly if you have one boob that's bigger than the other.
The double-layer underwire cups of this bra by Wacoal give a flattering fit and support, thanks to its built-in inner slings that add contour to your shape. Meanwhile, the adjustable and slightly wider comfort straps don't pinch or slip. The Bodysuede fabric stays soft and smooth, so you can enjoy the comfort and look of your new bra underneath your next standout outfit.
Best plunge, t-shirt and demi plus-size bras
Style: T-shirt bra | Sizes: 32B-44H | Support level: Not specified | Coverage: Full | Straps: Hook-and-eye adjustable
Having a hard time finding the right bra? Don't get discouraged, Kasvikis says. "Your body is perfect; it's the bras that are the issue. Once you try a few sizes and styles, you're going to have a much better idea of what brands and styles will work for you."
Enter: Soma's new "smart bra." The brand says that it seeks to put an end to the age-old "nothing fits" issue with this style, which features patent-pending Flexicups that stretch to fit your unique shape, as well as the patent-pending Floataway Wire that is said to flex with you.
The innovative design took three years to create and comes in multiple hues, with a wide range of sizes available. It also features so-called "Get a Grip" straps that stay put and keep you comfy.
Style: Underwire T-shirt bra | Sizes: 30D-42G | Support level: Not specified | Coverage: Full | Straps: Adjustable
Lovely in lace! Montelle's T-shirt bra is incredibly sexy with its lacy lining and back, and it also provides plenty of support and comfort with its four-way stretch foam cups and mesh side wings. The sleek style runs in sizes up to 42 G and comes in seven colors, including a lovely pretty purple called Almond Spice.
Best plus-size sports and active bras
Style: Wireless sports bra | Sizes: 34C-50H | Support level: Little to none | Coverage: Full | Straps: Non-slip adjustable
Non-wired sports bra styles, Laura explains, work by using compression and can be a great option depending on the type of activity and what you are looking for.
One such option is this relatively affordable one from Glamorize, which focuses on upper-bust control with its full-coverage unlined cups, and it also puts a premium on comfort with its two-way-stretch back and breathable material. In other words, you'll actually feel excited to tackle your next workout in this sporty style.
Style: Underwire sports bra | Sizes: 32C-42I | Support level: High support, especially in the G and H cup options, thanks to an included inner sling | Coverage: Full | Straps: Eight row, single hook adjustments
Lau suggests looking for bras that offer handy solutions: "Uplift in the cup to help lift the bust, no bounce with containment and back/side smoothing features," she offers.
This top-rated high-impact sports bra by Wacoal does so with a combination of features: two-ply fabric cups for high support; wide, close-set and adjustable straps, and an "outside underwire" that is separated from the skin with a soft fabric. We like the sweat-wicking fabric and mesh back, too.
One reviewer who's a 32H loved it so much that she raved, "If only all my bras had such a beautiful silhouette. In fact, I often wear this sports bra as a T-shirt bra...It lifts and shapes so nicely, you find yourself kind of living in this bra. And I wear the heck out of these when I'm menstrual and [when] my breasts hurt with every movement."
Style: Sports bra | Sizes: 32A-44H | Support level: High, "zoned" support | Coverage: Full | Straps: Adjustable elastic straps that help convert the bra to a crossback
If you're struggling to find a sports bra that gives you a great fit, Laura always recommends an in-store or virtual fitting — yes, even for activewear.
"Like with any bra, it's important to find a fit that feels right for you," she explains, giving one example of many sports bra options you may not know about: "Some wired sports bras are designed with flexi-wires, which some women find more comfortable, as the wires bend to your shape," she adds.
But if you know your breasts don't do well with underwired bras of any kind and are still looking for that support, we recommend the well-reviewed Kinetic Impact wireless bra by ThirdLove, which the company says took two years to design and make and has been tested on hundreds of women.
And it shows. The style features built-in contour cups that are still breathable, convertible elastic straps, and — something we don't often find in sports bras — a hook and eye closure for easy on and off. One reviewer noted, "Impact wise — it worked well during my boxing workout this morning (36G). I also love that there are no underwires! Much more comfy. Color and style are cute under workout shirts."
While the brand advises to size down a bit to ensure a snug fit, reviewers say this fits like a normal bra.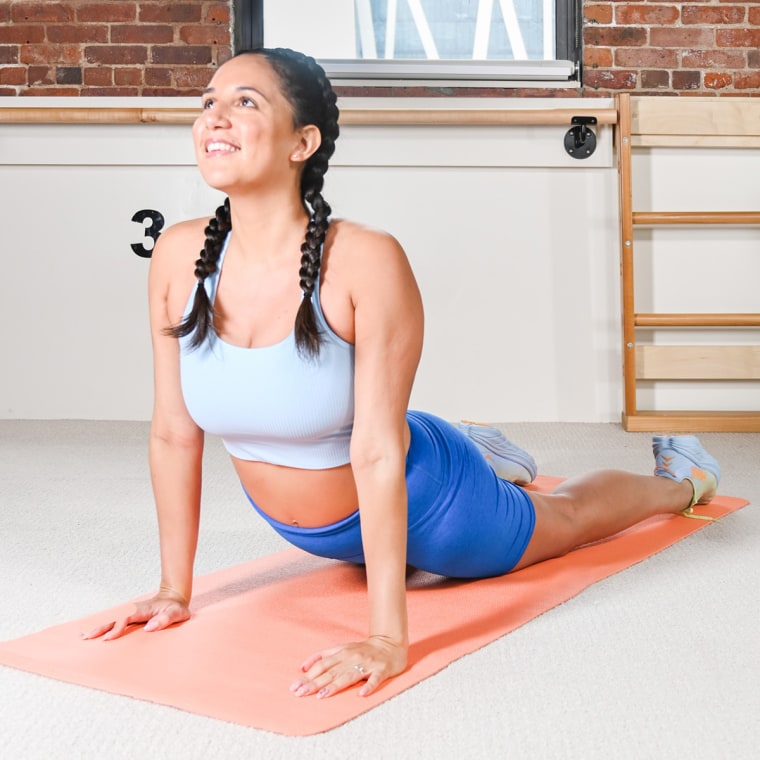 Best wire-free bras and bralettes
Style: Bralette | Sizes: 30D-40DDD | Support level: High, included inner sling | Coverage: Full | Straps: Adjustable
Think a bralette is out of reach when you have a larger bust? Think again.
"A plus-size, plus-bust gal can wear any style that fits well and feels comfortable. You're not relegated to the 'grandma bra' just because you're bigger. You may have to devote a little more time and money to the search, but stylish, sexy bras are out there for you," bra-fitting expert Jenette Goldstein says.
This subtly sexy bralette from Lively caught our eye. It offers both fashion and function with its mesh lining, adjustable straps and band, and a supportive structure. It also comes in eight versatile shades (our favorites are called Smoke and Plum).
Style: Wire-free seamless bra | Sizes: 36B-46DDD | Support level: High, includes a 4-way support system | Coverage: Full | Straps: Non-slip adjustable
The wireless, tag-free style offers side and back smoothing and a four-way support system with higher sides and a taller back. Amazon customers seem to love the bra (it has 14,000-plus verified five-star ratings) and it's easy to see why since it also features wicking fabric, adjustable straps and a back that won't ride up.
Style: Mesh-lined trim, wireless | Sizes: 38B-50DDD | Support level: Little to none | Coverage: Full | Straps: Adjustable
Support and style for under $20? It sounds too good to be true, but it's possible and this popular bra with over 4,100 five-star ratings is proof. The convertible style can be worn in two ways and has a foam underwire that offers extra support and comfort.
Customers seem to dig the floral lace trim and the plunging neckline that works for low-cut styles, and they're also pretty excited about the level of comfort the bra offers. "It's extremely comfy and sexy," one wrote; another raved, "This bra is such a blessing."
Best full-coverage and minimizer bras
Style: Padded underwire, front closure | Sizes: 34B-50H | Support level: High, side bust control | Coverage: Full | Straps: Adjustable
If you're looking for the best fit, Goldstein recommends paying attention to how snug your bra is.
"Ninety percent of the support comes from the band, not the straps. For these contraptions to work, the band has to fit close, low across the back, tacking to the breast bone," she explains.
"Everyone has a different tolerance for tightness, but just know that the looser you go in the band, the more weight is going on your shoulders. Look for the feel of a supportive hug. You'll know it's working when you feel the weight come off the straps," she adds.
Available in eight colors and a plethora of sizes (up to 50H), this front-close bra is a force to be reckoned with and has 16,000-plus five-star ratings. The lacy detailing offers plenty of sex appeal, while the side-bust control helps shape and support your best assets.
Style: Underwire banded bra | Sizes: 34E-46HH | Support level: High | Coverage: Full | Straps: Adjustable
"I would recommend the Elomi Cate Side Support Bra because it has that full coverage support with a stretchy mesh material that fits most women. [It has] reinforced side support panels to shape and hold your side boob comfortably," says Kristyn Polin.
Over 2,700 large-cupped Amazon reviewers agreed, giving this bra a rating of five stars. One with a 34GG bra size wrote, "Great support. Covers the whole breast so nothing bulges out. Provides a nice silhouette." Another notes that this particular style is best for large-chested women with narrow torsos.
We think this style's color selection is beautiful, and we like that the flat-finish embroidery will help the bra be practically invisible underneath your clothes.
Style: Three-section cups, V-neck plunge shape | Sizes: 34I-46K | Support level: High | Coverage: Full | Straps: Adjustable stretch
Polin also recommends the Goddess Keira, a full-coverage bra with non-stretch five-part cups that give you unparalleled lift and a higher center that can be helpful if you need a bit more separation between your breasts.
A resounding 4,700-plus verified reviewers concur, giving this five stars. One gushed, "As a larger bra size it is so hard to find bras that go past a DDD — and this one goes way past and has a cute vintage look. The coverage is great and gives a minimized effect."
Style: Underwire, seamless, hook & eye closure | Sizes: 32C-44G| Support level: High | Coverage: Full | Straps: Adjustable
The popular style comes in sizes up to 44G and minimizes your bust up to 1.5 inches to help create a smooth appearance while you're wearing your favorite clothes. An encased underwire and a silky lining also ensure that you're comfy all day long.
Style: Underwire, unlined, hook & eye closure | Sizes: 32B-44H | Support level: High | Coverage: Full | Straps: Adjustable
Over 8,000 Amazon shoppers have given this plus-size bra a five-star rating, and they've left some pretty impressive reviews, too. "These are simply fantastic bras for the price," one shopper wrote. Another said, "It gets more and more comfortable over time."
The supportive underwire design has non-padded cups for a more natural look and adjustable straps to boot. The wide array of color options, lacy detail and affordable price tag also help.
Questions about plus-size bras, answered by experts
What bra is best for heavy or sagging breasts?
First, Polin highlighted the difference between the broader term "plus-size" and more specific cup sizes and breast shape when it comes to looking for bras.
"You can be plus-size or full-figured but also have a smaller bust," Polin says. "Anybody with a petite or average bust typically start off with a demi to average cup shape, and then preferably a brand that is more shallow in the cup so it doesn't go quite as deep to give you the support you need." Someone who's full-figured but has a larger bust may need a fuller-coverage cup to prevent "spillage," she adds.
But in addition to band and cup size, your breast shape is just as important when it comes to finding the right fit, Polin says.
"If you have close-set breasts, then the bras may not touch in the middle, so we may recommend something a bit more plunging in the middle to help lift and separate. If you have breasts that spread out east to west, then a closer-set style like a push-up may work for you," she explains.
Franklin adds that you don't have to feel limited to a specific type if you have bigger boobs. The most important thing, she says, is that the bra fits you, is supportive and is comfortable to wear.
"I recommend starting with a professional bra fitting — either in a store or from the comfort of your own home as a virtual fitting — as an expert can help you know your size, plus what style will work best for your specific shape," she adds.
What is the difference between DD and DDD? How about between DDD and F?
Polin says the most common misconceptions are around cup sizes — for example, saying something like "a DDD is a large cup" when the reality, a DDD may not be as big as you think.
This is when you should get a proper fitting with an expert and talk about sister sizing. Wondering what that is? The sister size rule to follow: "Going up in the band means going down in the cup to accommodate for the same volume of breast tissue, and vice versa," she explains. For example, a 42D would be a 40E if you sister-size down or 44 D if you sister-size up.
Franklin says it's best to remember that cup size is based on the volume of the cup, not the exact measurement — and it can vary from brand to brand.
"This is where things get tricky! Bras (and retailers) can be referring to cup size letters in US, UK or European sizing. ... DDD is one cup size larger than a DD cup in US bra sizing — and the equivalent in UK sizing is an E cup, as the DDD doesn't exist in UK brands."
What are the biggest mistakes people make when shopping for a plus-size bra?
"The biggest mistake I see everyone make is thinking, 'This is my size, so it must be my size in everything else," says Polin, adding, "We're human women, and that's unfortunately never been the case."
Franklin adds that she sees a lot of women in a band size that's too big with the cup too small.
"This can mean that there isn't enough support from the back band and that boobs can be spilling over the top of the cups."
For example, she shared Bravissimo survey results that found 42 percent of people were in a back band too big and 46 percent needed a bigger cup prior to their fitting.
Another mistake Franklin sees often? Assuming their bra size is based on the size they were decades ago, or based on what fits them "good enough" from a shop with limited size options.
"When you have bigger boobs, you really want to go to a specialist in the D-plus cup market, as you'll be amazed at what options and styles are available for you that truly fit!" she urges.
How can heavier-chested women find bras that make them feel supported and look good under clothes?
Everything comes down to preference and comfort, but you can get more support in a cut-and-sewn style to naturally support and lift your breasts, Polin explains. For instance, she adds, if you have a heavier bust, you need something like a nylon-based material that will give you the most support.
"Those very dense tissue have a tendency to get cut in by their bras if the cup is too rigid, so something with a stretch lace allows the top of the bra lay flat on the tissue, while the rest of the bra gives that structure to up-lift and support," she explains.
She also says that close-set breasts may do better with a plunging neckline to give that naturally separated look, and also help prevent underwire-poking.
Franklin says that no material is really off-limits when you have bigger boobs, but there a few types of material in bras that can work for different needs. According to the bra fitter, molded styles and seam-free bras give a smooth look.
What's your biggest advice for women with large busts?
"When in doubt, ask questions!" Polin urges.
"As a bra fit expert, we know there's too much out there for someone who doesn't work with bras everyday to understand what can work best for them."
Polin says she and other fitting experts make it a point to try everything to know what works for whom, down to the seam.
"We talk to one another about what works on our bodies and try out different styles to help you find that perfect fit. You should always do your research on different brands and how they fit on different body frames," she explains.
Franklin's advice is to find a fit that works for you — no matter the style — and make sure it feels supportive and feels comfortable.
"There is a huge variety of choice available now for all sizes, whether you are looking for a sports bra, a strapless bra, a seam-free style or a bra for lounging," she says, adding, "Finding the right fit is going to make all the difference to how you feel."
Meet our experts