I wear shapewear pretty often — at least three to four times a week — and have tried everything from shaping bras to full bodysuits. Shapewear can be expensive (and good ones are hard to come by), so once I find a favorite, I tend to stick with it.
Yitty has been a go-to of mine — and half the TikTok community — for much of the past year, but then Shapermint went and released an entire Essentials collection. It instantly caught my eye for its affordable price point and wide size range, so I knew I had to try it and see how it holds up.
What I look for in shapewear
After trying so many different kinds of shapewear, I created a list of criteria that all my body-shaping garments must fulfill to help me figure out which pieces stand out from the rest:
Comfort: My workdays typically start early and end late, so I prioritize comfort in everything I wear, especially shapewear. I do a lot of moving around during the day from commuting to walking (and sometimes running) to meetings and other scheduled events. I won't make it through the day if my shapewear feels uncomfortable.
Stretch and movability: When I'm doing all of this running around throughout the day, I don't want to feel restricted. I like my shapewear to move with me and feel breathable.
Compression level: This really depends on what I'm wearing and where I'm going. For shorter events, I tend to opt for something with more compression, but for my everyday shapewear, I prefer something with lighter compression that still offers a smoothing factor.
My Shapermint Essentials collection favorites
In general, shapewear usually gets a bad rep for historically being thick, uncomfortable and generally non-breathable. However, after Shapermint sent me several pieces from its Essentials collection to try, I quickly learned that wasn't the case for this brand. The three pieces that stood out to me included the Every Day Bodysuit, the Shaper Shorts and the Scoop Neck Cami (the latter two happen to be No. 1 bestsellers in their respective categories on Amazon).
The shorts are designed to fit two sizes in one. While I'm normally an XL, my size in these is an XL-2XL which, according to the brand's sizing chart, is meant to fit pant sizes 14-16. Alternatively, the sizing chart for the bodysuit is organized by dress sizes, and an XL is meant to fit sizes 14-16.
The High-Waisted Shaper Shorts are by far my most worn piece of the bunch. I've put these on at least once a week for almost two months (it would be more than that if I added more laundry days to my routine). I always wear shorts under dresses and skirts to avoid chafing; not only do these Shapermint options help prevent irritation, but they also hold everything in place. They aren't uncomfortable or restrictive, and I never have to worry about them riding up at the leg. Similarly, the waistband is lined with silicone grips and spaced-out soft flex boning, which keeps the material at the top exactly where I want it.
I love how they don't feel too tight and are stretchy enough to slip right on. Unlike other shaping shorts, I don't struggle while getting them on.
I would describe the All Day Every Day Scoop Neck Bodysuit as having medium compression, which is perfect for me. Even though it's considered shapewear, I'm a big fan of the fact that it doesn't necessarily look like shapewear. Which means I'm able to wear it alone and easily pair it with jeans and a blazer — like I would any other bodysuit. Plus, it provides enough support to be worn without a bra. (Score!)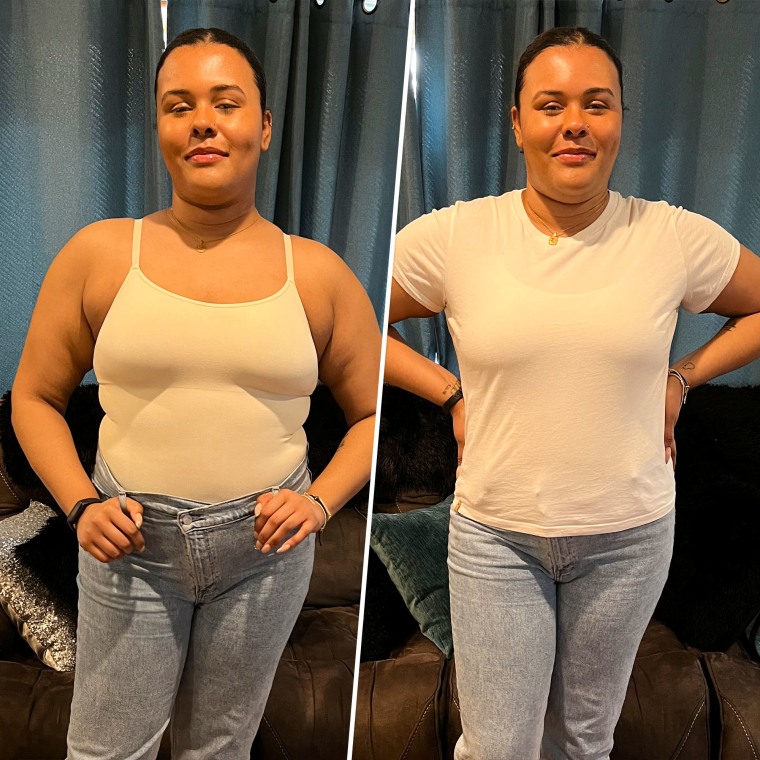 The All Day Every Day Scoop Neck Cami is by far the most compressive of the three. Like the bodysuit, it provides enough support to be worn without a bra and pairs well with jeans if you want to wear it on its own. I like to throw this on under a T-shirt to smooth out my silhouette.
Even though it's more compressive than the shorts and bodysuit, it's not uncomfortable, but it does take a bit more time to get on. However, it has adjustable straps to help give a more customized fit.
Overall, these Shapermint pieces have exceeded my expectations and taken up permanent residence in my weekly wardrobe. Not only are they comfortable, versatile and affordable, but they also help me feel more confident in my clothes.
Right now, the brand is offering a big sale on its shapewear — up to 70% off. I'm running to stock up on everything in more colors — and then grab a few other items from the collection!