Whether I went a little too hard on the pasta the night before or it's that time of the month, bloating is more common for me than I'd like. And when I'm feeling bloated, the last thing I want to do is throw on a form-fitting dress or skinny jeans. While I know my bloating is really only noticeable to myself, it can still feel like a blow to my confidence.
To combat this, I've dabbled with shapewear for special occasions, but otherwise, it's never been something I've gravitated towards. After all, shapewear has bad reputation for being highly uncomfortable, restrictive and generally a pain to get in and out of.
However, I've seen too many TikToks about a popular bodysuit from Amazon that not only creates a super smooth and firm figure, but is also comfortable enough to wear all day without that dreaded rib-cracking feeling. Needless to say, I was intrigued and had to test it out myself to see if it was truly worth the hype or not. Spoiler alert: It was all that and more!
Enter: an affordable and flattering SHAPERX bodysuit that's shapewear but doesn't feel like shapewear. Upon opening the package, I examined the bodysuit and thought to myself, "How am I suppose to fit in this?" but to my surprise, the fabric was extremely stretchy and slid right on without a fight.
Once it was on and situated, I proceeded to take a few deep breaths to ensure my airways were functioning without any restrictions. To my (and my lungs) delight, breathing was as natural as ever. I then made my way over to my mirror where I was throughly impressed with my appearance. I mean, I'm no Kardashian, but my waist was pretty snatched and my curves were giving me an hourglass figure that I didn't know I had in me.
It passed all my tests
To really put this shapewear to the test, I slid on my favorite jeans that are traditionally snug around my waist, threw on a cardigan and hit the town to run some errands to see if it was truly the gift that kept on giving. With the shapewear on, my usually snug jeans now had a gap. And after wearing it for four hours of moving and grooving through the streets of New York, the bodysuit didn't stretch out or ride up to any uncomfortable positions. Not to mention, I stopped and ate lunch and it didn't make me feel like my stomach was about to explode. Instead, it offered a gentle compression to keep the region looking flat and smooth.
The versatility is unmatched
I've gone on to wear this bodysuit under a few of my "tighter" dresses and I was equally as impressed, which goes to show how versatile it is under all types of clothing. Even when I wear this with jeans and a sweater, it looks like a plain black tank top, and it certainly doesn't scream shapewear. As the weather keeps getting warmer I've already planned some future outfits that involve the bodysuit and a few of my favorite maxi skirts.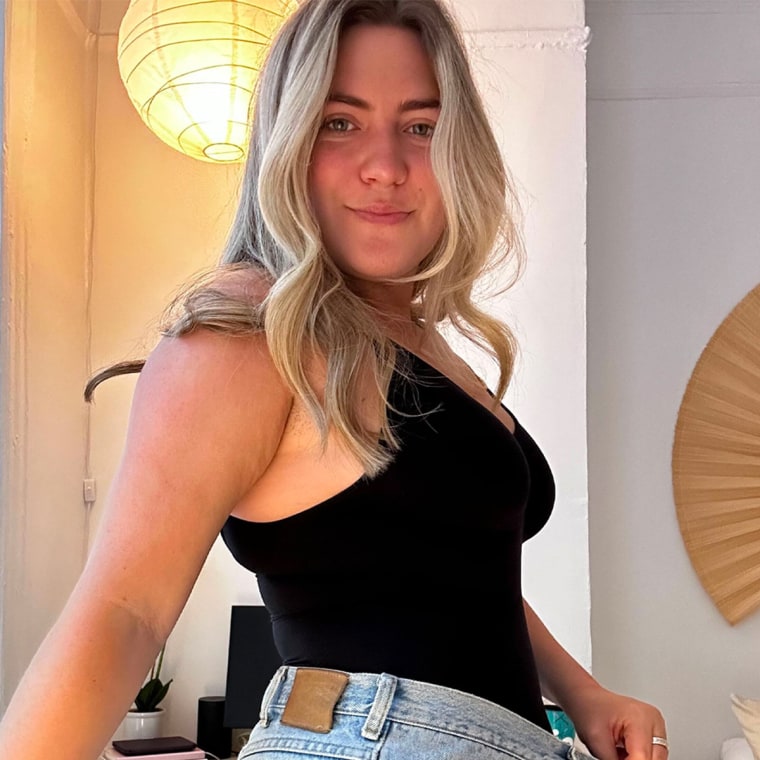 There's no visible panty lines
Arguably, the best part of this bodysuit is that there are zero panty lines and you don't have to wear a bra, truly what more could you want? Any day that I don't have to wear a bra is a good day in my book.
While the brand does offer the same bodysuit in a brief, I highly recommend going with the thong. I was also pleasantly surprised to find that there is snap closure in the crotch so you don't have to strip down in the bathroom stall (we've all been there). That said, the closure is situated like bra hooks (not the usual buttons), so it takes an extra beat to make sure both hooks are secure.
It has great size & shade selections
Available in colors black, nude, umber, blue and pink, as well as in sizes ranging from XXS/S to 4XL/5XL, you'll surely be able to find your perfect pick. The brand even has a super useful sizing chart that helps you pick which size will snatch you the best. Like I previously mentioned, you might be shocked when you first pull it out of the packaging but don't let that deterer you, it will stretch way more than you think.
As someone who traditionally opted-out of wearing shapewear, this bodysuit has opened me up to the idea of purchasing other pieces. Needless to say, if you're super new to shapewear, this bodysuit is a great place to start and is certainly worth the purchase. Honestly, I can't recommend it highly enough.