I once firmly stood by the idea that the perfect pair of jeans doesn't exist. In my experience, stretchy jeans can move with you, but the waistband becomes loose over time. Super on-trend jeans look great, but many focus more on style than comfort. To wear skinny jeans, I must first grease my legs before wrestling my way into them. (And don't get me started on what happens when I bend down ...)
I'm a tad over 5-feet tall, so there's also the length issue. I just want jeans that fit and flatter me and can transition from day to night. (Is it too much to ask for denim that I won't step on, will feel good in and will let me breathe?)
I may have asked too soon, since after doing a lot of searching, I may have finally found the perfect pair — and they're designed to fit every type of body, too.
I've fallen so in love with the Democracy brand, I'm already on my second pair. Made with a silky soft cotton blend, these pants offer a fit that showcases my figure (thanks to a curved back yoke and slimming panels), but are also designed to let my skin breathe at the same time (thanks to built-in mesh panels). And I'm not sure how they do it, but the jeans also give a gentle lifting effect in the rear.
If you're a shorty like me, I'm happy to say the "ankle length" of these jeans translates into "normal length" for petite people. (Think about it: Buying jeans that you don't have to hem!) Plus, the inner elasticated waistband stays in place — no more tugging it up every other minute — and prevents gapping in the back. They also have a lot of stretch; I think I could probably do yoga in them.
In addition to covering style and beauty, I run one of New York City's largest "stooping" accounts on Instagram. In addition to people sending me photos of abandoned furniture, I walk anywhere from four to eight miles a night looking for items that I can post, so people can decorate their homes for free. During a walk, I may bend, crouch, or contort myself into crazy positions to get the right angle to take photos. The very first day my Democracy jeans arrived, I wore them for a walk.
The night was hot, humid and sticky. But even after five hours of constant movement, these jeans stood up to the test. You know how some denim can make your legs feel sweaty and hot? Due to the cotton blend fabric, my lower body was able to breathe, and at the end of the night, I didn't have to peel them off. Not only was I able to move freely, but the waistband didn't dig into my tummy. Also, all five pockets are functional. (I think they're bigger on the inside, because I can stuff anything in them, and nothing falls out.)
The only caveat I have is for their first few washes, these jeans should be washed only with dark-colored clothing. I found this out the hard way after throwing them in the washing machine with a mixed-color load. When the cycle was complete, I found my previously white washcloths suddenly turned a shade of pale blue.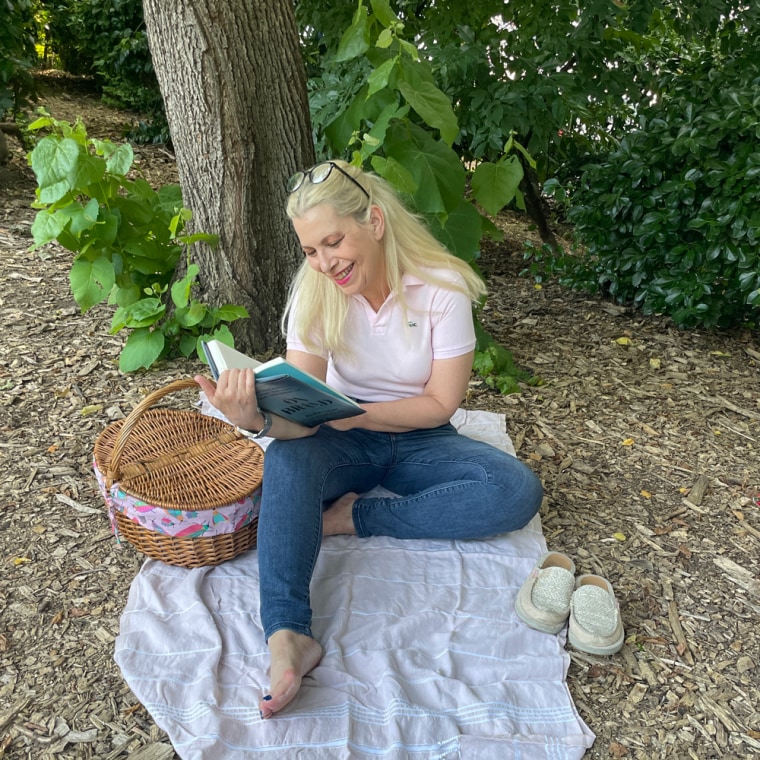 The Democracy Ab Solution jeans come in a variety of washes and lengths, but I opted for the dark blue ankle length options. To me, darker jeans are just easier to style. Their versatility ended up working in my favor for various occasions. For a coffee date with friends, I paired the jeans with cowboy boots, a flutter-sleeve V-neck top and a cowboy hat. For a casual day of playing with my neighbor's dog and running errands, I wore them with a printed shirt and mules. I also paired them with heels, a button-up shirt and a scarf for a "quiet luxury" look for dinner with friends.
For fall, I plan to wear them with a blazer and kitten heels. When it's snowing out, they'll look lovely with a thick sweater and knee-high boots. Whatever the season, l can see myself reaching for them again and again.