If you're looking for a tool that'll help you achieve a salon-worthy blowout or bouncy '90s inspired 'do, you'll want to try your hand at hot rollers. Although hot rollers have been around for ages, TikTok has recently made the beloved hair tool popular again, and for good reason: They're hands-free, easy to use and produce incredible results.
The heat-conducting pods arrive in a case that warms up when you turn it on, eliminating the need to use a blow dryer to heat them up, unlike traditional hair rollers. Plus, because they're hands-free, they essentially allow you to multi-task while styling your hair, unlike a curling wand or flat iron. Heated rollers are also not as hot as curling irons, which will help prevent damage.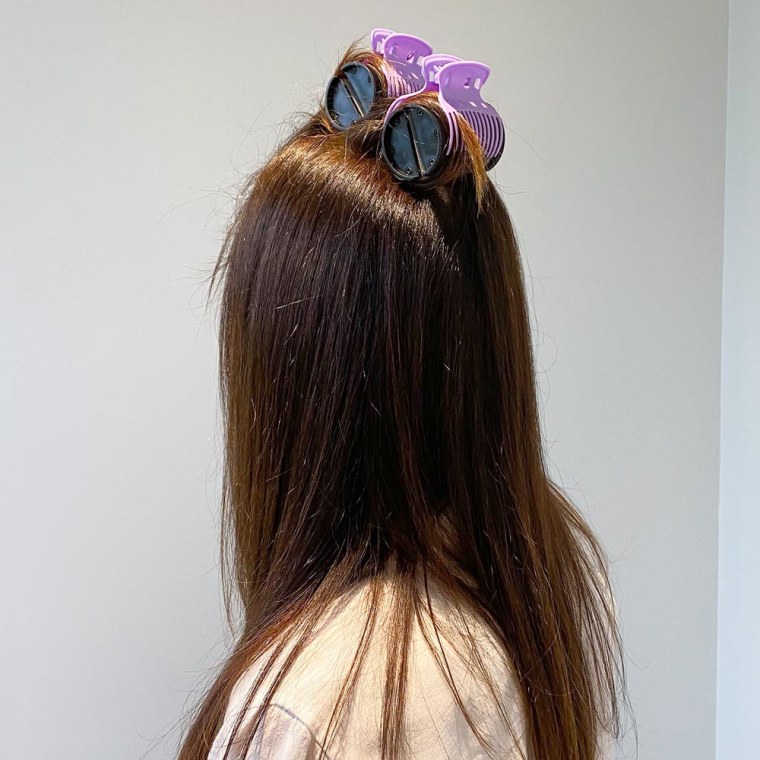 "If heat-related damage is a concern, hot rollers are a much safer option," says Luna Viola, a Los Angeles-based editorial and celebrity hairstylist.
From fine hair to thick hair, there's a set of hot rollers out there for you. To help you find the best hot rollers for your hair type, we did hours of research, consulted hairstylists, sifted through scores of shopper reviews and even perused our TikTok For You Pages in order to find the best picks on the market.
Keep scrolling to see all 10 of the best hot rollers, or use the links below to jump to a specific category.
What to look for | Best for fine hair | Best for long hair | Best for short hair | Best for thick hair | Best jumbo | Best for travel | FAQs | Meet our experts
What to look for when shopping for hot rollers
Size: As a general rule, smaller barrels are better for tighter curls, and vice versa for bigger barrels. In general, getting a set that has at least two sizes is better so you can create a multitude of hairstyles.
Smooth coverings: Rollers with a softer covering tend to cause less damage to your hair. In addition, it helps prevent creases and indentations that you'd get from harder materials. "Foam or velvet-wrapped rolls are extra gentle especially for fine, dry and colored hair," explains Viola.
Amount of rollers: It's best to have more rollers if you want more curls or definition in your hair. In addition, those with thicker or longer hair will need more to be able to curl their entire head.
Best hot rollers for fine hair
This Remington hair roller set has earned over 5,000 five-star reviews on Amazon. It curls hair fabulously while smoothing frizz and flyaways, and it even has worldwide voltage so you can use it while traveling. Reviewers claim the rollers are great to curl fine hair, thanks to their quick-heating barrels that set curls speedily.
Each kit has 10 hot rollers and arrives with color-coordinated clips to go with the two different barrel sizes.
Best hot rollers for long hair
BaBylissPRO's Titanium Hot Roller set is known for working on both short and long hair lengths to achieve smooth curls with lots of volume. Because it heats up and sets quickly, it's simple to use when you're short on time. However, keep in mind that if you have thick, long hair, reviewers report that this set doesn't come with enough clips to hold all the rollers at one time.
Created specifically for long hair, these Calista hot rollers create gorgeous ringlets in just a few minutes. With a special PTC heating element built into the roller, it heats up quickly and stays hot for longer than other alternatives. Every kit has 12 hot rollers with a special heating indicator system that turns red to white so you know exactly when they're ready for use.
Best hot rollers for short hair
This set of hair rollers is budget-friendly, but it doesn't lack in quality. With a velvety material coating the exterior of the ceramic hair roller, they not only leave less damage on your hair but also provide a long-lasting curl.
According to reviewers, the lightweight barrels heat in five minutes or less and stay in place in short hair without weighing it down. However, it's worth noting that once the lid is opened, the hot rollers cool quickly, so it's best to keep it closed while you're using them.
With three different-sized barrels, this hot roller set from Conair does it all. Reviewers claim that the included clips work with all hair types, but work exceptionally well with short hair. Its 20 multi-sized barrels are great for creating a variety of different hairstyles, ranging from loose, romantic waves to full, bouncy curls. Plus, it comes with dual voltage so you can use it in or outside of the U.S.
Best hot rollers for thick hair
For natural or thick hair, these Caruso hot rollers are a top pick. Thanks to its steaming system, it doesn't use heat and is less damaging to hair. While it works well on the hair itself, it's also safe for use with hair extensions and wigs, regardless of whether they are natural or synthetic.
Some reviewers note that the fasteners are a bit finicky, which is something worth keeping in mind.
Best jumbo hot rollers
TikTokers (and one Shop TODAY writer) rave about this affordable kit from Amazon, noting that these Conair hot rollers curl hair quickly (85 seconds, according to our reviewer) and help achieve a salon-level blowout at home. In fact, our writer says that after 10 minutes of use, she ended up with "bouncy, frizz-free hair that looked like I'd spent hours on it — or $50 on a professional blowout."
The kit includes 12 ceramic rollers with a velvety covering to help protect hair from any damage and gives an extra oomph to curls with every use.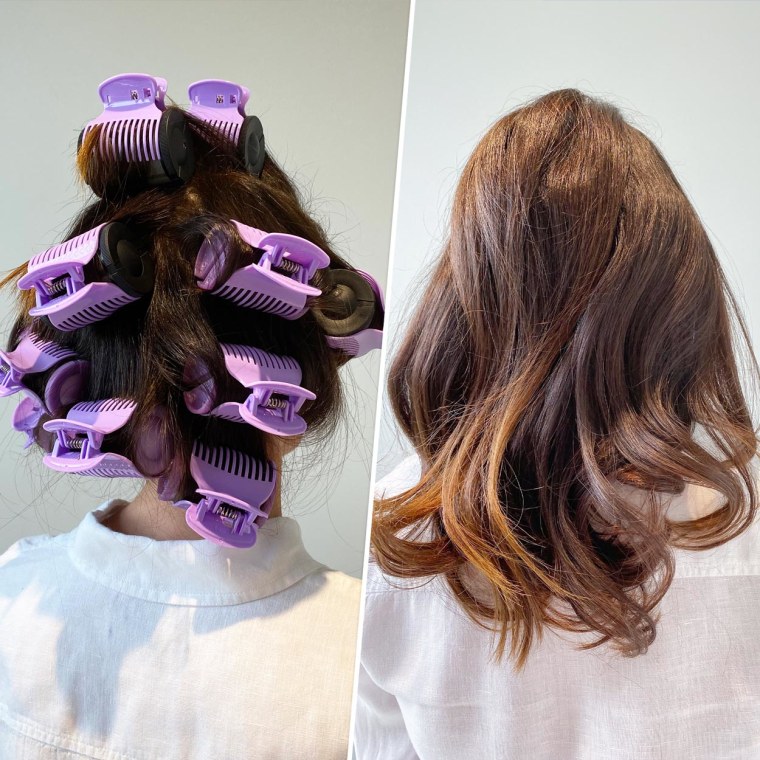 RELATED REVIEW: Read our initially skeptical Shop TODAY writer's full review of Conair's Hot Rollers.
Jumbo rollers help create natural-looking waves, and this set from John Freida is a reviewer favorite. Built to be user-friendly, these hot rollers help create glam-style curls with minimal effort. Plus, they heat up in two minutes or less and comes with an easy-to-use storage pouch for safekeeping.
Best hot rollers for traveling
Equipped with 5 jumbo 1.5-inch rollers, this Conair hot roller set is small, compact and easy to take with you just about anywhere. Since it heats up in just two minutes, it's simple to use when you have minimal time and a busy day ahead. In addition, it features dual voltage for worldwide travel and a zippered pouch to hold rollers in. While it's best practice to always apply heat protectant, the velvety surface along these hot rollers will protect your hair from any damage if you happen to leave it at home while you're on a weekend getaway.
If you're looking for something travel-friendly, these volumizing hot rollers from T3 will do the trick. With a soft travel case, it's easy to pack up into a suitcase or carry-on for on-the-go usage.
Reviewers claim that the velvety surface allows the rollers to help hold the hair in place while you're rolling it. In addition, the hot rollers are lightweight and arrive with four different barrel sizes in the kit for different hairstyle options. Plus, the included Velcro to wrap the cord keeps it tidy.
Questions about hot rollers, answered by experts
Do hot rollers work better than curling irons?
According to Andrew Fitzsimons, a celebrity hairstylist and founder of Andrew Fitzsimons Hair, the debate on hot rollers versus curling irons really boils down to what type of curl you are looking to achieve.
"With hot rollers, you will get larger, loose curls, and a curling iron will give you tighter, smaller curls, depending on the barrel size."
What kind of hot roller is the least damaging?
It depends on your hair type, explains Fitzsimons.
"If you have finer hair, I recommend using ceramic hot rollers as they minimize the amount of heat damage, whereas titanium curlers heat up to higher temperatures and are better suited for those who have thicker hair types.
Do I use hot rollers on wet or dry hair?
It's best to use hot rollers on dry or mostly dry hair.
"It holds the style longer if the hair is mostly dry," says Viola. "Wet hair is not recommended as it is more prone to damage and breakage."
Do hot rollers cause hair loss?
Hot rollers shouldn't cause hair loss — but can cause damage and hair loss if they aren't used properly.
"To keep your hair healthy and looking and feeling shiny, use a heat protectant spray first to create a barrier between your hair and the heat, which will minimize breakage and fallout," says Fitzsimons.
How long should I leave hot rollers in?
Fitzsimons advises leaving the hot rollers in for a minimum of 10 minutes, but no more than 30 minutes.
Do I need heat protectant or hairspray when using hot rollers?
You should always use a heat protectant when using any hot tools, says Viola.
Meet our experts
Andrew Fitzsimons is a celebrity hairstylist and founder of Andrew Fitzsimons Hair. He works in both New York and Los Angeles, and has styled the likes of Kim Kardashian, Jennifer Lopez, Adriana Lima, Megan Fox and more.
Luna Viola is a Los Angeles-based editorial and celebrity hairstylist, makeup artist and groomer. Her extensive client list includes Vogue UK, Adidas, Nike, Burberry and more.