Chef notes
Discovering healthy pasta recipes the whole family will appreciate can be difficult. But it doesn't have to be! Turn to this Italian-inspired dish that's all about the simplicity of its ingredients. Sweet, plum tomatoes, fresh oregano, spicy garlic and buttery chickpeas bring flavor and protein to this easy vegetarian and vegan meal that is incredibly tasty. 
Ingredients
4

large plum tomatoes

1

tablespoon olive oil + 1 teaspoon olive oil, divided

2

teaspoons fresh minced oregano, divided

1/4

teaspoon salt + 1 tablespoon salt, divided
1/2

pound orecchiette or other chunky pasta

1

large garlic clove, minced

1

15-ounce can chickpeas, drained with 1 tablespoon liquid reserved
Preparation
Preheat the oven to 400 degrees F. Line a large rimmed baking sheet with parchment paper or a silicone liner.
Slice the tomatoes lengthwise into thick slices (about 1/2 to 3/4 inches) and place on the baking sheet. Drizzle with the olive oil and sprinkle with 1 teaspoon fresh minced oregano and 1/4 teaspoon salt.
Roast the tomatoes for 25-30 minutes, until slightly shriveled and browning at the edges.
While the tomatoes roast, bring a 6-quart pot of water to a boil for the pasta. Add the remaining 1 tablespoon salt to the water and when it dissolves, stir in the orecchiette.
While the orecchiette cooks, heat the remaining 1 teaspoon olive oil in a large saucepan or skillet over medium heat.
Add the garlic and cook for 30 seconds until fragrant. Stir in the chickpeas and their reserved liquid and cook for 2-3 minutes, just until softened and warmed through.
When the orecchiette is al dente, add it to the chickpeas along with the remaining roasted tomatoes and any juices from the pan. Toss to combine and let the pasta cook for 30 seconds more to absorb the sauce.
Divide the pasta between 4 bowls and sprinkle with the remaining 1 teaspoon oregano. Serve immediately.
How to shop TODAY recipes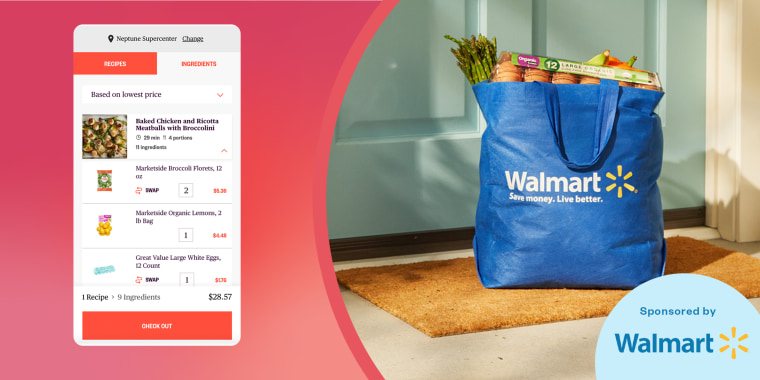 How to shop TODAY recipes
Here's everything you need to know about the cool new feature.
Learn More