Ingredients
1

tablespoon, plus 1/4 teaspoon kosher salt, divided

1

pound penne

2

tablespoons olive oil

3

small to medium spring onions or 1 large Vidalia onion, finely chopped

2

medium zucchini, sliced lengthwise and cut into thin half-moons
2

bunches spinach, well washed and trimmed, or 2 5-ounce bags baby spinach

1

pound (2 cups) fresh ricotta cheese

1

large egg, beaten

1/2

teaspoon black pepper
Chef notes
It's that time of year — one day it's sunny and gorgeous and you just want to eat all the green vegetables in sight, the next day it's snowing again and you're ready for a big bowl of baked comfort. Have it both ways with this spring vegetable baked penne! Creamy ricotta mixes with tender spinach, zucchini and spring onions for a luxurious casserole that still lets you get your greens.
RELATED: 18 casserole recipes that'll keep the whole family full and happy
Preparation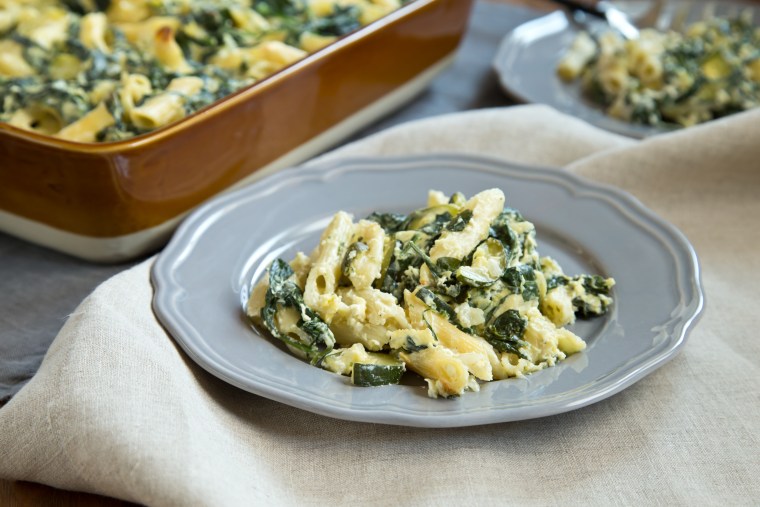 Preheat the oven to 375 degrees F. 
Bring a large (8-quart) pot of water and add 1 tablespoon kosher salt. When the salt dissolves, add the penne and cook until just a minute short of al dente. Drain the cooked penne and reserve while you cook the vegetables. 
Heat the olive oil in a large, high-sided saute pan over medium heat. Add the onion and cook, stirring frequently, for 5 minutes until the onion starts to soften and turn translucent. 
Stir in the zucchini and a pinch of salt, cover, and raise the heat to medium-high. Cook, stirring occasionally, for about 10 minutes until the zucchini starts to soften and turn translucent.
Uncover and add the spinach in handfuls, stirring until each handful wilts before adding the next. Remove from the heat. 
In a large bowl, stir the ricotta, egg, pepper, and remaining salt until the egg is incorporated. Stir in the vegetables, then stir in the cooked penne. 
Transfer to a 9x13-inch casserole dish and bake for 30-40 minutes, until the casserole is bubbling at the edges and the pasta is browned in bits.