Chef notes
Chef Bobby Flay gives this Italian-inspired breakfast toast a bright Southwestern kick with homemade jalapeno pesto.
Ingredients
1

loaf ciabatta, halved lengthwise

6

tablespoons olive oil
Kosher salt and freshly ground black pepper

1

6-oucne piece sopressata, cut into small dice
1

small red onion, finely diced

9

large eggs

6

ounces provolone, cut into small dice, at room temperature
Roasted Jalapeno Pesto
8

jalapeños
Canola oil
Kosher salt and freshly ground black pepper

1 1⁄4

cups tightly packed fresh cilantro leaves

1

garlic clove, chopped
3

tablespoons pine nuts

1⁄2

cup extra-virgin olive oil, or more if needed

1⁄4

cup freshly grated Parmigiano-Reggiano
Splash of red wine vinegar
Preparation
For the eggs and bruschetta:
Preheat the oven to 375 degree F.
Brush the cut sides of the ciabatta with 4 tablespoons of the olive oil and season with saltand pepper. Put on a baking sheet, cut side up, and bake until lightly golden brown, about 5 minutes.
Heat the remaining 2 tablespoons olive oil in a large nonstick sauté pan over medium heat. Add the sopressata and cook until golden brown and crisp, about 5 minutes. Remove to a plate lined with paper towels. Add the onion to the pan and cook until soft, about 4 minutes.
Whisk the eggs in a bowl until light and fluffy, stir in the cheese, and season with salt and pepper. Pour the mixture into the pan and cook, stirring constantly with a heatproof silicone spatula, until soft curds form and the cheese has melted, about 3 minutes.
Divide the eggs between the ciabatta halves. Cut crosswise into 2-inch slices and then top each piece with a dollop of the pesto.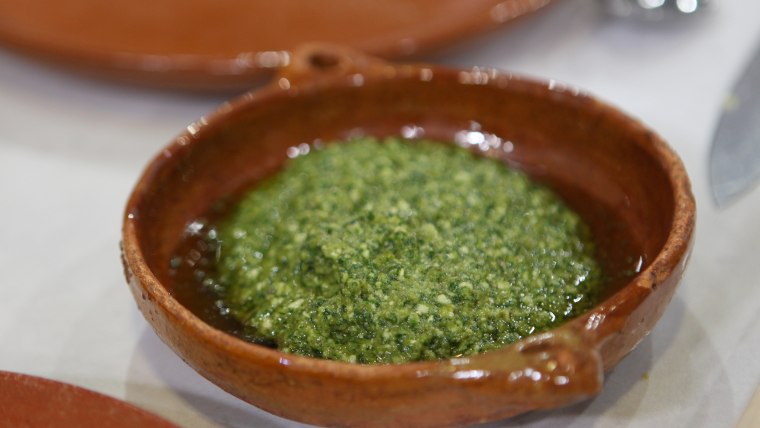 For the pesto sauce: 
Preheat the oven to 400 degree F.
Toss the jalapeños in a few tablespoons canola oil and season with salt and pepper. Roast in an even layer on a baking sheet until soft and the skin is blistered, about 15 minutes. Remove thejalapeños to a bowl, cover with plastic wrap, and let sit for 15 minutes. Remove the stems and seeds; do not remove the blistered skin for this particular recipe.
Combine the jalapeños, cilantro, garlic, and pine nuts in a food processor and process untilcoarsely chopped. With the motor running, slowly add the oil through the feed tube and process until smooth. Add the cheese, season with salt and pepper, and pulse a few times just to combine. If the mixture is too thick, add a few more teaspoons of oil and pulse. Transfer to a bowl and stir in the vinegar. The pesto will keep, covered in the refrigerator, for up to 24 hours. Serve at room temperature.
Recipes reprinted with permission from Brunch at Bobby's by Bobby Flay.