Taylor Swift might be the Kansas City Chiefs' good luck charm.
The 33-year-old pop singer was back at Arrowhead Stadium Oct. 22 to cheer on rumored beau Travis Kelce's team for the fourth time.
The tight end and his Chiefs took on the Los Angeles Chargers Sunday. Kickoff occurred shortly before 4:30 p.m. ET.
The Chiefs won 31-17. (For those keeping track, the Chiefs are now 4-0 with Swift in attendance.)
At the game, Swift wore a red Kansas City sweatshirt. But eagle-eyed Swifties noticed a sweet detail that revealed how the singer was showing support specifically for Travis Kelce. Zooming in on her arm candy revealed that Swift wore a gold friendship bracelet with charms of a heart and the number 87, his jersey number.
The accessory is fitting since rumors of their relationship started with a bracelet.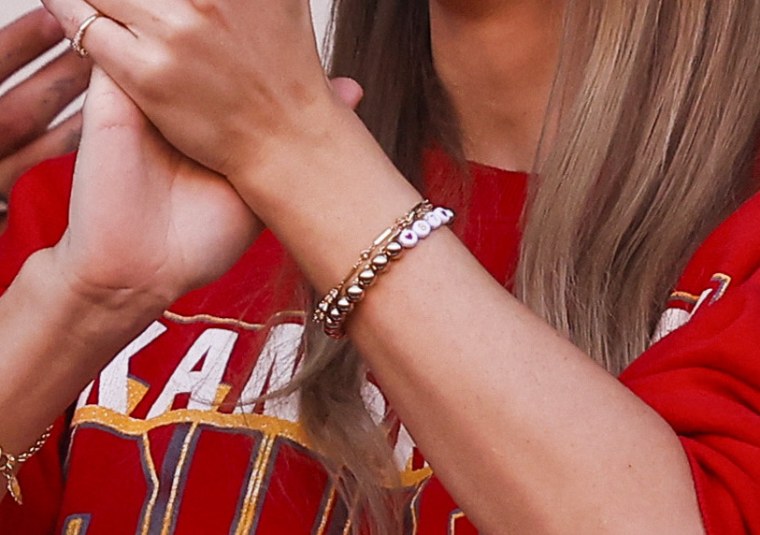 Travis Kelce revealed that he tried to make a move on the singer and give her a friendship bracelet when she performed in Kansas City on "The Eras Tour."
"I wanted to give Taylor Swift one with my number on it," Travis Kelce said on the July 26 episode of his "New Heights" podcast.
When asked if the bracelet had his jersey number or telephone number on it, Travis Kelce joked, "You know which one."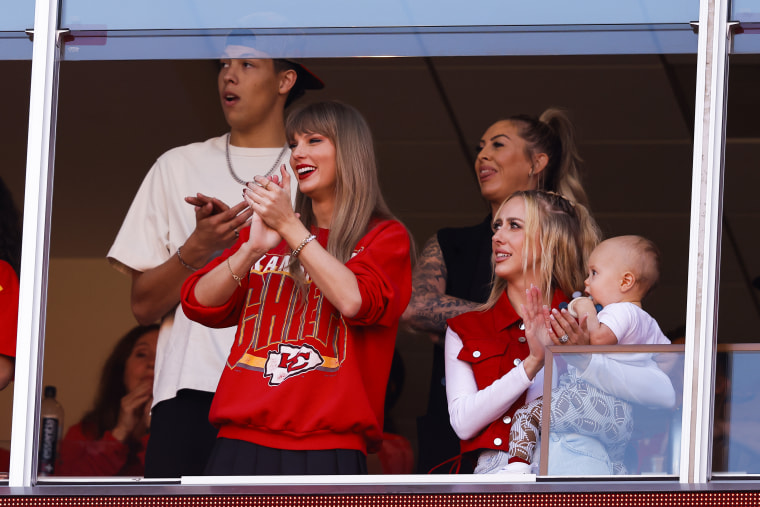 Swift was spotted in the player's box Oct. 22 standing and clapping next to Brittany Mahomes, wife of Chiefs quarterback Patrick Mahomes, as she holds a baby. The Mahomes share two children: 2-year-old daughter Sterling and 11-month-old son Bronze.
Brittany Mahomes and Swift had dinner together in New York earlier this month ahead of the Chiefs-Jets game at MetLife Stadium. They've also been spotted hugging and laughing together at other recent Chiefs games.
Patrick Mahomes' brother, Jackson Mahomes, also appeared to be cheering in the box and shared a photo of himself at the game to Instagram Oct. 22. Jackson Mahomes was arrested on a warrant for aggravated sexual battery in May. He has pleaded not guilty to the charges, and his preliminary hearing was set for Oct. 24 after it was postponed in August, according to the Associated Press.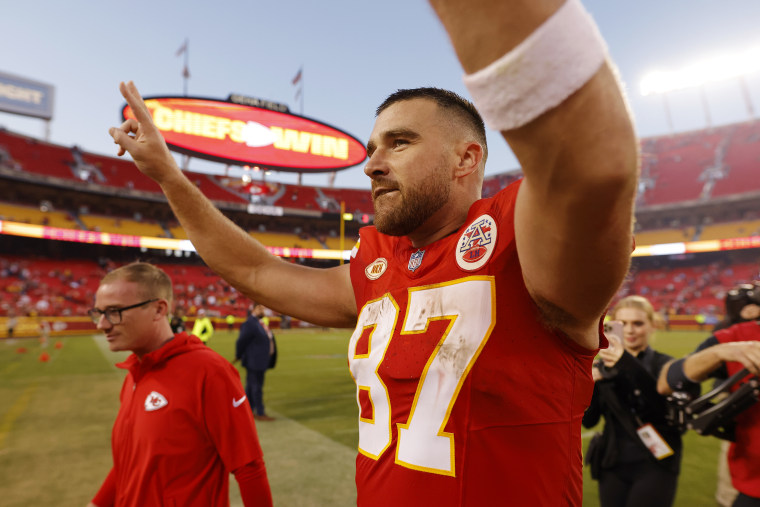 Travis Kelce had a huge game on Sunday, making 12 catches for 179 yards — both single-game highs for the star tight end this season.
His touchdown catch late in the second quarter gave Kansas City a 24-17 lead and the Chiefs never looked back.
Sunday marked National Tight Ends Day, an unofficial NFL holiday celebrating the versatile position. Travis Kelce appeared in a video shared by the league on X Oct. 22, formerly known as Twitter, featuring a rap explaining what their job on the gridiron entails. Tight end is considered a "combo position," as Travis Kelce has previously explained. Tight ends block, functioning like linemen, and catch the football, like receivers.
Before arriving at Arrowhead, Swift posed for a picture with another NFL player — former Cleveland Browns quarterback Bernie Kosar.
In the pic, Kosar stands next to Swift while the "Anti-Hero" singer rests her arm on his shoulder, flashing the camera a smirk and a thumbs-up. Both wore red to root for the Chiefs.
Travis Kelce and his brother, Jason Kelce, grew up in Cleveland Heights, Ohio. Mom Donna Kelce previously revealed the Chiefs player was "crushed" when he wasn't drafted by the Browns.
"Watching the Browns game with @taylorswift13 pre KC game," Kosar said in a post on X Oct. 22. "Tough to see Deshaun Hurt!!!"
Swift was last seen at Arrowhead Stadium Oct. 12 for Travis Kelce's "Thursday Night Football" game against the Denver Broncos.
Later that weekend, Swift and the tight end spent time together in New York. The pair were spotted walking hand-in-hand in Manhattan before making cameos on the Season 49 premiere of "Saturday Night Live." They also went out to dinner Oct. 15 after Travis Kelce stopped by MetLife Stadium to cheer on the Philadelphia Eagles and brother Jason Kelce.
Swift resumes the international dates of the "Eras Tour" Nov. 9 in Argentina. After, the singer will spend three weekends performing in South America.
She then has four shows scheduled in Tokyo from Feb. 7 through Feb. 10, the day before the 2024 Super Bowl.