"Saturday Night Live" decided to poke some fun this week at the NFL's sudden Taylor Swift obsession — including bringing on special guest Travis Kelce.
Travis Kelce spoke about his surprise cameo on the show, where he portrayed the one person who actually wanted to talk about football amidst what his brother Jason Kelce called NFL's "Swiftmania," on the Oct. 18 episode of the Kelce brothers' podcast "New Heights."
"I'll tell you what, man, it was electric to be back in that place," Travis Kelce, who has previously hosted the late-night TV show in March, told his brother and fellow NFL player on the podcast. "There's just something about being in that room, and just it being their first episode this season — I had such a freaking blast, man."
Travis Kelce explained how his appearance on the skit came to be.
"I didn't know what the skit was, like what skits were coming up and I'm pretty sure that it was just ironic that they were doing a skit on... Swiftmania," he said. "I thought it was hilarious and when they asked me to be a part of it, I was like, 'Man, I'd be honored.'"
Travis Kelce then filled Jason Kelce in about the highlights from the night — including Swift introducing her pal Ice Spice, the "star-studded" back room and attending the after party.
As for the skit itself, it opens with an all-male panel of Curt Menefee (Kenan Thompson), Howie Long (Mikey Day), Jimmy Johnson (James Austin Johnson), Michael Strahan (Devon Walker) and Terry Bradshaw (Molly Kearney) discussing the Oct. 15 matchup between the Philadelphia Eagles and the New York Jets, telling any Swifities watching that they "just missed" Swift as the Kansas City Chiefs game was a few days prior.
"Listen, sorry, Swifties. This is a show about football. It's a sport. Ask your dad," Day says as the panel bursts out laughing.
Thompson then suggests that they turn their attention to the game and stop chatting about Swift and her "little boyfriend" Travis Kelce, to which the others are suddenly appalled.
"Boyfriend? Hold on there. No one said boyfriend," Day corrected him. "Let's not jump to conclusions here."
Johnson backed him up, clarifying that they're "hanging out and taking their time." But Kearney piped in disagreeing, noting that Swift has been watching the Chiefs games from the luxury box with "Mama Kelce" and drinking cocktails with Ryan Reynolds.
"Hey, I'm just glad it's not Matty Healy," Johnson adds, referring to the 1975 leading man who Swift was rumored to be dating earlier this year.
The panel then reacts in disgust to the unpopular pairing, with Walker warning Travis Kelce he has more at stake in this relationship than the Super Bowl. They continue to discuss Swift's former love interests, including Joe Alwyn, disagreeing about whether he's the inspiration behind her hit song "Karma."
Focusing then on the Sunday game, Thompson sends it over to Pete Davidson, playing first sideline reporter Kenny Ditullio, who is decked out in a pink cowboy hat, a Taylor Swift "Eras Tour" sweatshirt and a series of friendship bracelets.
Although he's asked about the game, Davidson, who even has Swift's lucky number 13 painted on his hand, will only focus his attention on trying to find Swift in the stands.
"So far no sign of blondie, starting to wonder why I'm even here," Davidson says, to which Thompson reminds him, "Because this is your job."
In the final minute of the sketch, the panel reporters debate who is the biggest Swiftie, with Johnson showing off his "Eras Tour" movie tickets. Meanwhile, Day and Walker show off their sleeves of friendship bracelets and compare which secret songs they heard in concert.
Cutting them off as they sing Swift's hit "Bad Blood," Thompson says they'll discuss with someone who "actually wants to talk football" once they return from the commercial break.
Travis Kelce then appears, prompting screams and applause from the live audience, and says, "Yes, please!"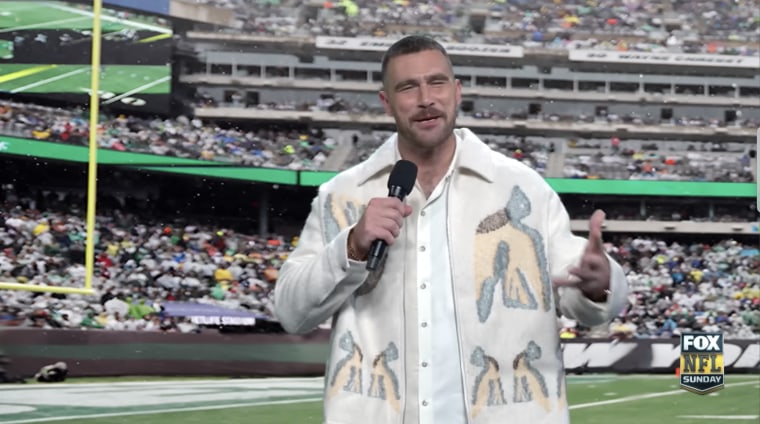 Since Swift started appearing at the Chiefs games to reportedly cheer on her rumored beau, the NFL has capitalized on their new viewership, even featuring a "Sunday Night Football" ad with Swift's song "Welcome to New York."
During an episode of Travis Kelce's podcast, "New Heights," which he hosts with his brother Jason Kelce, the Philadelphia Eagles center asks whether the NFL is going overboard.
"Take away your feelings for Taylor," Jason Kelce told his brother as the Chiefs tight end laughed. "What is your honest opinion on how the NFL is treating celebrities at games?"
Travis Kelce said that he finds it fun when the league shows stars who attended the game, adding that he thinks "it brings a little bit more to the atmosphere, brings a little bit more to what you're watching."
But as Travis Kelce starts to give a counterpoint, his brother interrupts to say, "They're overdoing it," to which his brother agrees: "They're overdoing it a little bit, especially with my situation."
"I think they're just trying to have fun with it," Travis Kelce added.
Donna Kelce, however, disagreed with her sons, telling TODAY.com she understands the NFL's motivation.
"Why wouldn't they capitalize on it?" she said. "It's like they're laughing all the way to the bank. ... So I don't think it's too much. But I know they do. It's their lives."
After the NFL changed their social media featured images and switched their bios to include references to Swift's songs, some were rather critical of the league's newfound emphasis on the singer. But the league has defended its decision.
"We frequently change our bios and profile imagery based on what's happening in and around our games, as well as culturally," the NFL said in a statement. "The Taylor Swift and Travis Kelce news has been a pop cultural moment we've leaned into in real time, as it's an intersection of sport and entertainment, and we've seen an incredible amount of positivity around the sport."