Just one day after walking the red carpet for the premiere of "The Eras Tour" concert film, Taylor Swift is back on the bleachers.
Swift was spotted at the Kansas City Chiefs' home game Oct. 12, where the singer's rumored boyfriend, Travis Kelce, is taking on the Denver Broncos.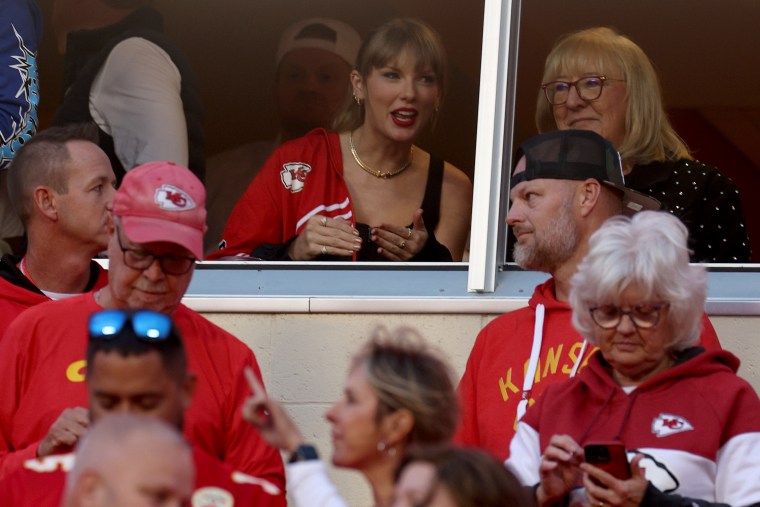 Just before kickoff, the announcers said that the singer was in the building. She was photographed sitting next to Kelce's mom, Donna Kelce, wearing a black tank top and red Chiefs jacket from Erin Andrews' WEAR brand.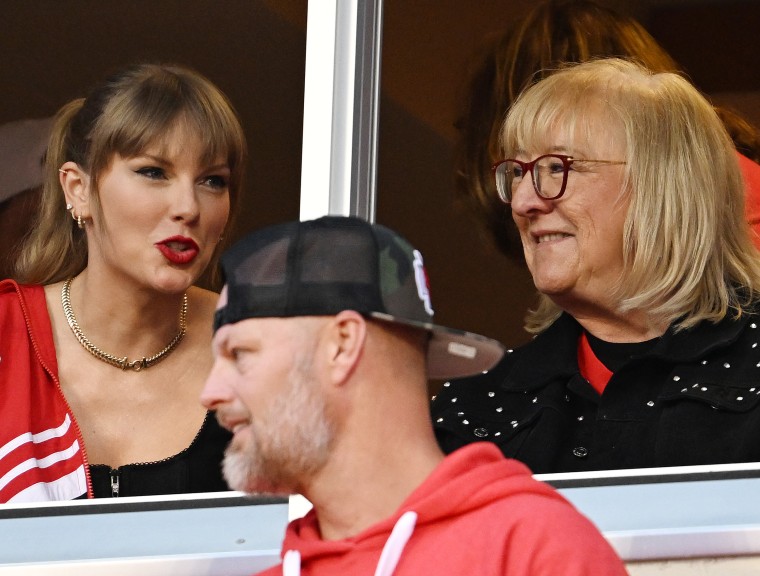 Before the game, which airs on Prime Video's "Thursday Night Football," Travis Kelce was initially listed as questionable to play due to a non-contact ankle injury he sustained during the Oct. 8 game against the Minnesota Vikings, according to NFL.com.
Swift was not spotted at that game, according to CBS broadcasters.
The tight end hurt his ankle and fell to the ground shortly before halftime. He threw his helmet to the ground and left the field. He returned in the third quarter with his ankle wrapped and scored a touchdown.
However, Travis Kelce was not on the list of inactive players released by the Chiefs Thursday night.
He was photographed arriving at Arrowhead Stadium wearing an all-red tracksuit.
Thursday's game marks Swift's third known appearance at a Chiefs game and her second time in the box at Arrowhead Stadium.
Swift sent waves throughout the sports and pop culture communities when she was spotted at the Sept. 24 Chiefs game against the Chicago Bears, seated next to the tight end's mom, Donna Kelce.
Swift and the mom of two NFL stars were later seen hugging at New Jersey's MetLife Stadium Oct. 1 when the singer attended the Chiefs-Jets game. Swift watched Travis Kelce's away game alongside a veritable crew of celebrities, including longtime friends Blake Lively and Ryan Reynolds, Sophie Turner and Brittany Mahomes, the wife of Chiefs quarterback Patrick Mahomes.
Donna Kelce later discussed meeting Swift on TODAY, noting that she doesn't "like to talk about it." She described sitting next to Swift as "OK," and was tight-lipped when asked if she believes her son and Swift are in a budding relationship.
"I honestly can't tell you. It's just too new," she said Oct. 6.
Relationship rumors between Swift and Travis Kelce started in July, after he said he tried to give the singer a friendship bracelet with his phone number on it during her Kansas City stop on "The Eras Tour."
The two hung out in New York sometime before the end of August — more than a month before she attended his Sept. 24 game, a source close to the situation previously confirmed to TODAY.
After that game, Travis Kelce said on his podcast "New Heights" that her appearance was "pretty ballsy" and acknowledged that they left the game together by sliding off in a "getaway car," referencing one of her song titles.
He added at the time that he would refrain from commenting about his personal life in the future.
Then at a press conference Oct. 6, Travis Kelce said that at present he feels "more on top of the world" than he did after he won the Super Bowl in February and defeated his brother, Philadelphia Eagles center Jason Kelce.
He added that he's "learning" to handle the increased media attention.
"We're learning with the paparazzi just taking photos from all over the place. But at the same time, it comes with it," he said. "You got a lot of people that care about Taylor for good reason. You just got to keep living and learning and enjoying the moments. At the end of the day, I've always been pretty good at compartmentalizing and being able to stay focused in this building."
So far the Chiefs are 2-0 when Swift is in attendance.