Taylor Swift's message for Travis Kelce: We are never getting together.
OK, that may be jumping the gun just a bit, but the Kansas City Chiefs tight end knows that feeling all too well after revealing his master plan to give the music superstar his phone number was foiled when he recently went to see her on her "Eras Tour" at Arrowhead Stadium in Kansas City.
"I was disappointed that she doesn't talk before or after her shows because she has to save her voice for the 44 songs that she sings. So I was a little butthurt I didn't get to hand her one of the bracelets I made for her," Travis Kelce said on the July 26 episode of his "New Heights" podcast that he hosts with his brother, Philadelphia Eagles center Jason Kelce.
"You made her a bracelet?" Jason Kelce asked.
"Yeah. If you're up on Taylor Swift concerts, there are friendship bracelets and I received a bunch of them being there, but I wanted to give Taylor Swift one with my number on it," Travis Kelce said, alluding to the bracelets that have become a staple at Swift's shows.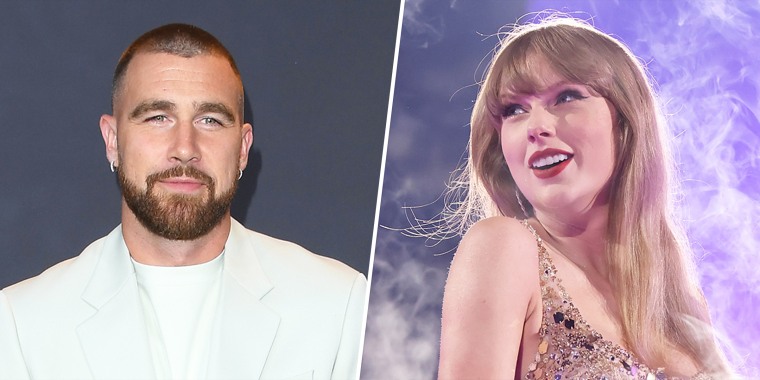 When asked if the bracelet had his jersey number or telephone number on it, Travis Kelce joked, "You know which one."
"She doesn't meet anybody or at least she didn't want to meet me, so I took it personal. But it was an unbelievable show," he continued.
Despite striking out, Travis Kelce, who once starred on the 2016 reality dating series "Catching Kelce," said there's no bad blood and that the concert was an amazing experience.
"I've only seen Arrowhead filled like that for Chiefs games with that much excitement and, yeah, everybody was dressed in pink and purple going crazy for her," he said. "It was wild. It was a wild show."
While it may be a cruel summer losing out on the chance to court one of pop music's biggest acts, a Travis Kelce-Taylor Swift romance may not be in the cards anyway, since she is an Eagles fan and the Chiefs beat the Eagles in this year's Super Bowl, featuring both Kelce brothers. It appears he may have to just shake it off.
"She probably just hasn't gotten over the Super Bowl yet. She's a big Eagles fan, so maybe she just made something up and just didn't want to talk to you," Jason Kelce said.