Selena Gomez and Taylor Swift's friendship never goes out of style. 
On Saturday, Sept. 16, Gomez Gomez shared two selfies with the "Karma" singer on Instagram.
In the first frame, Swift took a selfie of the duo both smiling at the camera while they dined outside. The second image caught Gomez giving the camera a kissy face while Swift gave her longtime best friend a kiss on the cheek.
"Thas my best frien -she a real bad," Gomez wrote, captioning the post with a reference to Saweetie's viral song "Best Friend."
Gomez and Swift's friendship spans well over a decade. The friends have been there for one another over the years, including award show appearances, birthdays, concerts, parties, and more.
From 2008 to now, here's everything to know about Taylor Swift and Selena Gomez's longtime friendship.
Selena Gomez and Taylor Swift met through the Jonas Brothers
Gomez and Swift first crossed paths in 2008 while they were both dating members of the Jonas Brothers. At the time, Swift was dating Joe Jonas, while Selena Gomez was dating Nick Jonas.
The "Single Soon" singer recalled the story of how they first met during a December 2017 appearance on KISS FM UK, telling the hosts, "We actually dated the Jonas Brothers together! It was hysterical."
"It was amazing, because she was the girl with the big curly hair and all the bracelets and the cowboy boots," Gomez said of Swift. "And I was definitely up-and-coming, and we just clicked. It was the best thing we got out of those relationships."
Selena Gomez looks to Taylor Swift for advice on love
During an interview with Seventeen in October 2009, when asked if she has a specific friend she goes to when it comes to love advice, Gomez replied, "Every single problem I ever have is healable by Taylor Swift!"
"If I ever I have an issue, Taylor has gone through it, because she's older than me, and she gives the most thought-out answers," she added. "And what I love about Taylor is that she does believe in the whole love story and Prince Charming and soul mates. Because of her, I haven't lost faith."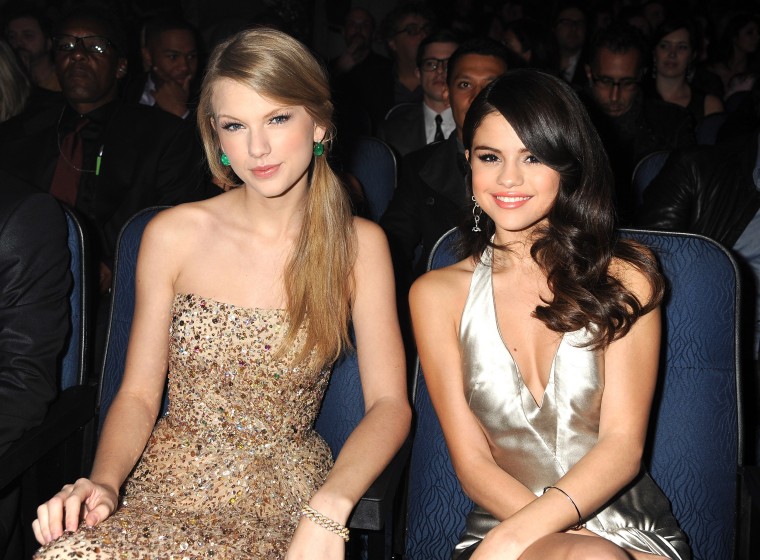 Selena Gomez and Taylor Swift attend the 2011 American Music Awards
Gomez and Swift both attended the 2011 American Music Awards in Los Angeles. The friends, who were placed next to each other at the event, posed with several other celebrities throughout the night including Jaden Smith, Katy Perry, and Nicki Minaj.
2011 was a big year for the two to make award show appearances together.
Earlier in the year, Gomez and Swift were spotted at several award shows posing together, including the People's Choice Awards in January 2011 and the Vanity Fair Oscar Party the following month in February. In the summer, they were also photographed at the Teen Choice Awards in August 2011 along with "Twilight" star Ashley Greene.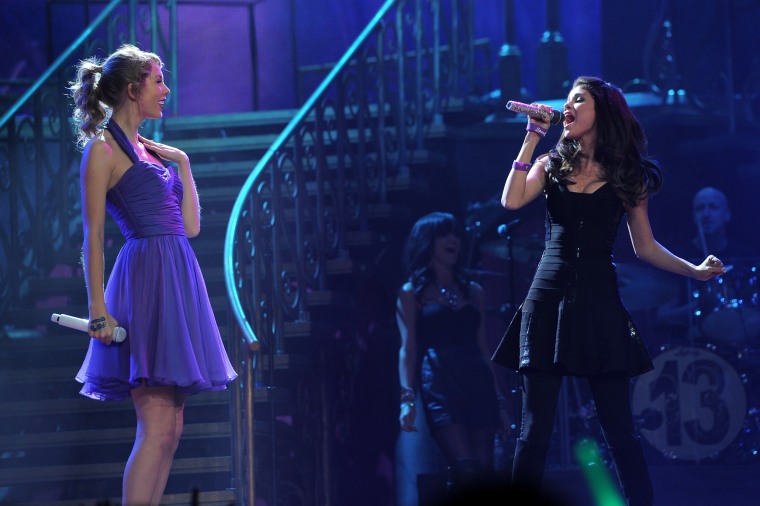 Taylor Swift brings Selena Gomez on stage during "Speak Now" tour
One of Swift's long-standing tour traditions is bringing surprise guests on stage with her.
During a stop on her Speak Now World Tour, Swift brought out two special guests for the crowd at Madison Square Garden Nov. 22, 2011 — Gomez and James Taylor. For their joint performance, the friendship duo sang a duet of her 2011 song "Who Says."
Taylor Swift shares why her friendship with Selena Gomez is special
What's the secret to Swift and Gomez's friendship? According to the "Anti-Hero" singer, it's longevity. Swift told E! News in May 2014 that their friendship has "been the longest one I think either of us had."
"When your life changes and you become thrust into this really strange whirlwind where what your life is — is different from what other people think your life is," she added. "And your life is commented on and your life is written about and fictionalized and all that."
She added, "Both of us have kind of stuck it out and hung in there through all the different changes we've gone through."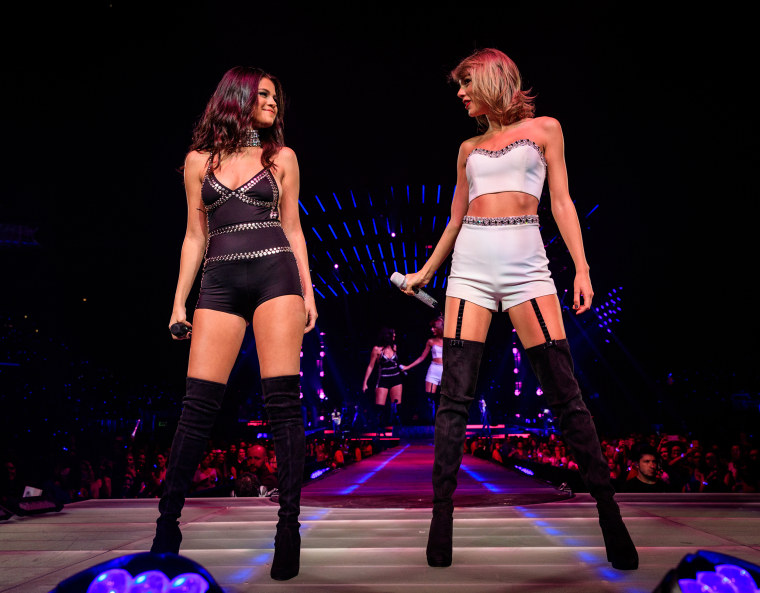 Taylor Swift brings Selena Gomez on stage during "1989" tour
Swift brought Gomez on stage during her fifth night in Los Angeles on the 1989 World Tour. For this performance, the duo sang Gomez's hit "Good For You."
"After nearly 8 years of friendship, I just can't wait to tell our kids we ACTUALLY got to perform in front of thousands of insanely beautiful people together. TWICE!" Gomez wrote on Instagram reflecting on the moment. "I love you Tay."
Selena Gomez and Taylor Swift attend 2015 MTV Video Music Awards
Swift showed up and showed out at the 2015 MTV Video Music Awards with the celebrity crew who starred in her "Bad Blood" music video, including Gomez, Gigi Hadid, Cara Delevingne, Hailee Steinfeld, and Mariska Hargitay.
On Instagram, Gomez shared a snap of part of the group as they posed with silly faces, writing in the caption on Instagram, "I've got the hottest dates #jussayin #vmas."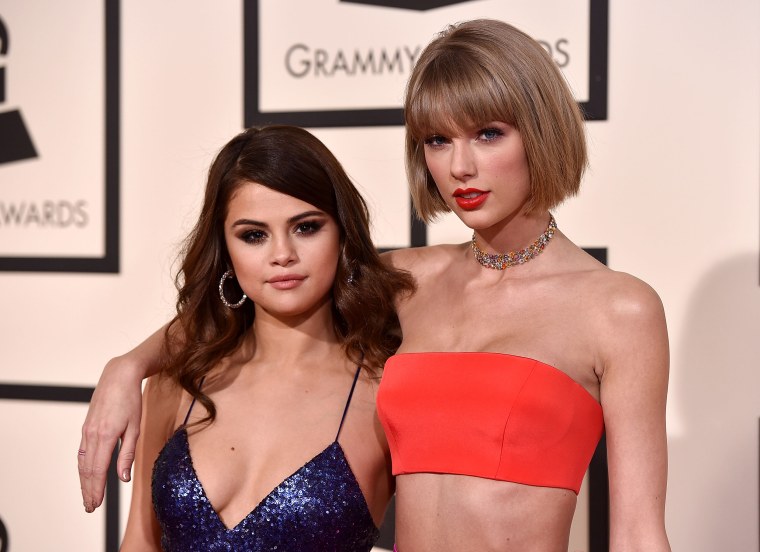 Selena Gomez and Taylor Swift attend the 2016 Grammy Awards
Gomez and Swift flaunted their friendship once again on the red carpet at the 58th Annual Grammy Awards in Los Angeles.
In a now deleted Instagram post, Swift shared that she had "rolled up with the hottest date" to the award show, referring to Gomez.
That evening, Swift made history when she became the first woman to win album of the year twice.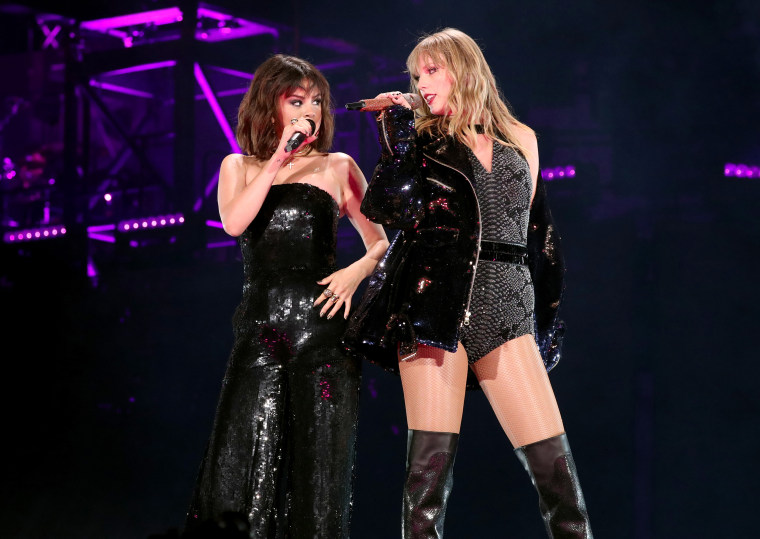 Taylor Swift brings Selena Gomez on stage during "Reputation" tour
Swift brought Gomez out on tour yet again, this time for a performance at the Rose Bowl during her Reputation Stadium Tour in May 2018. The duo performed Gomez's hit "Hands to Myself" for fans in their coordinating monochromatic black outfits.
In an Instagram post, Swift shared a photo of the friends on stage, writing in the caption, "To the person I could call at any time of day, who has been there no matter what... you absolutely KILLED IT tonight and everyone was so excited to see you."
"I love you, and 60,000 people at the Rose Bowl loved you too," Swift added.
Elle reported that after they performed together, Gomez gave a short speech to the crowd about the duo's longtime friendship, calling Swift her "best friend." 
"She's always met me where I've been," Gomez said. "She's encouraged me when I've had nothing to be encouraged about, and I don't know if I would be as strong as I am if I didn't have you and your family because you've changed my life."
Taylor Swift praises Selena Gomez's new music
Both friends sat down with Zane Lowe and Apple Music separately in October 2019 to discuss their new music, including Swift's album "Lover" and Gomez's singles "Lose You To Love Me" and "Look At Her Now."
When Gomez was on the show, Lowe played a clip from Swift's interview where she celebrated her friend's song "Look At Her Now," calling it "the best thing" Gomez had done.
"I'm so proud of her. She's been through so much," Swift said. "I've watched so much happen in her life and had a front row seat to so much and I'm so proud of her."
Swift added, "I'm really excited because when somebody has had great life experience, has had really tough things they've had to go through, and they can process that and make art that's going to help other people, that's what kind of song this is."
Lowe asked Gomez what type of friend Swift has been for the tough moments in her life, to which she replied immediately, "Amazing."
"She was frustrated when I was frustrated, she was sad when I was sad," Gomez said, before sharing a story about Swift's touching reaction to her "Look At Her Now" music video. "I showed her the video and her mom and Taylor started crying. And it wasn't because the song was emotional, it was because the first thing they said to me was 'We're so happy that you're here after seeing all that — this is such a cool moment.'"
Selena Gomez and Taylor Swift reflect on decade-long friendship
Both Gomez and Swift reflected on their longtime friendship during a January 2020 feature in WSJ Magazine about the "Only Murders in the Building" star.
Gomez said that she and Swift "clicked instantly" when they had first met, with Swift adding, "There has always been this quality of sisterhood, and I don't say that in a basic way."
"I knew from when I met her I would always have her back," she added. "In my life, I have the ability to forgive people who have hurt me. But I don't know if I can forgive someone who hurts her."
Despite very public moments in their friendship, including award show moments and public celebrations on social media, Gomez said, "There's so much of my friendship with Taylor that people don't know about because we don't necessarily feel the need to post about everything we do."
"She has showed up for me in ways that I would have never expected," Gomez added. "Flown in because I was hurt and was going through something. Stuff that was going on with my family. It's been proven year after year and in every moment of my life that she is one of my best friends in the world."
Taylor Swift makes virtual appearance on "Selena + Chef"
Gomez expanded beyond acting and music with a new venture in August 2020: her own cooking show called "Selena + Chef." The premise of the show saw Gomez being joined remotely by world renowned chefs to learn how to cook a wide variety of dishes. 
One episode featured chef Roy Choi as the duo cooked up some breakfast tacos. When the cooking was complete, Gomez took a moment to FaceTime Swift and show her the finished product, surprising both Choi and his daughter, who appeared both shocked and excited by the guest appearance.
Selena Gomez celebrates 30th birthday with Taylor Swift
July 22, 2022 marked Gomez's 30th birthday. To celebrate the occasion, she and Swift enjoyed dinner together, as shared on the actor's Instagram.
In the snaps, Gomez and Swift posed for several silly photos.
One frame captured Gomez smiling while Swift held up three fingers with her left hand and made the shape of a zero with her right. A second frame appeared to be a selfie taken by Swift where she gave a thumps up to the camera while Gomez covered her mouth as she laughed. 
"30, nerdy, and worthy," Gomez captioned the post.
Selena Gomez says Taylor Swift is her only industry friend
Gomez sat down with Rolling Stone ahead of the release of her AppleTV+ documentary "Selena Gomez: My Mind and Me."
Among the myriad of topics discussed in the interview, she reflected on fame and her famous friendships, explaining, "I never fit in with a cool group of girls that were celebrities."
"My only friend in the industry really is Taylor [Swift], so I remember feeling like I didn't belong," she added. "I felt the presence of everyone around me living full lives. I had this position, and I was really happy, but … was I? Do these materialistic things make me happy? I just didn't like who I was, because I didn't know who I was."
Taylor Swift gives Selena Gomez's little sister a hat during Eras Tour
While Swift didn't bring any guests on stage to perform with her during her Eras Tour, she had another tradition at each show. During her song "22," Swift would give away the hat she was wearing during the performance to a fan in the crowd. 
At a stop in Arlington, Texas, in April 2023, Swift gave her hat to Gomez's younger half-sister, Gracie Elliott Teefey.
Gomez shared a sweet moment from the concert on her Instagram, capturing her sister holding her arms in the air as she made a heart with her hands. 
"Thank you bestie for having me and my sissy transport into your mystical, euphoric and special world," Gomez wrote in the caption. "Proud to know you! love you forever and always."
Selena Gomez attends one of Swift's famous Fourth of July parties
Swift brought back her infamous Fourth of July parties in July 2023, bringing along Gomez and the Haim sisters, Danielle, Alana and Este, for the occasion.
The singer shared several snaps from the celebration on Instagram on July 7, including a photo of the group of girls laying on the lawn in their swimsuits. Another frame showed a series of Polaroid images of the crew, including two snaps of Swift and Gomez posing together.
"Happy belated Independence Day from your local neighborhood independent girlies," Swift captioned the post.
Selena Gomez and her little sister attend Taylor Swift's concert in Los Angeles
Gomez made another appearance at Swift's Eras Tour, this time at one of her stops at SoFi Stadium in Los Angeles. 
She shared a series of Instagram stories from the evening, including a sweet moment as she embraced her little sister Gracie while Swift performed "Lover."
In another snap, Gomez showed off all of the friendship bracelets she collected at the show, writing, "Thank you to the fans that traded with me."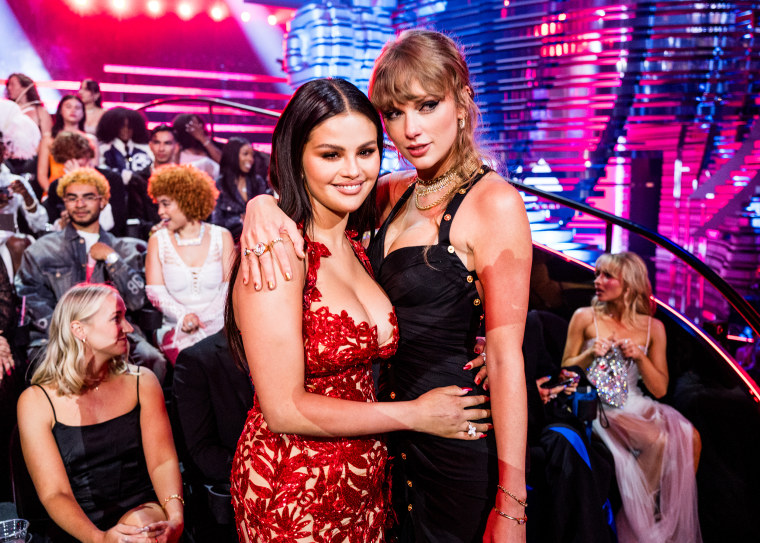 Selena Gomez and Taylor Swift attend MTV Video Music Awards
The 2023 MTV Video Music Awards were a big night for Swift, who won 9 out of the 11 awards she was nominated for.
The evening also saw an award show reunion between Gomez and Swift. The friends were photographed together at the Prudential Center during the VMAs in their glam ensembles.