For most people, the last time they tried to thread craft beads onto plastic string was at summer camp. Swifties have changed that.
Beaded friendship bracelets are now a ubiquitous sighting at Taylor Swift's Eras Tour shows, sported by fans and celebrities alike during, and often after, the concert.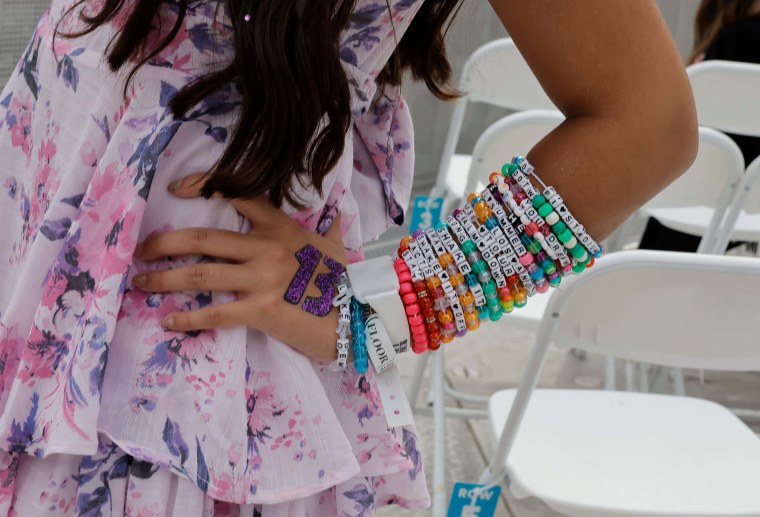 In a trend reminiscent of childhood toy swaps, fans trade bracelets with each other at shows, and many Swifties have displayed bracelet collections that stretch all the way from their wrists to their elbows.
Here's everything you need to know about the Eras Tour friendship bracelet trend and how it began.
Where did the Taylor Swift bracelet trend come from?
The friendship bracelet trend among Swifties is inspired by lyrics from a song on Swift's 2022 album "Midnights."
"So make the friendship bracelets, take the moment and taste it," Swift sang in her nostalgic anthem "You're On Your Own, Kid."
Her fans took that suggestion very seriously.
Friendship bracelets have been a key element of the Eras Tour since the first few shows, says Gabby Deimeke, a longtime Swiftie.
Deimeke, who has been a fan of Swift since her very first album, attended the Arlington, Texas, Eras Tour concert in April.
A few weeks before the show, she saw videos on TikTok of other Swifties making beaded friendship bracelets to wear to the Eras Tour.
Many fans spelled out words, lyrics, album titles or phrases on the bracelets, such as the names of Swift's cats (Meredith, Olivia and Benjamin) or memes associated with Swift ("no it's becky").
Deimeke began making bracelets to wear and share at the show and chronicled her process on TikTok. She estimates that at the time of the concert, she had made around 50 bracelets.
"I wanted to make extras because I wanted to just give them away for people that didn't have any bracelets," she says.
She bonded with other fans over their bracelet collections.
"When we were waiting in line to go in, I started chatting with people," Deimeke says. "Everyone was wearing them on their wrist, so then you're like, 'Oh, you want to trade? Which ones do you have? What eras do you like?' And then you kind of pick out a personal bracelet depending on if they have a favorite song or a favorite era from Taylor."
"It's also a good way to just start a conversation, so you can meet other fans and chat about where you guys are from, or what song you're excited to see," she continues. "I just thought it was a blast."
She shared a video on TikTok of the bracelet trading scene at the concert.
After the show, Deimeke still had leftover bracelets, so she began trading bracelets by mail with other fans. For her, trading bracelets with other fans was an important part of her concert experience.
"I would say go for it," she says. "Put a couple of fun, little phrases on there. And just be open minded and go meet new people and see what the experience brings."
"It's a great way to have that icebreaker and have a conversation starter to meet new people."
Even celebrities are trading bracelets
Swift's close friend Selena Gomez collected a stack of beaded bracelets on her wrist after attending the Eras Tour show in Los Angeles.
The singer and actress posted a pic of her bracelets on her Instagram story.
"Thank you to the fans that traded with me," she wrote over the photo.
Jennifer Lawrence was seen in a video at the Philadelphia Eras Tour concert accepting bracelets from Swift's fans. The actress was already sporting several bracelets on both wrists, but immediately added her new ones.
Jennifer Garner showed off two massive stacks of bracelets on the second slide of her sweet Instagram tribute to Swift and opener Gracie Abrams.
The actress praised Swift's "generosity of spirit, ferocity and stamina" and gave a shoutout in the caption to "everyone who stopped by to bring a bracelet and say hello."
To Deimeke, the bracelets represent Swift's ethos.
"The whole Eras Tour has this element of nostalgia and girlhood," she says. "Making the bracelets is just like a celebration of that, and a celebration of us getting older, and kind of going through that as Taylor has gotten older and made new albums for different phases of your life. I think that's kind of what the record and what the bracelets are a representation of."