While Taylor Swift celebrated her second Album of the Year honor at the Grammy Awards, she made a point to defend women's accomplishments — and may have called out Kanye West in the process.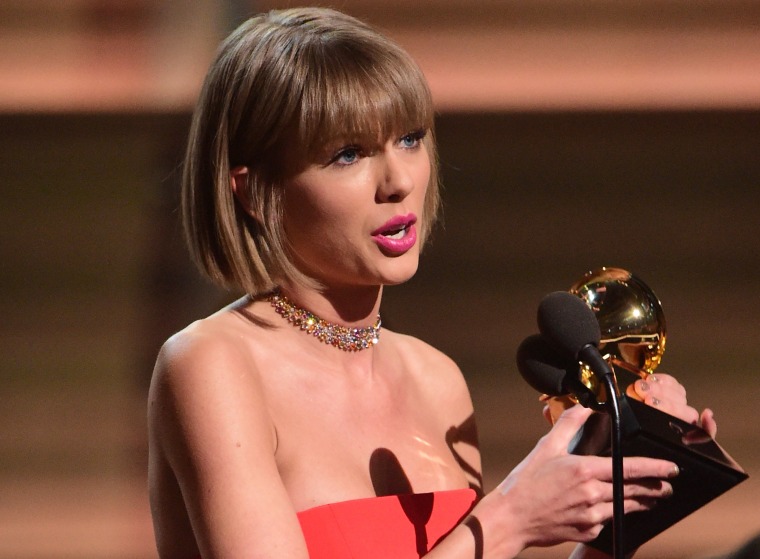 "As the first woman to win Album of the Year at the Grammys twice, I want to say to all the young women out there: There are going to be people along the way who will try to undercut your success or try to take credit for your accomplishments or your fame," Swift said. "But if you just focus on the work, and you don't let those people sidetrack you, someday, when you get where you're going, you'll look around and you will know that it was you and the people who love you who put you there. And that will be the greatest feeling in the world."
RELATED: Grammys 2016: Taylor Swift delivers shimmering performance to open ceremony
In his new song, "Famous," West raps, "I feel like me and Taylor might still have sex / Why, I made that b---h famous." The lyrics likely reference the moment West interrupted Swift's acceptance speech at the 2009 MTV Video Music Awards, prompting a social-media firestorm.
Their friendship seemed to be far stronger in August, when Swift presented West with the MTV Video Music Award for lifetime achievement.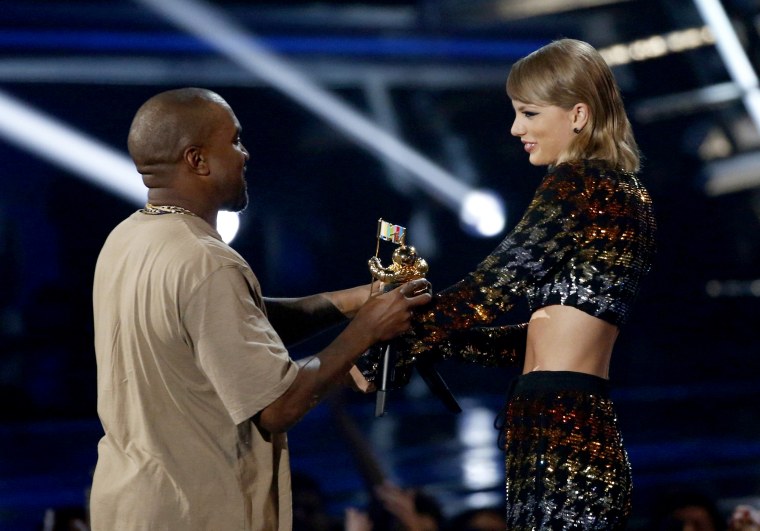 "I have been a fan of his, since I can remember, because Kanye defines what is to be a creative force in music, fashion and, well, life," Swift said at the 2015 VMAs. "So, I guess I have to say to all the other winners tonight: I'm really happy for you, and I'mma let you finish, but Kanye West has had one of the greatest careers of all time!"
RELATED: Grammys 2016: Lady Gaga delivers powerful David Bowie tribute
While accepting the Video Vanguard Award last August, West said he felt "conflicted" about interrupting Swift at the 2009 VMAs.
"I think, 'If I had to do it all again, what would I have done?'" West, who's won 21 Grammys, said at the 2015 VMAs ceremony. He later concluded: "I just wanted people to like me more. But [forget] that, bro! [In] 2015, I will die for the art, for what I believe in. And the art ain't always gonna be polite."
RELATED: Grammys 2016: John Legend, Demi Lovato, Meghan Trainor perform Lionel Richie tribute
Swift, now a 10-time Grammy winner, opened Monday's ceremony with a performance of her song, "Out of the Woods."
Follow TODAY.com writer Chris Serico on Twitter.