When I first came across this Amazon shirt that existed in 48 color ways and prints, I thought it looked a bit unassuming. It was the kind of top I might've casually scrolled past without looking back. But I figured that if any brand or company decides to release an item in that many options, it must mean there's something good about it, so I gave it a shot.
This top truly takes "choose your color" to the next level as it's available in so many solid hues and prints ranging from florals and stripes to more holiday-centric choices such as a four-leaf clover and. an American flag. The only downfall that comes with myriad options is the inability to settle on just one! But at $23.99 (or $16 if you catch the lightning deal), it perhaps wouldn't be too crazy to splurge on, dare I say, two (or more) of these.
It's a shirt fit for all scenarios
As someone who works from home, I don't always opt for dressy outfits since the only person I'm usually trying to impress is my dog — and he's usually easily wowed just by me opening the biscuit jar. But I occasionally need to make a daytime to evening outfit switch if I need to leave for a work event, dinner or cocktail hour. So, I like to pick my clothes out for the day and know I can easily transition that outfit from an at-home getup to something I can transition into wearing out at night. This blouse's exceptionally soft, T-shirt-like quality and trendy sleeve detailing lends itself perfectly to that.
At first, I was admittedly a bit skeptical about the puffy sleeves and wondered if they would fall nicely, or if they'd look like I'd sloppily thrown a tee over some shoulder pads. But I was very pleasantly surprised with the fit. The scrunching on the fabric drapes perfectly over the shoulders and tapers into a regular T-shirt sleeve, making for a unique design that blends casual comfort with something dressier.
I can style this top several ways
For a more lounge-like vibe, you can pair this with shorts or your favorite pair of jeans. I have the white shade, which I like to combine with black bottoms to make the casual to dressy transition even more effortless. I wore mine out to the park for a picnic with some black denim shorts just last weekend, then made the whole outfit evening friendly simply by swapping out sandals for foam platforms. Another way I've enjoyed styling it is by knotting it in the front to create a cropped option and wearing it with high-waisted bottoms. Or, if you're feeling nerdy like me, you can even wear this with some pleated pants and pop a sweater vest over top of it.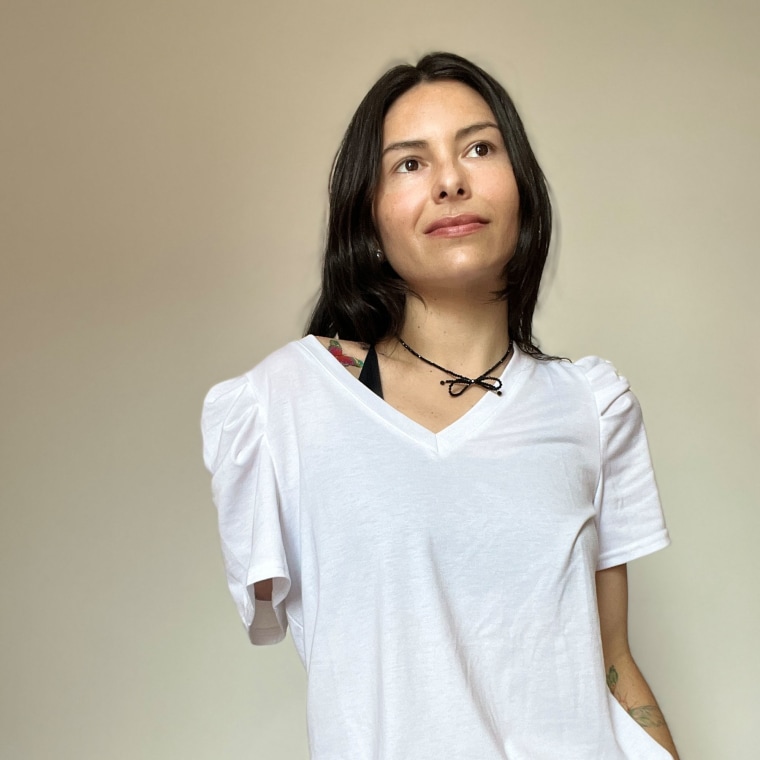 I love the fit and fabric
Based on the reviews and item description, this shirt is supposed to fit slightly oversized. I'm usually a true XS but typically purchase all of my tops in an S because I like to have a little extra room. Both the front and back are pretty long, which is practical if you're a leggings wearer who likes more bum coverage. My advice would be to size down if you want the top to be a bit more fitted, and if you stick with your true size, expect it to be roomier.
With that said, the shirt offers relatively varied sizing available in XXS-3X. From a design perspective, I was a bit thrown off by the V-neck. Since the hem is curved and the sleeves are puffy, and therefore more round rather than angular, I would've liked a curved neckline to, pun intended, round things out and make the details consistent with one another.
I love how the top feels like your favorite worn-in tee; it's even soft enough to sleep in. As a bonus, the absence of a tag by the neck makes it an excellent adaptive clothing pick for those who experience sensory overload. But I'll also note that if you're not into synthetic materials, this top may not be the right choice for you since it is 95% polyester and 5% spandex.
On the other hand, I consider the fabric composition a major win because it doesn't wrinkle. Since I have one arm, folding isn't one of my strengths, and the polyester-spandex blend keeps the need to iron or steam this thing at bay, making it great for anyone who struggles with their hands or might not have enough space to store a steamer or iron. I put this to the test when I gave it my very best (or worst) crumple. I left it in a bag overnight and pulled it out the following day, only to find that it looked the same as it had before I mistreated it. This, combined with the multi-functionality of this shirt, has me seriously thinking of dipping back into my Amazon saves to purchase the pink one!