Under the clear blue Oklahoma skies, the wind can be fierce, but the sun can be even more intense. So, finding something to wear every morning can be an especially annoying task in the warmer months. The weather calls for a summer outfit that's breezy, but my teaching job requires something more professional. While shopping, I try my best to find garments that achieve both without surrendering to style-less ensembles. The latest addition to my wardrobe gets the job done — a two-piece set from Roylamp on Amazon that has almost 3,000 five-star ratings and is priced at under $40.
While Amazon calls this a jumpsuit, it's actually two separate pieces — a round-neck sleeveless crop top and wide-leg pants that land just above my ankle. However, the uniformity of the look means it's as simple to put on as its one-piece counterpart. Plus, it's available in more than 40 colors, from black and cherry pink to light green and navy blue, so, if you're like me, you'll find a shade that works for casual settings and another that works for something semi-formal.
According to the brand, the material is 100 percent polyester, which may seem like a red flag for those looking for breathable fabric. But the flowy silhouette of the pants and the boxiness of the top prevented the garments from sticking to me and retaining heat, even during my 15-minute strolls to class. The stretchy waistband of the pants also added another point for comfort during my wear.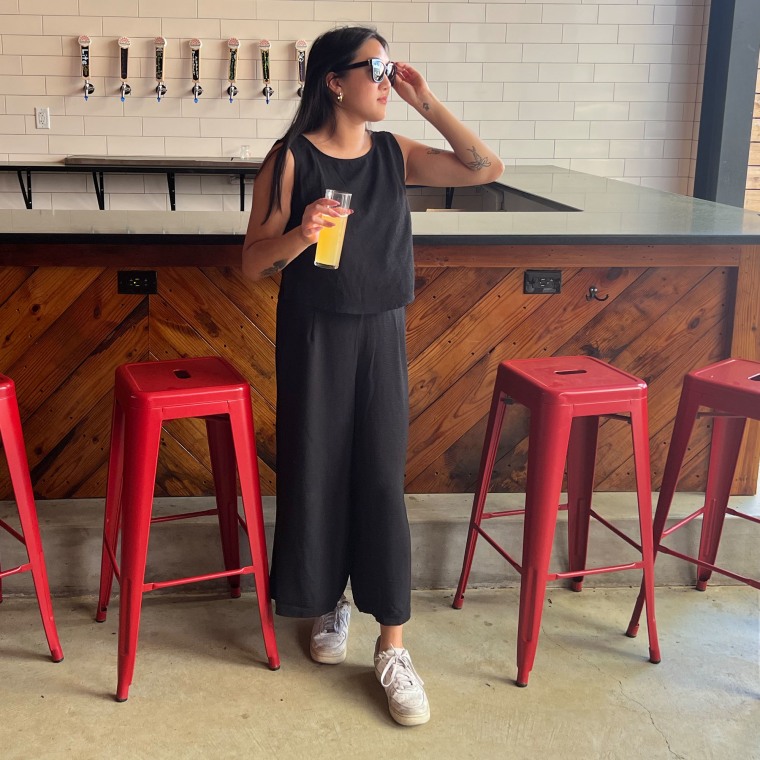 The black was the perfect choice for an easy day-to-evening transition, so I was more than happy to wear my outfit to class and then to happy hour. I was able to style this look with white sneakers, flat sandals, and even open-toed chunky heels — whatever each occasion called for. I also found that a short, thin jacket looks best with this — think denim or super lightweight leather for cooler days and nights.
The fit is more or less true to size. At 5 feet 5 inches, I fluctuate between a small and medium and need pants that accommodate my longer legs. While both the small and medium fit me (I order the black and light green shades in different sizes), I found that the medium top, with its irregular hem, was a more flattering option. The small top didn't hit my torso at quite the right spot. The medium pants were a little more comfortable but didn't hug my rear as much — a small price to pay but certainly not a deal breaker.
One pain point I experienced with the set was that I found the material slightly frustrating to iron. While the fabric is designed to have a little bit of texture as opposed to a smooth, silky look, any wrinkles were stubborn under low heat. Between both color options, I could be a little more liberal with my ironing with the darker shade, while the creases stood out more with the lighter color.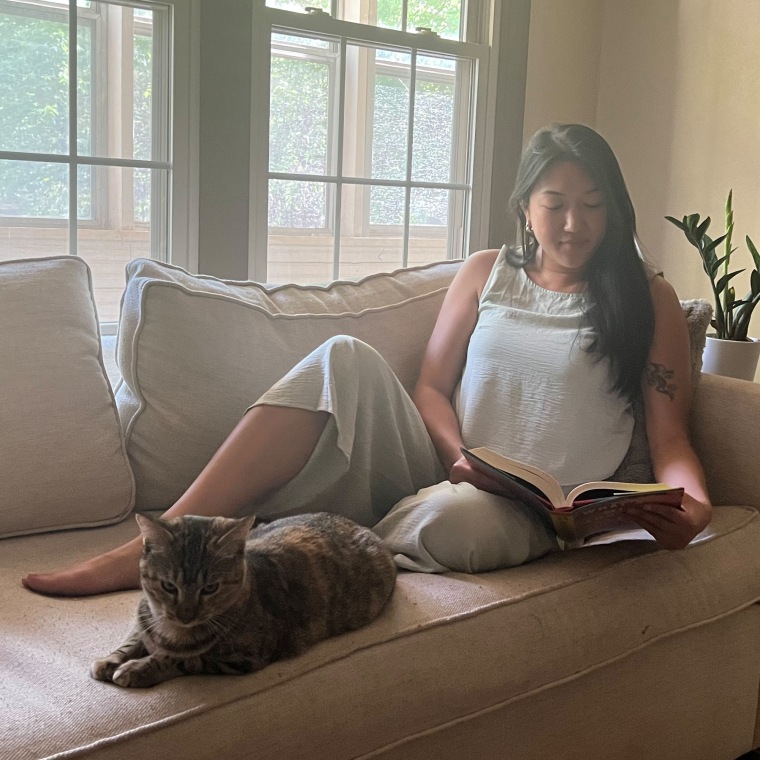 And since the fabric is thin, I was a little worried by how much of my undergarments would stand out under the light green option. The front of the top is lined, but the back is not, so there is a risk of a little transparency. If that sheer quality is not what you want, finding the right color that works for your skin tone and purposes will be key here.
In an ideal world, the brand would allow us to choose a different size for each piece of the outfit, but having tried both, I would definitely go with the medium again to achieve that boxy, oversize look that balances the proportion between the crop top and the wide-leg pants. In another ideal world, the pants would also have pockets, elevating this look to functionally chic. But there are pleats that sit around the hip bones, giving the bottoms a detail tiny enough to make this an on-trend look. Whether you're going to a birthday party, a meeting, or a shopping spree, this outfit makes looking sophisticated and feeling cool an easy and affordable task.