During the colder months, you'll find me exclusively wearing jeans or leggings. But on days where I want to feel more dressed up (without sacrificing coziness), I love to throw on a sweater dress with tights. However, finding a pair of the latter that checks all the boxes is harder than it seems. I need something that's not too sheer, thick enough to keep me warm and durable. (And anyone who's put on a pair of tights — only to have them rip five minutes later — knows how important that last factor can be.)
While looking at my current and very worn out selection of tights, I realized it was time to retire them and look for a new pair to add to my winter wardrobe. So, you can imagine my excitement when I recently got the chance to try this highly rated option by No Nonsense, which happens to have racked up almost 25,000 Amazon ratings, with nearly 19,000 of them giving the pair five stars.
Many of the reviewers rave about how warm and comfortable these tights can be, even with a compression fit and a control top, so I couldn't wait to check them out for myself.
The tights are available in singles or doubles, with the two-pack offering a choice between an all-black pairing or a color variation. I decided to grab a combo pack of a classic black and the Port Royale shade, so I can challenge myself to add a bit of color to my usual all-black wardrobe. Most sizes in this color combination are almost sold out, but there are other hues available like Galaxy, Navy, Steel and Graphite Heather.
One thing to note is that the brand says the sizing is "true-to-fit," however I always like to size up with tights for the extra stretch and comfort.
They're so comfy and keep me incredibly warm
The tights are made with adaptive Smart Temp technology, which the brand says is meant to adjust to your body temperature. The first time I wore these tights was on a blustery winter day in New York City and any skepticism about the fabric technology immediately went out the window. The fabric is thick but not too thick to where I felt bulky. They also kept me warm, and my legs weren't stung by the frigid air on my early morning walk to the subway.
For my personal style, I tend to go for solid colors rather than a sheer panty-hose look, so I loved how opaque these turned out. The brand says the fabric is made with a nylon and spandex blend, which I find gives it a nice stretch, too.
After wearing them all day in the office, then attending an event after work, I had the tights on for about 14 hours. Not once did I feel any discomfort during the time I had them on; in fact, it almost felt like I was wearing a cozy pair of leggings.
Also, the control top made me feel extremely supported. The waistband didn't slide down or cause sagging or have me running to the restroom to adjust myself, which I often have to do with other brands.
They're versatile, durable and give a pop of color
I'm a neutrals gal, and I simply can't get enough of all-black outfits. However, when I do feel like I should venture out of my Wednesday Addams-core ensembles, the colored tights give my dark-hued outfits a subtle pop of color that offers versatility without veering too far outside my comfort zone.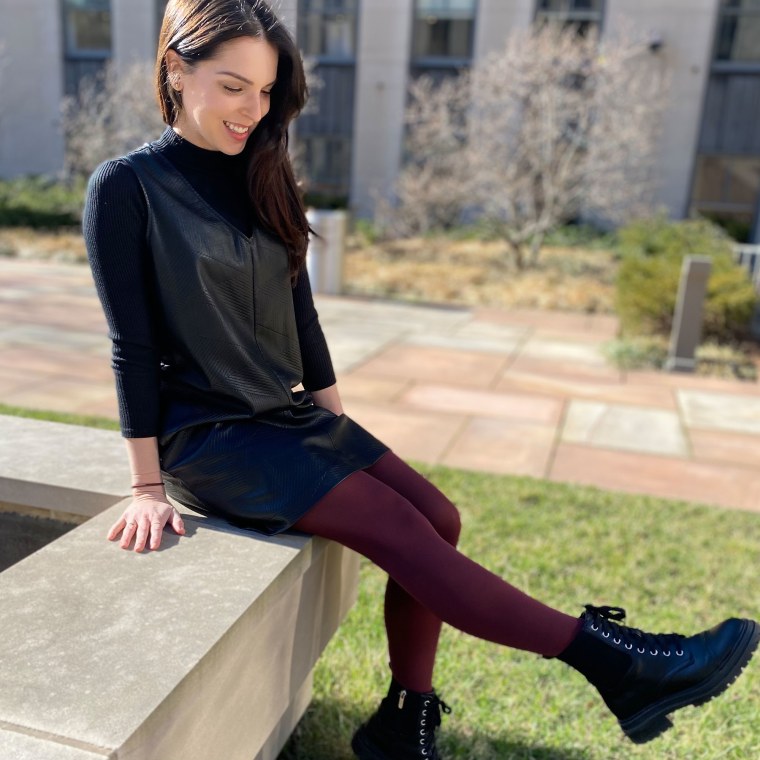 And if you're wondering if these tights last, you should know that I have been wearing them about once or twice a week since December (with plenty of washes in between), and so far, they have maintained their shape and remained free of tears or snags.