During the winter months, you'll typically catch me in long-sleeve shirts and light coats. I don't tend to wear anything too bulky since it will most likely be too hot (that's Atlanta, Georgia, weather for you ...) But since the Peach State can sometimes reach frigid temperatures in January, I have no choice but to layer up. My problem is that I don't own many sweaters, mostly because I haven't found any that I actually like. That is, until I came across this knit pullover on Amazon — which I now wear on repeat.
It is lightweight and soft
Seriously, I can't stop wearing this sweater. Most because it's unbelievably comfortable and extremely soft. I ordered a size S, which fits perfectly. It has an oversized design and offers plenty of room to add a tank top or T-shirt underneath for more comfort and warmth. And since the waffle knit material is breathable and lightweight, I can even pair it with a coat without feeling weighed down or restricted.
Another reason I keep throwing this pullover on — I'm receiving so many compliments! Out of the 20 solid colors to choose from, I opted for Fresh Green to add a pop of brightness to my wardrobe during the winter season. Not only do I love this standout shade, but I'm also a big fan of the V-neck zipper, which gives you two styling options with a full- or half-zip collar.
A versatile addition to my winter wardrobe
The versatility of this sweater is what I appreciate most. It's the ideal piece of clothing to jazz up for a professional-casual event or dress down when I want to prioritize comfort. First, I paired it with jeans and a black beret for a night out with friends. It was a chilly evening, so I had to wear a tank top underneath, but it still looked chic (and maybe not like something you'd find on Amazon for less than $40!).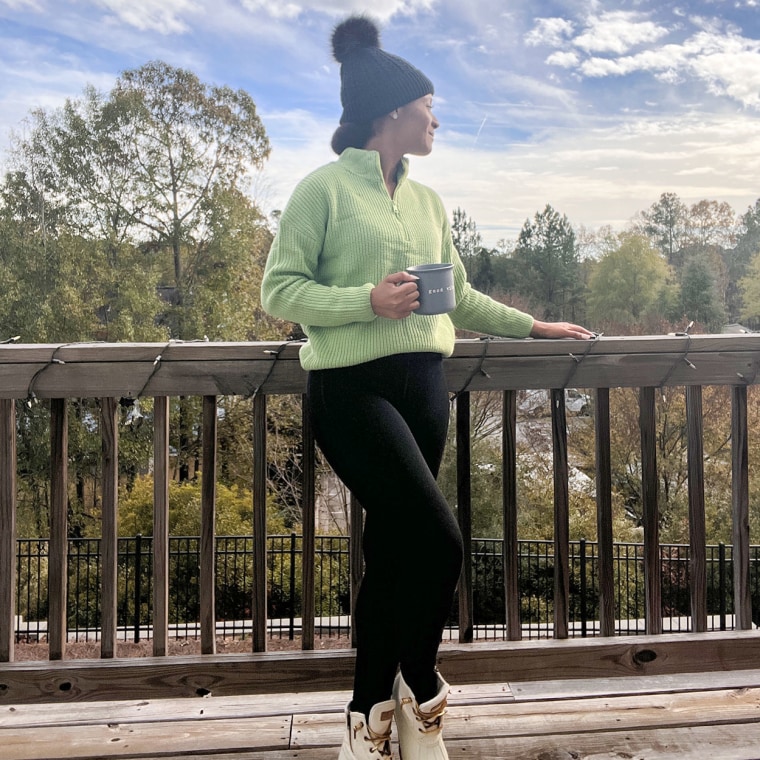 But I don't need a special reason to don this sweater. This time of year, I prefer to wear comfortable clothes, so I like to pop this on whenever coziness calls — whether I'm running errands or just lounging in my home. For a more relaxing, day-to-day look, I like to match the sweater with black leggings, a beanie and off-white rain boots.
After several wears, I opted to clean it in the washing machine with cold water (though, for anyone who prefers handwashing, that's a recommended option as well). I was a little nervous because I didn't want the pullover to lose its shape. Luckily, it didn't! Even after air-drying, it kept its original look and size. And for someone who finally found her perfect sweater, that's a relief indeed.