"Chilly" and "freezing" may be the first words that come to mind when talking about winter, but we argue it's also the perfect time to embrace the outdoors. Having the wrong cold weather attire, though, can shift your plans and leave you feeling snowed in. Before heading to Vermont, the French Alps or any other chilly destination, don't forget to stock up on comfortable, practical and insulated winter apparel.
Since most winter outfits include boots and various pieces for layering, Shop TODAY talked to a fashion expert for her tips and recommendations on how to combine those pieces to elevate your cold-weather style. Whether you like to enjoy hot cocoa by the fireplace or hit the slopes, there are different options to stay cozy and stylish during your next winter getaway.
Use the links below to jump to specific categories, or keep scrolling to see all our winter layering tips and the 29 trendiest snow gear and apparel of the season.
How to layer winter clothes | Snow gear trends this season | Trendy winter accessories | Best winter layering apparel | Trendy outdoor snow fashion | Trendy winter socks and boots | Meet our expert
How to layer clothes for winter
Before heading to the winter wonderland of your choice, consider stocking up on layers. According to image consultant and style coach Leena Alsulaiman, thick layers don't necessarily equal warmth.
"Alternatively, look for lightweight layering materials. Thermal materials and merino wool are good options for all your base layers," Alsulaiman says.
"To maximize your layers, invest in a thermal crew neck to wear underneath your sweaters. You can also wear this layer on its own on warmer days. If you wear a basic and functional base layer, what you wear on top can be more luxurious like cashmere — it can provide a stylish finish," the stylist adds.
Layering mittens and gloves are also key to keeping you warm this winter when you're hanging around the ski lodge. Alsulaiman recommends layering them together to maximize body heat and keep your fingers cozy.
Snow gear trending this season
Alsulaiman says traditional winter gear is officially out of style this year. Instead, we'll be seeing more vibrant pieces reemerging.
"Colorful and nostalgic pieces that take inspiration from the '60s and '70s are driving the trends on the runways and the slopes this year," she says. "Packing a punch, the outfits are pairings of colorful puffer coats, quilted jackets and slim-fitting flared-at-the-ankle pants, all of which work perfectly on and off the slopes.
"In addition, you can expect to see less of the usual black boots and much more puffer-styled snow boots, mixing functionality with cozy comfort when it comes to footwear," she adds.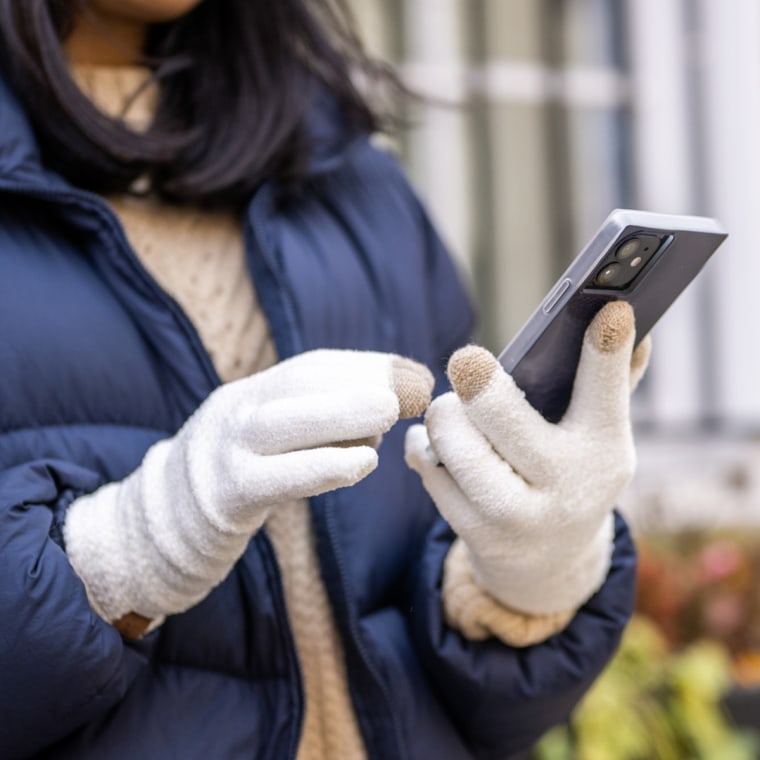 Trendy snow and winter accessories
Available in three colors and patterns, including solid yellow, brown stripes, and purple and green stripes, you'll be warm, but won't be hard to spot in the snow. Reviewers report being "obsessed" with how "cute and soft" this scarf is, not to mention that it's also "long enough to tie any way you want."
Whether your day includes hitting the slopes or clearing a snow-covered driveway, this wind-resistant (and anti-pilling!) fleece neck warmer should keep you bundled up and warm. Plus, it can cover the bottom half of your face for extra coverage.
One reviewer calls it a lifesaver, raving, "I use this not only as a neck warmer, but [also] a face covering in this cold weather, as well as a replacement of a face mask in stores."
For a quick and easy layer to throw on to protect your ears while you're on a winter run or running outdoor errands, turn to this Patagonia headband, complete with the fitting mountain-scape design. Along with several variations of the words "comfortable and cute," reviewers say this headband is also very versatile because it can be worn for any type of winter activity.
We love that this is made from 100 percent recycled material and is warmly lined with fleece.
Apparel brand Klim is known for its outdoor motorcycle riding and snowmobiling gear, so they know a thing or two about warmth and wind- and water-resistant textiles. This unassuming beanie doesn't disappoint, with its warm (and cute!) knit material, fleece-lined construction and well-fitting, over-ear design.
These trendy color-block gloves will keep you warm and in vogue around the ski resort. The gloves are just the right weight to be comfortable enough to wear out and about for long periods of time, but not too light that it sacrifices warmth. Plus, the plush fleece material is layered with smooth color-block panels that do double-duty to block the wind, according to the brand.
The pair also features an elastic band for a secure but comfortable fit.
Canadian brand Arc'teryx is a household name among outdoor snow sport enthusiasts, and it'll take one look at the specs of these no-ordinary-mittens to see why. They're constructed of a breathable yet lightly insulated blend of GORE-TEX and Octa Loft fleece fabric that'll keep your hands toasty but comfortable. We like the addition of TPU-reinforced grips on the palms and smartphone-compatible sensors on the thumbs.
Layer this over the Kari Traa lightweight gloves above, like Alsulaiman suggests, for colder climes.
If you'd rather settle for one pair of gloves instead of layering, and if you want an even more heavy-duty pick than the Kari Traa Ragna (and don't want to keep your hands inside your pockets all the time), consider a glove lined with 3M's so-called Thinsulate, a type of moisture-wicking insulation made of several layers of synthetic fiber that keep warm air in.
The gloves, by MCTi, not only offer extra warmth and resistance to water and snow, but the thumb, index finger and middle finger of each glove also have phone touchscreen compatibility.
Your face will feel extra soft with this plush balaclava that's lined with double-layer chenille fleece, which offers extra warmth. It also has an adjustable face opening to seal out the cold. If you need this for snow sports, it comes with a helpful built-in face mask, and it can comfortably be layered over ski goggles or a beanie.
This accessory isn't only attractive for its clean design for the skier enthusiast. You'll also be able to protect your skin from UV rays and snow with this balaclava from BlackStrap. One reviewer also noted, "[Its] moisture-wicking material doesn't freeze and stays drier than any other balaclava I [own]."
Best winter apparel for layering
Dress in layers seamlessly without feeling too bulky with this thin yet warm and comfortable compression shirt from Under Armour. "Heat Gear" in the name refers to the brand's proprietary base layer fabric, which it claims is sweat-wicking and quick-drying. And while it's compressive, meaning it fits tightly to your body, it's equipped with four-way stretch, so it comfortably moves with you. One reviewer enjoys wearing this layer in both "cold mornings and warm afternoons" alike.
For a pick with similar specs as the Under Armour, but with slightly less hefty price tag, go for this Amazon-bestselling thermal underwear set (yes, it includes the bottoms!). Made from a polyester-spandex blend, this lightweight and breathable set is designed with four-way stretch, sweat-wicking and odor control features, according to the brand.
"They all feel amazing, fit well and keep me super warm even in 5-degree weather," raved one reviewer who wore this skiing. These are available in sizes 2XS to 3XL, but the manufacturer advises to size up.
You can also go the merino wool route for your base layer, as Alsulaiman suggests. We recommend Quince's quarter-zip base layer. Merino wool is naturally temperature-regulating, wrinkle-resistant and breathable, according to the brand. That means this layer will not only keep you warm, but it'll likely be easy to care for, too.
If you have a little bit more splurge cash and want to stock up on quality merino base layers, we recommend Bombas' pack of three crew neck sweaters, which are blended with breathable Tencel, and which reviewers claim are cozy and don't shrink after washing.
Give your base layers some pizzazz with this winter outfit essential from Athleta, which features the quilting pattern that is currently trending among snow gear enthusiasts. This vest features a turtle neckline to protect you from the wind. Perhaps layer this vest over one of our thermal long-sleeved picks above, or style it with your favorite leather pants for a more elegant winter look.
A soft and quality turtleneck is essential for all your winter outfits. This 100 percent cashmere sweater is said to be two to three times warmer than wool and will feel soft to the touch. Also, it is a classic winter basic to keep in your closet when you need a separate to match your bottoms.
We had to include a Burton pick here, not only because the brand is well-known for its well-crafted snowboarding apparel, but also because its mission includes fair wages, sustainable sourcing and minimizing its impact on the environment.
These midweight base layer pants are a great example of their quality products — and they're cute, to boot (these come in four colors, including Amparo Blue Camellia, pictured above). They're made of a "cotton-like" midweight fabric that wicks away sweat and featre an odor-resistant finish. It's also got four-way stretch so you'll be comfortable, even as it hugs your skin.
One of the best parts: These are available in a wide range of sizes, from 2XS to 3XL.
Keep your legs hibernated with these cold-weather tights. You can wear them during high-impact workouts or don them underneath your snow pants. One Athleta shopper said, "They are soft like sweats and not as snug as traditional leggings."
Trendy outdoor snow gear and apparel
Lean into the colorful and nostalgic pieces Alsulaiman was referring to with this retro-inspired snowsuit from Bloomingdale's. We think the colors are a perfect match for the winter aesthetic you're trying to achieve. "The material feels like a silk," says one reviewer of this stylish winter outerwear, which is also machine washable — making it perfect for ski trips. Available in sizes XS to XL (24 to 35).
We're leaning into another nostalgic winter fashion trend, according to Alsulaiman, with these stylish yet breathable pants by Athleta, which are available in sizes 2XS to 3XL. The semi-fitted, slightly flared pants are designed for medium- to high-impact outdoor winter activities, according to the brand, and the specs show it.
Reviewers report that the slightly flared pants have a warm and comfortable interior soft lining, and that they have just the right amount of compression without sacrificing breathability. It also boasts practical features like zip pockets and subtle reflective studs that run on the outside of each leg.
One reviewer summed it up nicely: "So flattering and comfy. Can be worn to run errands hiking in cool weather or maybe skiing on a warm ski day."
With 85 grams of ThermaTech insulation, you'll definitely stay warm all day wearing these. The highly-rated bib overalls have over 24,000 ratings, and Amazon shoppers agree this is a must-have item to protect you from the cold. One reviewer even said, "I can be outside for hours in this suit."
If you've got a little more in your budget to invest in a high-quality pair of bib pants from the aforementioned snowboarding brand Burton, this customer-loved pair won't disappoint. Constructed of two-layer stretchy polyester fabric, the pants should keep you moderately warm while still being moisture-wicking, breathable and quick drying, according to the brand. We also love the microfleece-lined hand-warming pockets, and we'd be remiss not to mention the inclusive sizing (up to 3XL).
One snowboarder raves, "Amazing fabric, good pockets and stays in place when riding. Super happy!"
This best-selling jumpsuit from Madewell is a great option to enjoy fireplace cocktails or hit the town in style. The coverall features a vintage vibe and is a great piece to wear on top of your thermals.
Alsulaiman also pointed to cute quilted jackets as a great addition to any of your winter outfit of the day. This steeply marked down Tommy Hilfiger zip-up, with its average rating of 4.7 stars, fits the bill. It's available in five colors and features front flap pockets and a stand collar for extra warmth. Reviewers report that it's warm but lightweight, and that it's stylish and figure-flattering.
It's a snug fit, so size up if you're between sizes.
Add a vintage vibe to your outfit with this corduroy jacket made with recycled sherpa. Match it with your favorite slimming jeans for an elevated ensemble.
This Patagonia jacket will keep you warm even at a snowbound village resort. The brand uses PrimaLoft Gold insulation Eco that retains insulation while repelling water. It also comes in different hues to match your winter clothing. One reviewer mentioned, "It's so lightweight, but keeps me warm in Seattle during spring, summer, fall and early winter."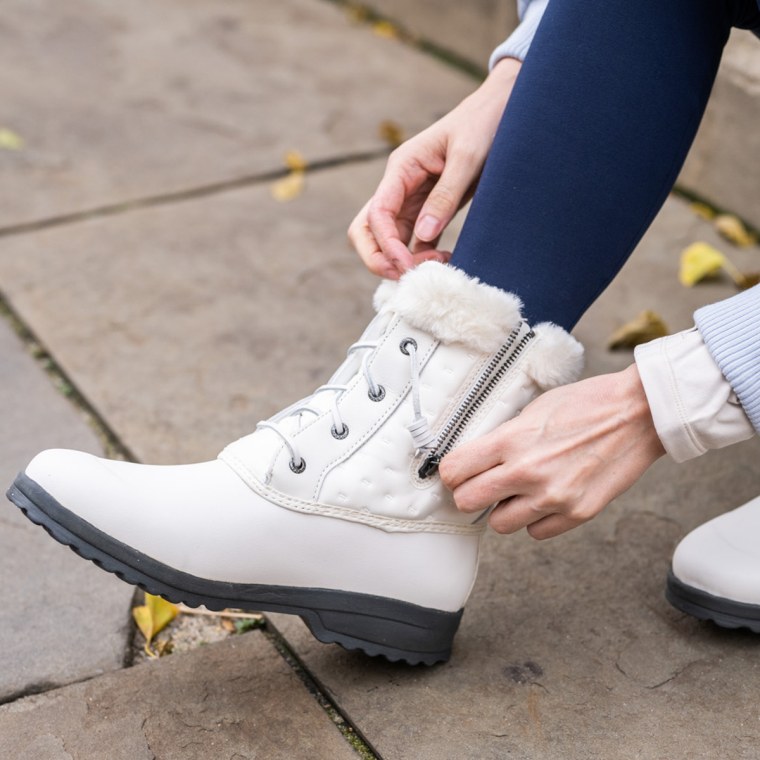 Trendy women's winter socks and boots
Bombas nails it on the head again with these merino wool socks. These should keep your feet dry thanks to its moisture-wicking properties. But they're also warm. Shop TODAY associate editor Fran Sales has worn her pair running errands, on long flights and more, and she can attest to how sweat-wicking they are. The socks come in different colors and offer extreme support to your soles.
Another sock option to complement your winter boots, this pair from Carhartt is made with a wool-blend to keep your feet sweat-free while you're exploring a wintry village.
We're fans of dark, more structured-looking winter boots, but sometimes a different style can add a breath of fresh air to your winter wardrobe. Enter: These puffer-style boot slippers, a stellar example of the shoe style that Alsulaiman says mixes "functionality with cozy comfort."
Made totally from 100 percent recycled water bottles (including the warm interior lining) and equipped with a slip-resistant, grippy outsole, these slip-on boots are stylish, but will still keep your feet warm and comfy.
Says one reviewer: "My feet were always freezing in the winter, even when I wore boots that are supposed to be warm at -30 degrees Celsius. But when I wear these Arden Noize boots, my feet are actually warm and I forget that I'm outside walking in snow."
Just note that these run snug, so order one size up if you plan to wear thick socks.
When snow is in its prime, wear a cozy pair of boots to celebrate the occasion. These winter boots are made with an OrthoLite footbed and lightweight fabric for the most comfortable wear during your post-ski activities.
From winter rains to snowy sidewalks, these boots have you covered. The cozy design features waterproof leather, a shearling upper and microfleece lining to keep you extra warm. One reviewer said, "Every Sorel boot I've ever purchased has been worth the price, [and] these are no different."
Meet our experts
Leena Alsulaiman is a Saudi Arabian-American image consultant and style coach based in the San Francisco Bay Area. She has over 20 years of experience as a fashion stylist, style advisor and entrepreneur.