Winter creates an opportunity to experiment with layers and unique fashion pieces. Though the cold weather can be brutal during this time of year without the proper attire, the season also invites us to get creative with our wardrobe. While many people lean toward aesthetic footwear like high-heeled boots around wintertime, those boots tend to lack the fabrics and materials needed to keep your toes humid- and frostbite-free.
Just like winter clothing and gear, winter footwear should have a combination of comfort, style, support and insulation — all of which help your feet withstand snow and slippery surfaces. Unlike your fall footwear, winter calls for sturdier and more supportive styles. Before you select your perfect pair of kicks ahead of the season, there are some crucial things you should keep in mind.
Shop TODAY asked a group of experts for tips on finding the best winter boots to keep your feet warm. We also rounded up some stellar kicks currently on the market based on customer reviews and recommendations. From waterproof shoes to shearling-lined footwear, we found dozens of modern styles suitable for every winter occasion.
To help you choose, use the table of contents below to go directly to the category of winter boot you love. Or, you can read more about how to shop for winter boots, what features to look for and other frequently asked questions. Here, our 34 top picks for the best winter boots for women.
How to shop for women's winter boots | What to look for in women's snow boots | The best stylish winter boots | The best winter boots for everyday wear | The best waterproof winter boots | The best lightweight winter boots | The best winter boots with extra insulation | The best winter boots for hiking | Winter boots FAQs
How to shop for women's winter boots
The first thing to consider when buying a pair of winter-approved boots is the material. According to footwear designer Damion Le Cappelain, start by searching for boots made with GORE-TEX. "This is a tried and tested material that makes the boots both waterproof and breathable," he said. Shoes made with this durable material have to meet rigorous waterproof performance standards and tests to ensure they can withstand extreme temperatures and precipitation.
Winter boots should also be comfortable instead of constricting. According to sixth-generation master shoemaker Marcell Mrsan, "When you expect to wear footwear in extreme cold, the last thing you need is tight footwear, which restricts blood flow. Blood flowing is what will keep your foot warm."
Mrsan also advised trying your boots with socks, which, he said, "can take away a mentionable amount of girth from the inside." Before committing to a purchase, try wearing your desired boots with thermal socks to gauge the amount of room your feet will need.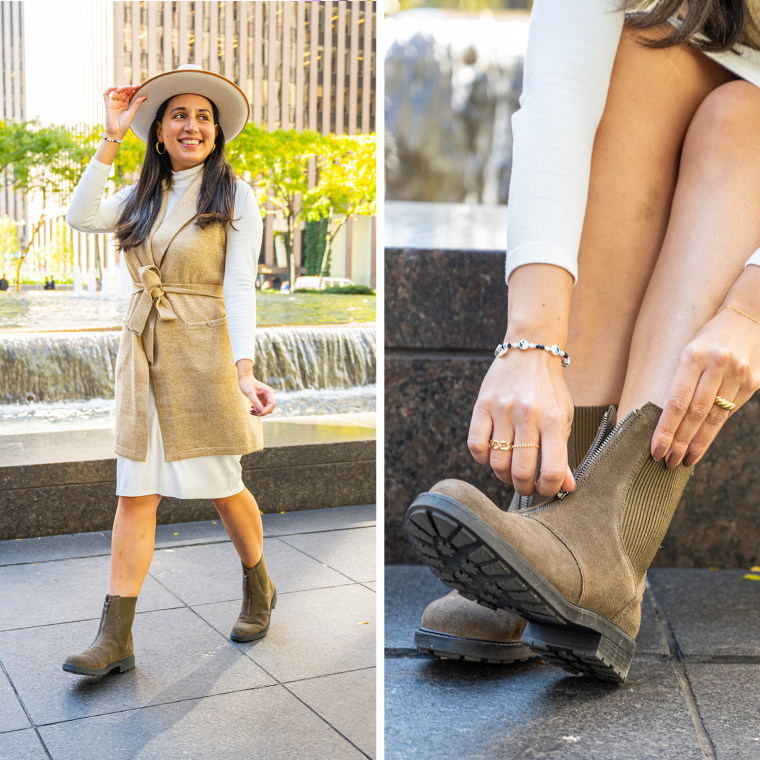 While leather boots look fashionable and seem ideal for the winter, their maintenance can be difficult. Instead, footwear designer Carla Lopez recommends finding a pair that's made with "waterproof synthetic leather for people who like the look of leather but don't like the upkeep to make it waterproof."
What to look for in women's snow boots
Consider these key features when sleet and snow try to get in the way of your fashion choices:
Rubber boots: According to Lopez, "Rubber boots with non-skid soles will keep you safe from slipping in inclement weather."
Comfort: Boots made of most synthetic materials, such as polyester, are unable to take your foot's shape, said Mrsan. He suggested trying the boots on several times before leaving the house. "Badly fitting footwear is only going to lose the counter stiffener shape [the thermoplastic material between the shoe's lining and upper meant to give it shape]."
Waterproof: During extremely cold weather, Lopez advised choosing boots with non-wicking properties on the upper materials.
The best stylish winter boots
For the ultimate fashionista, this boot is the road to foot wellness. The pair features a water-repellent upper with a protective coating to help against inclement weather and a comfortable footbed made from injected microfiber. The style has zippers for easy slip-on and has floral details for an added feminine vibe.
On colder days when you need to run around the city, this pair will give you an extra edge. The bold buckle and strap detailing are for the woman that wants a sense of security but also style. This boot features extra arch and heel cushioning for extra comfort while walking. Also, it comes in seven different neutrals to match all the fall and winter elements.
For the woman who wants comfort but doesn't want to give up her stylish choices, this pair is a great option. This PETA-approved vegan boot has that distinctive chunky aesthetic and a discrete zipper with a chic design. This is the kind of boot you would wear on cold days while the snow is melting. The rubber sole and thick heel will keep you safe and elegantly elevated during the holiday.
If you're a fan of a Chelsea boot, this particular style by Clarks will inspire you to upgrade your wardrobe. Unlike traditional Chelsea booties, this design offers flexibility and ultimate comfort. It has a front zipper to slip it on easily and an ankle-hugging stretch to make your stride more pleasant. The boot is made with a durable thermoplastic rubber sole that is said to help it withstand uneven pavements.
For a more elevated feel, jump into the lace-up trend. This Blundstone pair offers a grunge vibe with its gold brush detailing on the upper and elastic panels. There is no need to tie the laces every time because you can easily pull them on with the pull tag on the back. The boot also features shock absorption, which the brand claims can absorb 90 percent of the impact as you walk.
Caring about the environment is important to many, and if you do too, this ethically made pair will rock your wardrobe. The pair is certified carbon-neutral and are super comfortable for walking long distance. "These are high-quality, and they look it—you can't tell they're not made of real leather. They're easy to slip on (easier than my Doc Martens) and comfortable, and they go with both casual and dressy looks," said Fran Sales, associate editor at Shop TODAY. "The 'deep tread' in the name is 100 percent accurate," she added.
If you're more into neutral and tan hues, this boot will become your new bestie. The pair combines a mix of cozy and cool city girl vibe. The faux fur lining provides extra panache to the boot's design, while the waterproof suede is meant to protect you from unpredictable weather. Whenever the cold kicks in, you'll be sure to feel protected thanks to the lace-up closure and extra coziness of the faux fur upper.
We've all had that last-minute date night we had to squeeze into our schedule. This pair has a 3-inch block heel and back pull tab to don them in seconds, just in time to make it to your date. The pair is made with a water-repellent leather upper and a cozy fleece lining to match your cold-weather style.
Add some edge to your winter outfit with these iconic boots from Dr. Martens. Choose from a matte or patented finish, depending on your style. The best thing about these boots, though, is that they are a timeless staple and go well with almost anything you wear.
The best winter boots for everyday wear
When the crisp fall weather turns colder, then it's time for something sturdier. This is a cozy sport boot that features padded cushioning, faux fur lining and built-in heat protection for a comfortable day exploring the holiday towns. You can even explore the woods, because the boot is made with water-repellent outdoor protection.
The MTE line by Vans are designed to keep you ready for any weather condition. This pair of boots comes in many different designs and colors, feature a vulcanized rubber sole, 200 grams of insulation and seam-sealed construction for wet seasons. "These are excellent boots for the snow — [they] have all the functionality you need, plus [they] are very comfortable and look great," said Le Cappelain.
Missing your high heels? This waterproof wedge bootie will elevate your winter wardrobe and add elegance to your overall look. The Joan of Arctic style has a molded rubber sole offering good grip and full-grain leather and boucle. This pair is suitable for all-day wear and will keep you warm and in vogue.
If your activities are mostly around town, you can get away with a classic Danner boot. This pair is made with waterproof GORE-TEX liners, leather uppers and durable Vibram midsoles and outsoles for maximum support.
Embrace a little bit of edginess with these classic Dr. Martens boots. The Chelsea boot style is a great option for busy urbanites looking for a practical boot. According to a reviewer, "The slip-in style was what I really wanted, and they are super easy [to get] on and off."
For those extra-cold days, stay stylish with these waterproof leather boots from Overland. The brand specializes in leather goods with modern designs, all while focusing on warmth. These boots in particular will keep your feet cozy up to -13 degrees Fahrenheit, thanks to their soft shearling sheepskin shaft and wool lining. Plus, your winter footwear will get an upgrade with the pair's versatile coffee cream color.
The best waterproof winter boots
When you need extra cushion, these Cobb Hill boots will get the job done. The classic design will match all your winter essentials, and the waterproof upper keeps moisture away. These versatile boots are next-level when you need to go from work to happy hour and still need to walk that extra mile.
This cool collaboration between Sperry and Who What Wear will rock your feet. Not only are these waterproof, but they're also a favorite pair of Shop TODAY market assistant Audrey Ekman.
"Being from Minnesota, I've trudged around in my fair share of clunky and heavy winter boots. When I tried on this stylish, newly launched spin on Sperry's classic Duck Float Boot, I was shocked by how lightweight they are. These are truly fashion-meets-function shoes, because they're comfortable enough to walk in all day but chic enough to wear around the office. Plus, the design doesn't feel overly wintery, so I can keep on rocking these waterproof boots into spring's rainy months."
If keeping cozy is your main priority, then this snow boot is your solution. The pair will give you comfort all season long while giving you that artic aesthetic you so desire. These snow boots feature faux fur lining, a waterproof quilted nylon upper with a cute faux fur cuff, a removable padded fabric insole and a flexible synthetic sole.
Keeping your sock dry and clean is a must during winter, especially when it comes to insulation. This rain boot will protect you from the elements when you're out running errands on a snowy day. "I really like these rain boots from Dansko. They're lightweight, and the cushioning inside makes them comfortable to wear all day long. Plus, they're easy to clean so I'm not worried about avoiding muddy puddles with them on," shared Shop TODAY editorial assistant Kamari Stewart. She added: "I wore them with thick socks and my feet didn't get cold, so I think they have the potential to be good for the winter."
With its combination of faux fur lining, faux fur footbed, synthetic sole and artic fleece upper, these boots are a must for your next North Pole adventure. The chic design and comfy materials are snow-friendly. Your feet will feel snuggled up and ready to withstand any temperature drop.
When it comes to extreme weather, these Ugg sheepskin boots will keep you safe at every step. The Adirondack style is constructed with 100 percent leather and a synthetic sole for reliable winter wear. Plus, as one reviewer raved, "These boots keep my feet warm and dry and withstand the harsh elements. Good arch support, too!"
Don't want to compromise style during harsh conditions? These boots are the way to go. The wool lining and premium sheepskin will keep your feet toasty. Also, this style features a traction sole and a short heel so you can wear your maxi coat with confidence.
The best lightweight winter boots
Thick socks and winter boots can easily add weight and bulk to your feet. However, these Sorel boots will revolutionize the way you stride during the winter. This pair combines a fluffy texture to help you survive winter's worst and a waterproof suede upper. With the lightweight fit of a sneaker with 100 grams of insulation, these boots are made to enjoy après-ski or survive a trip to the market during a stormy day.
Defy the elements in style with this waterproof leather boot from Sorel. This is an everyday style to take you around the city without worrying about slushy sidewalks. The boot offers a trendy design and all-day comfort while providing plenty of traction to take on any snow mound.
Lopez recommends these Sorel boots for their durability and comfort. Aside from their sporty style, these boots feature 200 grams of insulation and are lined in warm microfleece. Also, these boots have an EVA footbed for heavy walkers.
The best winter boots with extra insulation
Columbia boots are stylish and warm for better or worse. This particular pair offers 200 grams insulation, an Omni-Grip™ non-marking traction rubber outsole, a faux fur collar and all the waterproof materials you need to keep your feet dry through winter.
Who said you need heels to look stylish? This snow boot will elevate your cold-weather attire and add an element of coziness. The lace-up boot features suede and a faux shearling upper for that wintery vibe, while the synthetic sole will secure your walk. The style is also a great option for women with bigger calves.
Your winter plans will not go on standby thanks to these Hunter boots. The Commando style is a reliable pair when rain and snow pop up thanks to their 100 percent waterproof structure. These shoes will keep your feet warm in temperatures as low as -8 degrees Fahrenheit.
For all-weather performance, step into this classic L.L. Bean design. These boots will match your rustic aesthetic during winter. Every step will feel like you are walking inside a log cabin, thanks to the shearling lamb fur inside.
These hiker-inspired boots have all the features a winter boot needs: a removable EVA footbed, thermal insulation, a synthetic rubber outsole, seam-sealed waterproof suede and overall comfort. But what makes it extra chic is that faux fur cuff for added warmth. The style will keep your feet warm in very low temperatures, like -4 degrees Fahrenheit.
The best winter boots for hiking
You might not be climbing Mount Kilimanjaro, but you're sure to still need protection when hiking during winter. This over-the-ankle style features a dual-density compression to help you land efficiently while climbing rocks. Besides the leather-like elements and its molded interior, the boot also provides a sturdy rubber sole made from Vibram Megagrip, which the company claims offers secure traction. Match this pair with the rest of your hiking essentials and you're ready for any elevation.
When planning a snowy hike, GORE-TEX technology is key. These Timberland boots are great for the outdoors, especially when you need to climb heavy rocks. According to a reviewer, "The Timberland design indeed offers timeless comfort and reliability."
Hikes require the ability to move around with ease. This Merrell boot has the brand's proprietary Air Cushion insole made of EVA foam for maximum shock absorption and stability. Like any high-quality winter boot, this is waterproof thanks to the GORE-TEX membrane.
Outdoor adventurers will be thrilled to take advantage of these Columbia boots. Manufactured specially for snow sports, these boots offer exceptional traction in wet and dry conditions. They will deliver warmth while keeping your feet dry during strenuous activities.
You'll never have to worry about chilly ankles when you're wearing these Keen boots. This iconic hiking boot is waterproof tested, so you can feel a whole new sense of confidence when crossing a shallow river. Plus, as one reviewer noted, the boot has great "quality, comfort, design and overall figment is perfect. My feet and toes are so happy."
Winter boots FAQs
What is the warmest boot for winter?
One of the biggest things about winter boots is that they have to be insulated. "Try to see if [they] have a suede upper material, and if you buy leather, make sure they are waterproof," explained foot surgeon Dr. Najwa Javed.
If they have added protection such as shearling lining, "those are also good to keep your feet insulated. Secondarily, you want to make sure the boot has good grip and is made of a specific type of rubber," added Javed — material like GORE-TEX, as Mrsan mentioned earlier.
What type of winter boots have more support?
If you are a heel enthusiast and can't compromise on style, Dr. Javed recommends looking for boots that have a larger surfer area, like blocks or wedges, and avoiding stilettos. "Block heels are great, but stilettos don't have a lot of surface area for ground contact, and that causes increased pressure to the ball of your foot."
Dr. Javed suggested wedge styles or boots with a heel no more than 3-inches. "Knee-high boots made from suede with a block heel offer a better grip," she added. Now, if you have plantar fasciitis, Dr. Javed suggested avoiding flat boots. "You need at least a 2-inch heel, because when you elevate the heel, it actually takes the pressure off from the plantar fascial band."
If you are looking for ultimate support, Dr. Javed also recommended shoes with orthotic support, like Vionic. Additionally, winter boots tend to be tight for most people, so it's important to keep accessories like socks in mind. Dr. Javed advised sizing up if you will be wearing thick socks during the winter.
What type of winter boots should I wear if I have wider feet or plantar fasciitis?
According to board-certified foot surgeon Dr. Brad Schaeffer, people with foot concerns like plantar fasciitis "should look for boots that have special support features like contoured footbeds, deep heel cups or wide and flexible toe boxes. For foot conditions that require extra support, I recommend a pair of good orthotics."
How do I keep my feet dry while wearing winter boots?
According to Dr. Schaeffer, it's important to consider the type of socks you're wearing. "Make sure [they're] breathable and [that] you are making sure your boots do not get wet in snowy conditions. One trick that I like to tell my patients is to use a roll-on antiperspirant each night before they go to sleep," as this will help with the upcoming day.
"Another trick I like to tell my patients is to apply baby powder or powder spray to the shoes or feet before placing them in the winter boots!" he added.
How often should I change my winter boots?
"The maximum amount of time a shoe can be worn without being replaced is usually 360 miles. On average, for a person that's about eight months of wearing the same pair," said Dr. Javed. However, if you live on the West Coast or another location where you wear them for a few months, you can keep them for years. "When you wear something repetitively, the cushion inside of it starts to wear down."
Another thing to keep in mind is replacing your high heels with a flatter version. "What I advise to my patients is to change your style every day. For example, if you use a flat shoe one day, switch to an elevated style like a wedge because you're using different muscle groups within the different shoe gear, and this helps from straining your foot."