Chef notes
It's hard to believe that a casserole that has this much flavor and so many layers comes together in under one hour. Consider it a Tex-Mex-style lasagna with a variety of texture, spices and plenty of personality to boot. Start by sautéing ground beef with diced onion, bell pepper and garlic, then build heat with two varieties of salsa and taco seasoning. If you're feeding this to your little ones, you may want to intentionally choose mild salsas, so that they can enjoy every bite. 
Once the meat is browned, mix it with sour cream, black beans, a can of cream of mushroom soup and shredded cheese. To build the casserole, create alternating layers of tortilla chips and the creamy meat mixture.
If you don't have everything you need on hand, you can easily purchase all of the ingredients (just click the orange button below that says 'Get Ingredients'). You can pick and choose exactly what ingredients you need based on what's in your pantry and they'll be on your doorstep before you know it. 
This weeknight-friendly casserole is a winner any day of the week, guaranteed. To serve, garnish it like a taco with all the fixings — that means shredded lettuce, diced tomato, more black beans, fresh cilantro and sour cream.
Technique Tip: Add the cheese at the end of the cooking process to prevent it from sticking to the top of the foil.
Swap Option: Looking for something leaner? Use ground turkey or ground chicken instead of the beef. Alternatively, do a 50/50 ratio of beef and lean poultry. 
Ingredients
1½

pounds ground beef

1

large onion, finely diced

1

green bell pepper, finely diced

3

garlic cloves, minced

1

cup red salsa

3/4

cup salsa verde

1

packet taco seasoning

1/3

cup chicken stock

1

cup sour cream
1

cup black beans, drained and rinsed

1

(10.75-ounce) can cream of mushroom soup

3

cups Mexican-blend cheese, shredded and divided

1

(14-ounce) bag nacho cheese-flavor tortilla chips (such as Doritos), crushed into slightly smaller pieces
fresh tomato, for garnish
shredded lettuce, for garnish
fresh cilantro, for garnish
black olives, for garnish
sour cream, for garnish
Preparation
1.
Preheat the oven to 350 F. Grease a 13-by-9-inch casserole dish with non-stick cooking spray.
2.
Add ground beef (or turkey), onion, bell pepper and garlic in a large skillet until meat is cooked all the way through, then drain fat from the skillet.
3.
Add both salsas, taco seasoning, and chicken stock. Allow the mix to cook for 4 to 5 minutes or until the liquid evaporates and thickens somewhat. Remove from heat.
4.
In a large bowl, combine meat mixture, sour cream, black beans, cream of mushroom and half of the cheese. Fold everything together.
5.
Add about 2 cups of nacho tortilla chips to the greased casserole dish then top with half of the meat mixture in the bowl. Repeat the layers again until you end with the meat mixture then add another 2 cups of chips and then add the remaining cheese.
6.
Cover with non-stick foil and bake for about 30 minutes then remove the foil. Sprinkle the remaining cheese on top and bake, uncovered, until cheese is melted.
7.
Cool for 10 minutes then garnish and serve.
How to shop TODAY recipes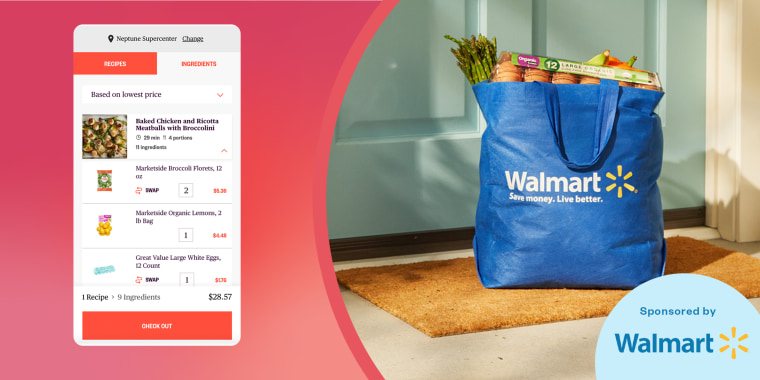 How to shop TODAY recipes
Here's everything you need to know about the cool new feature.
Learn More