Ingredients
1

cup whole milk

1¾

cup shelled English peas
Salt and freshly ground black pepper

2

sprigs mint, leaves only

1/4

cup olive oil, divided

1

pound California carrots, trimmed at the ends, thinly sliced on a bias
1/2

cup orange juice

1½

pounds skinless white fish filet such as cod, grouper, flounder or sole, cut into 1" cubed strips

3

tablespoons rice flour

1

egg, whisked

1

cup rice flakes
Chef notes
Rice flake goujonettes are my version of the all-American fish sticks. They're easy to make and far superior to the frozen breaded varieties.
Technique tip: Buy young, organic carrots so you don't have to spend time peeling them-the outer layer is very tender and only requires a thorough washing.
Preparation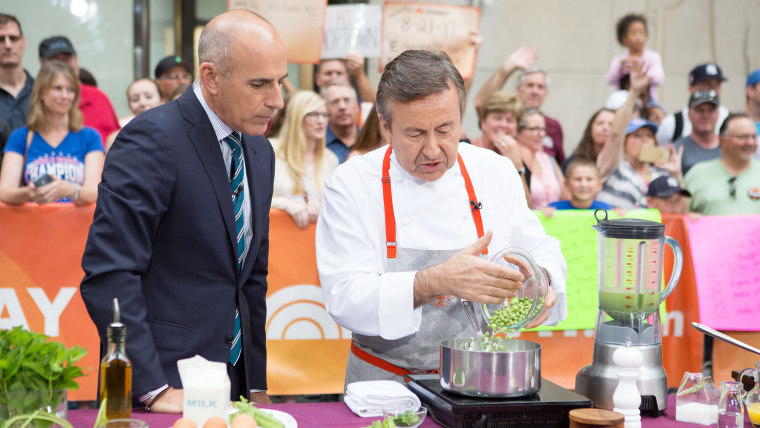 1.
In a small sauce pot, warm the milk over medium heat and add the peas. Season with salt and pepper and add the leaves from one sprig of mint. Cook for 4 minutes, then transfer to a blender and puree until smooth, adding more milk if necessary. Taste for seasoning, adjust as needed and set aside.
2.
In a medium sauté pan set over medium heat, warm 1 tablespoon of the olive oil and add the carrots; season with salt and pepper. Sauté for 3 minutes then add the orange juice and mint. Cook on medium-low for 6-8 minutes, or until the carrots are tender but retain their shape; keep warm on the side.
3.
Season the fish strips with salt and pepper and toss in the rice flour. Arrange on a tray and brush on all sides with the egg, then coat in the rice flakes. Warm a large sauté pan over medium heat and add the remaining olive oil. Add the strips (working in batches depending on the size of your pan) and cook for minute on each side for a total of 2 minutes.
4.
Rewarm the carrots and pea puree, and divide among 4 plates, then lay the fish goujonettes in the middle. Serve hot.