Ingredients
Coq au Vin
4

chicken legs, cut into thighs and drumsticks

1

bottle (3 cups) red wine
Salt
All-purpose flour, for dredging

2

tablespoons vegetable oil, plus more as needed

6

ounces slab bacon, small dice
8

ounces crimini mushrooms

1

onion, peeled, cut in half, then each half cut into 4 wedges

4

cloves garlic, minced

2

tablespoons tomato paste

4

sprigs thyme

3

cups chicken stock
Egg Noodles with Butter
Salt

1

pound fresh or dried egg fettuccine
4

tablespoons butter
Pepper
Roasted Vegetables
1

cup broccoli florets

1

cup cauliflower florets

1

cup brussels sprouts, halved
1

cut carrots, peeled and cut into 1-inch pieces

2

tablespoons oil

Salt
Chef notes
Bill Telepan, chef and owner of New York City's Telepan restaurant, creates an easy version of the classic French chicken dish called Coq au Vin that's sure to impress even the most discerning guest. 
Preparation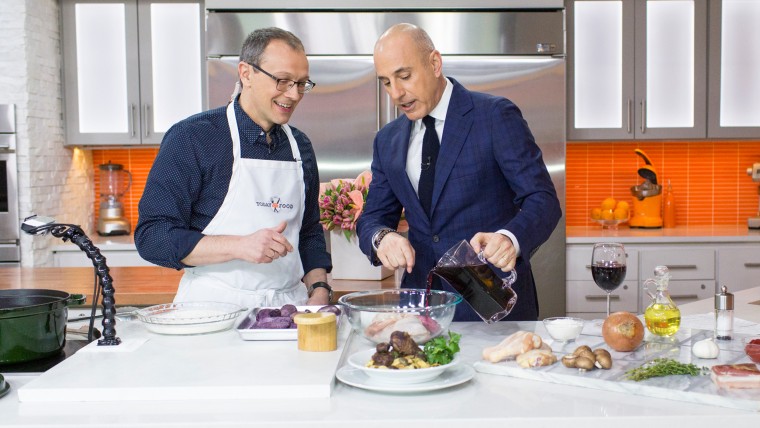 For the Coq au Vin:
1.
Place the chicken legs and wine in a bag or covered bowl overnight.
2.
The next day, preheat the oven to 350 degrees.
3.
Remove the chicken legs from the wine. Reserve the wine and dry the chicken with paper towels.
4.
Heat a 6-quart Dutch oven on high heat.
5.
Season the chicken legs with salt and dredge in flour.
6.
Add about 2 tablespoons of the vegetable oil to pan and heat to its smoking point.
7.
Cook the chicken in batches, adding more oil if needed, browning all sides of the thighs and drumsticks.
8.
Remove the chicken from the pan. Add the diced bacon pieces and brown them until crisp, about 5 to7 minutes.
9.
Remove the bacon pieces and place them in a bowl. Add the mushrooms to the pan and cook until browned, about 5 minutes. Place the mushrooms in the in bowl with the bacon and set aside.
10.
Add the onion (and a little more oil if needed) and brown for about 5 to 7 minutes.
11.
Add a pinch of salt and the garlic. Cook until the garlic is aromatic, about 1 minute.
12.
Add the tomato paste and stir to combine. Then add the reserved wine and the thyme. Bring the mixture to a boil.
13.
Add the stock and once the mixture is boiling again, add the chicken and place the Dutch oven into the preheated oven.
14.
Cook for 30 minutes, then add the bacon and mushrooms. Return the Dutch oven to the oven and cook for an additional 30 to 45 minutes until the chicken is very tender.
15.
Remove the chicken on a plate and set aside. Strain the vegetables and reserve them with the chicken.
16.
On high heat, reduce the sauce to 2 cups.
17.
Add the reserved chicken and vegetables to the pan and heat them until warm.
For the Egg Noodles with Butter:
1.
Bring a pot of lightly salted water to a boil and cook the fettuccine until tender (2 to 3 minutes for fresh pasta, 8 to 10 minutes for dried pasta). Save 1/4 to 1/2 cup pasta water.
2.
Drain and place the fettuccine in a pan with the butter and some of the pasta water. Over low heat, stir the mixture until the butter is emulsified. Season with salt and pepper.
For the Roasted Vegetables:
1.
Preheat the oven to 425 degrees.
2.
Toss all of the vegetables with the oil and sprinkle in some salt. Spread the vegetables onto a sheet tray. Roast until the vegetables are tender, about 8 to 10 minutes.
To Serve: 
Serve the Coq au Vin with the buttered noodles and roasted vegetables.