Kelsea Ballerini has wanted a butterfly tattoo for a long time.
"It kind of represents my album 'Subject To Change,'" she says, referring to her fourth studio album. "It's all about kind of metamorphosis and becoming, and it represents that chapter in my life."
The country artist showed off the delicate new wrist tattoo while speaking with TODAY.com at her Halloween party Oct. 25.
Hosted in collaboration with the Original Donut Shop Coffee brand, of which Ballerini is an ambassador, she dressed head-to-toe as "Cowgirl Barbie" from Greta Gerwig's blockbuster summer film.
Ballerini was in her element.
"When I was a kid, my go-to play time activity was playing dress up," she says. "I would pick out frilly and glittery dresses, and I had a trunk in my room, and I would just play dress up all the time."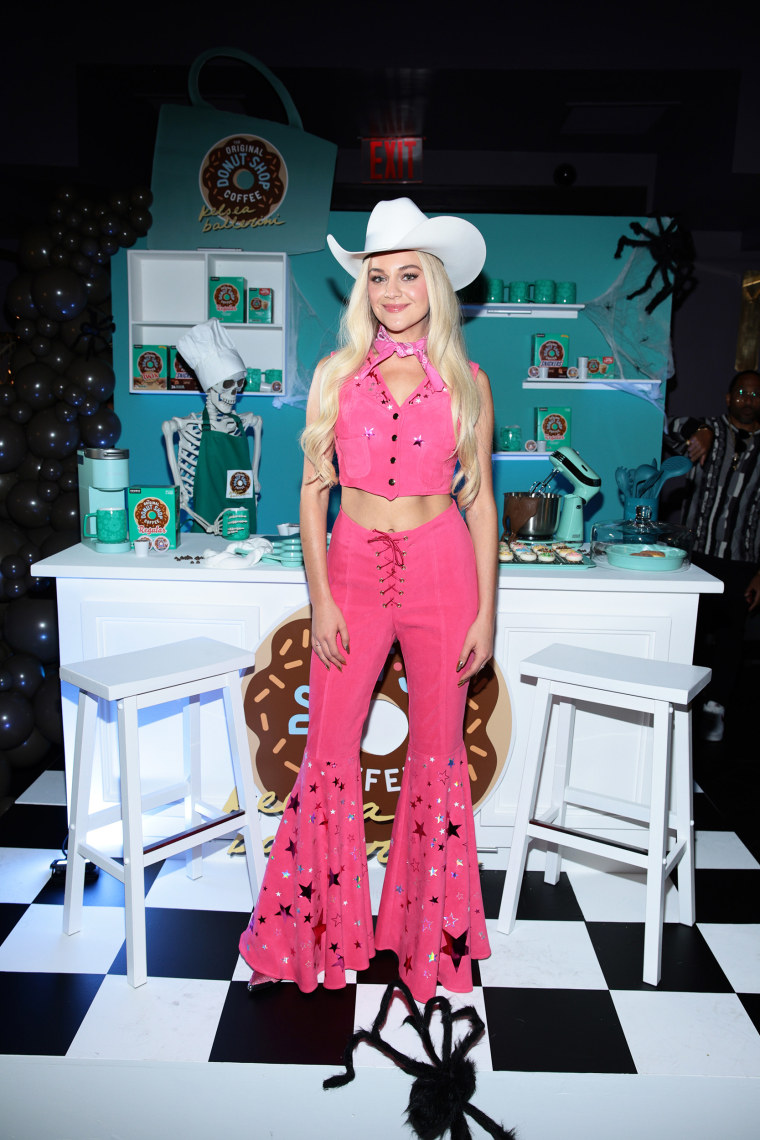 Ballerini turned 30 in September, but it's clear that in this new stage of her life, she hasn't left behind her favorite childhood activity.
"I'm really starting to understand the power in play as an adult and how important it is to still find those things that make you feel like a kid and connect to that place, side of yourself," she says.
Ballerini is in the midst of a Big Year. In February, she released her EP "Rolling Up the Welcome Mat," a heartbreaking Valentine's Day surprise. She released an extended version of the project a few months later in August.
The songs take a vulnerable and poignant look at the end of her five-year marriage to country singer Morgan Evans.
In September, she celebrated her 30th birthday on the red carpet of the MTV Video Music Awards. She was also joined by her boyfriend, "Outer Banks" star Chase Stokes. The couple made their red carpet debut at the CMT Awards in April after confirming their relationship on TODAY in March.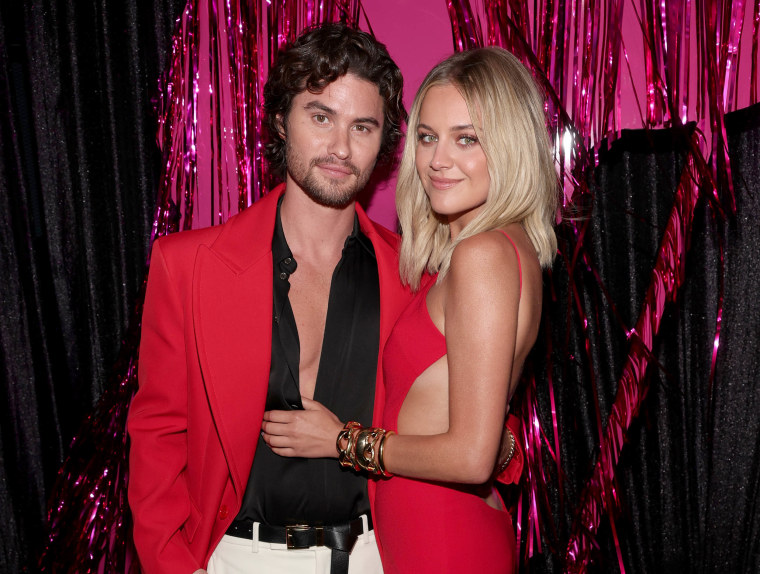 Since going public with their relationship, Ballerini and Stokes have had no shortage fun outings, from a hockey night watching the New York Rangers to more intimate dates — not captured on camera.
"We like to just not have a plan but leave the house and just see where it takes us. So sometimes it ends up being like, we'll drive 45 minutes and go find somewhere random to go have lunch or go to a pumpkin patch," Ballerini says.
They took a similar approach to spending that Wednesday in New York before her big night as Halloween party host.
"There was no plan this whole afternoon, and we ended up getting tattoos," Ballerini says, referencing the tiny butterfly as well as a small Virgo symbol on her arm. (Stokes also appeared to get a Virgo symbol tattoo that day, according to the Instagram page of the artist.)
Both Stokes and Ballerini's sun sign is Virgo. "Virgo is like a cosmic detective who will uncover truths and help others gain clarity when needed. They won't rest until matters are unearthed and revealed," astrologist Lisa Stardust says.
In "Rolling Up the Welcome Mat," Ballerini's Virgo tendencies show, with lyrics that look back on her previous relationship with new clarity.
"I just bought the house that we saw / You said it was wrong / But I wanted it all along," she sings in the final lines of "Penthouse," one of the tracks she sang on the TODAY plaza as part of this summer's Citi Concert Series.
Ballerini says very few people were involved in the process of making this EP. Other than a few musicians and one of her "best friends," "no one else touched it."
"I just, I did it for me. It was very selfish. It was a very selfish project and receiving it, on the other end, it's not mine anymore. And the reality is that chapter of my life, it's not mine anymore," she says.
But making the album was a very different experience compared to releasing it, she says.
"I'm proud of myself for having that vulnerability and putting it out. And I'm really grateful that it has been the thing that's really changed my life, because now I feel like I have a new accountability that I have to hold myself to, of writing a different level of truth telling," she says.
She's seen the impact of that "truth telling" first hand. She shares that after a recent performance at a luncheon, a man came up to her to show her a text he had sent to his wife.
"It was a video of me singing 'Blindsided,'" she says, referring to the text. "And he sent it to his wife. And he said, 'I'm sorry, if there have ever been times where I've been blind to you, I love you so much.'"
Getting this to point took "radical acceptance" of herself and her heartbreak, she says. Because of how things turned out, she wouldn't change anything about that path.
"I like myself now. More than I liked myself three years ago, and I wouldn't have gotten to a place where I like myself now, had I not gone through the things I've gone through in the last three years, you know? And that can be copied and pasted throughout my whole life," she says.
"Has it been perfect? No. Has it been messy, in a lot of ways, some self-inflicted, some projected onto me? Yeah, for sure. But it's my journey. And it's the reason that I am the way I am right now," she continues.
But she admits she would want to tell her younger self about moments like the one from the luncheon.
"If that was the only reaction the EP got, it would have been enough for me," she says. "It's those moments over and over again, you know, and that's why I feel such a responsibility to make sure that whatever art I make next is that level of human."