In honor of Chase Stokes' birthday, his girlfriend, Kelsea Ballerini, is revealing a glimpse at what led to their adorable relationship.
In a Sept. 16 Instagram carousel post, Ballerini shared a screenshot of the first messages between her and her beau.
The "Blindsided" singer first reached out to Stokes in an Instagram direct message on Dec. 1 at 1 a.m. and said, "hiii chase stokes."
The actor replied two hours later with, "Hey there how u doin."
"i'm kels, nice to meet you," Ballerini wrote back with a smiley face emoji. The "Outer Banks" star then "loved" the message.
The nine other photos in the post including the couple smiling together for a selfie and chowing down on burgers. One shot shows the two at a concert with Stokes' arms around Ballerini.
Several images show off Stokes' love for animals — one of him holding a cat to his face and another of him kneeling down on a pier behind a dog. Ballerini was also sure to include a few videos of the couple laughing and joking around together.
After initially keeping tight-lipped about their relationship, the two have been more open to showing off their love on social media in recent months.
From the first romance rumors to going steady, here is a look at their relationship.
Romance rumors spark after a teasy photo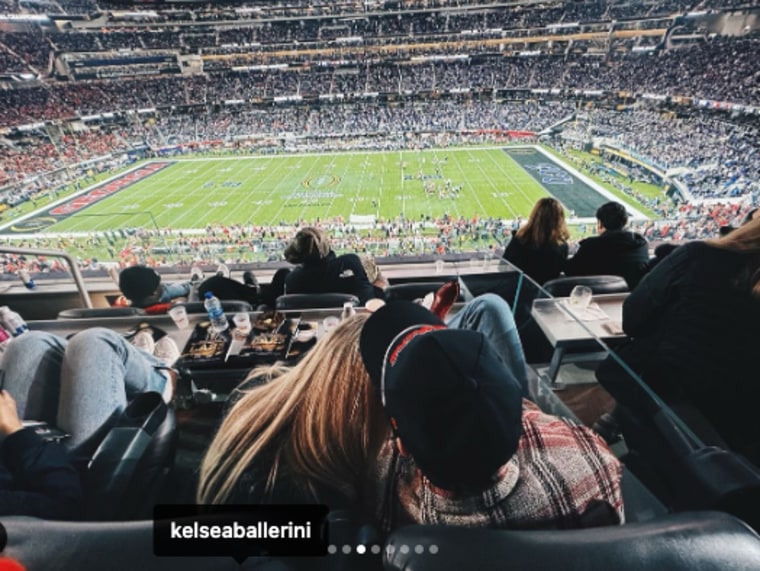 On Jan. 13, Stoke posted a photo dump with one in particular sparking romance rumors between him and Ballerini.
In one of those photos, two people are seen from behind sitting in seats while at the College Football National Championship game. No faces are seen. However, Stokes tagged Ballerini in the photo.
The "Miss Me More" singer further added fuel to the fire by commenting, "Go vols."
Stokes later told "Entertainment Tonight" that Ballerini was "the best" after she was announced as a "Saturday Night Live" musical guest.
"I mean she's the best," Stokes said on Feb. 16 at the Season Three premiere of "Outer Banks." "I'm so excited for her and everything happening in her career right now."
Kelsea Ballerini confirms she's dating Chase Stokes
The country singer was asked if she was single during a Feb. 22 chat on the "Call Her Daddy" podcast. She laughed and said "no" before further sharing how they connected.
After her divorce from country singer Morgan Evans, Ballerini said she was "ready to open back up."
"Why not? I've never really dated. I don't know how it works. I'm like, what? Let's just put ourselves out there," she said, revealing that she slid into Stokes' DMs in early December of 2022. 
"I've never seen the show and but I just knew of him," she said. "So I followed him and he followed me and I just swung through right on it."
"His handle is '@hichasestokes,' and I said, 'Hi, Chase Stokes,'" she said of how she reached out to him.
In a TikTok post, Ballerini revealed that for their first date, they went to a sushi restaurant and posted a behind-the-scenes look at how she prepared for her first date with Stokes.
"here's a video I sent to my best friend before my first date with Chase," Ballerini captioned the Aug. 19 TikTok post.
In the video, Ballerini poses in front of a mirror showing off her outfit, a mini-dress and boots.
"I can do this," she tells herself in front of the mirror. "I can do this. It's just a date, you just go and you just eat food and you talk about things that you do."
During the podcast, she also touched on the photo Stokes shared of the two of them at the football game.
"We had been hanging out and people got a photo of us at the game, at the championship. And so that was kind of just going," she recalled. "And he was like, 'I mean, it's gonna keep going. So should I just like poke the bear?' and I was like, 'Sure.' And the poking the bear was like a photo of me just like, leaning on him."
The couple cheers each other on
When Season Three of "Outer Banks" premiered on Feb. 23, the "If You Go Down" singer promoted the show on her Instagram story. She shared a poster of Stokes and added a smiley face.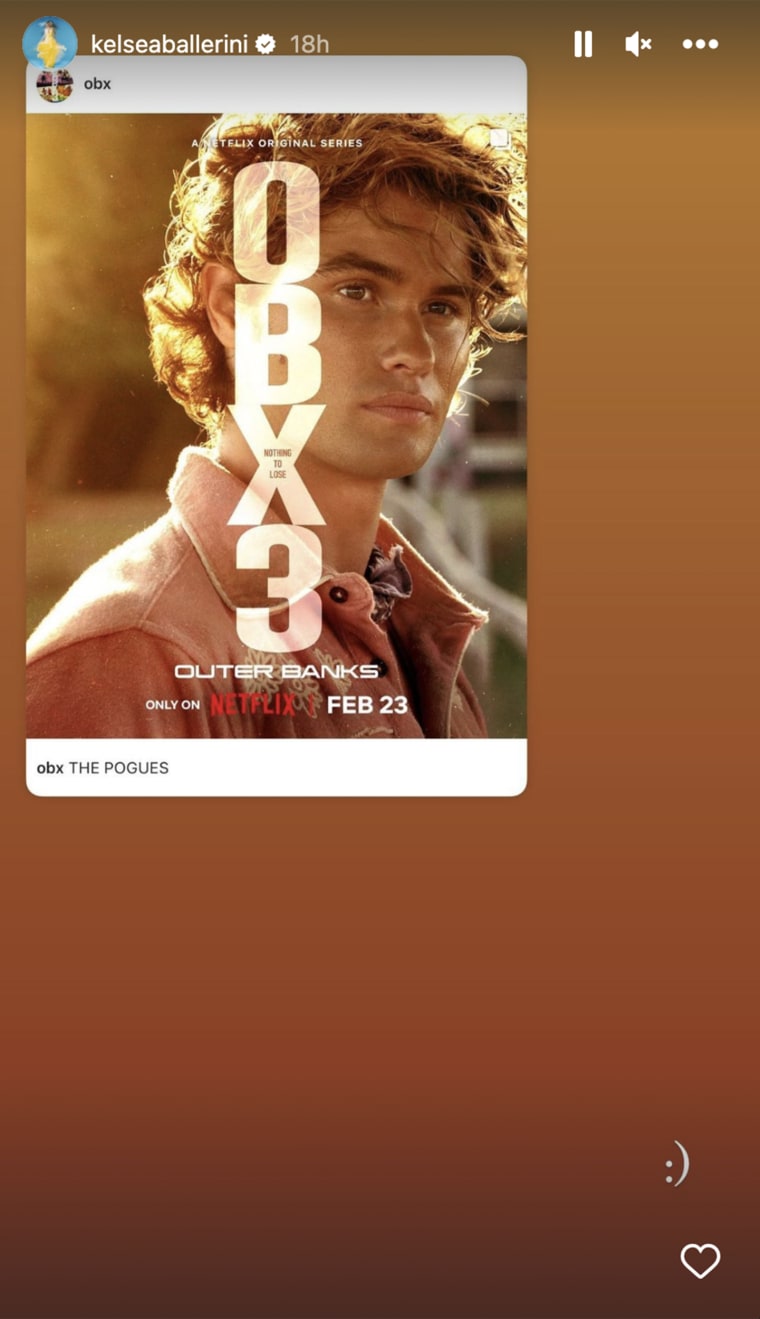 That same day, Stokes shared a photo of Ballerini giving him a kiss on the cheek. On the side of the Instagram story snap, he wrote, "my ❤️."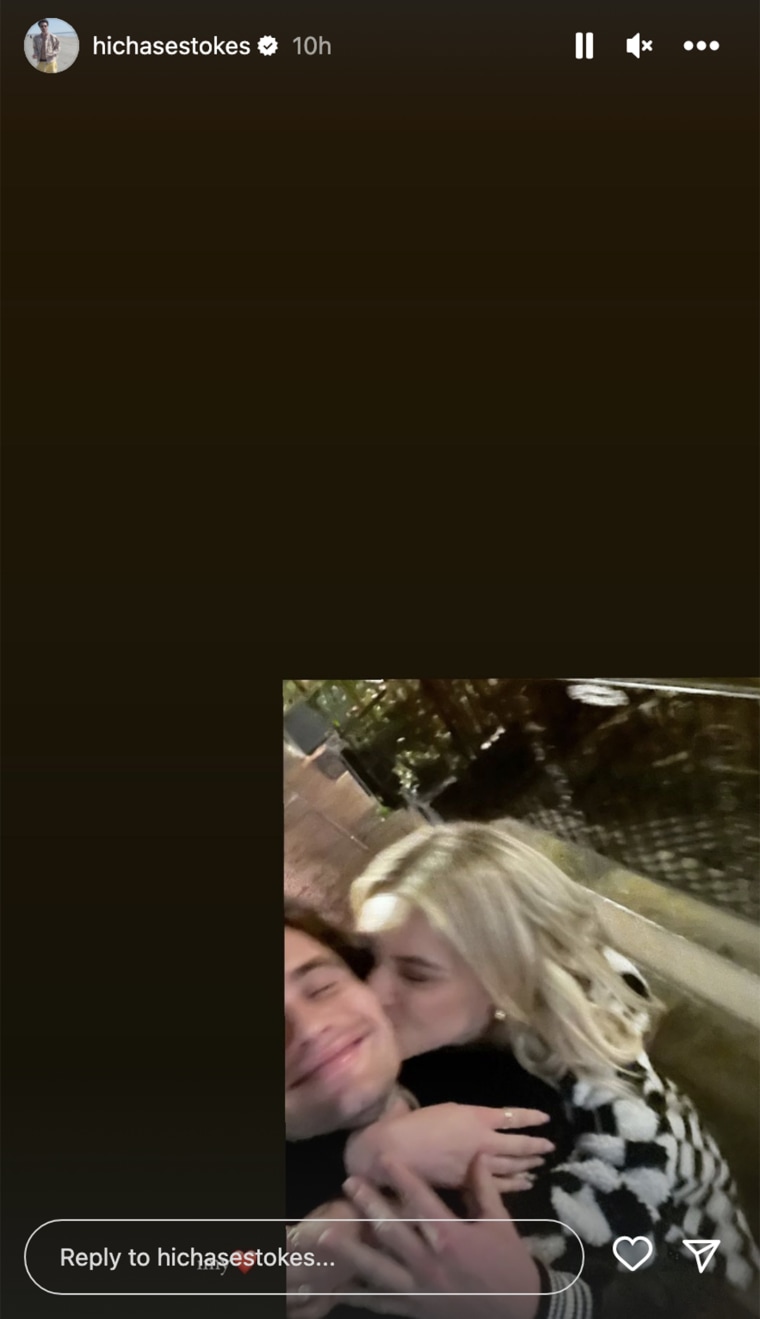 Chase Stokes confirms he's dating Kelsea Ballerini on TODAY
During an appearance on TODAY on March 3, Stokes confirmed that he and Ballerini were dating while chatting TODAY's Sheinelle Jones.
"Right across the street, on 'SNL,' we have a pretty good show planned for tomorrow night," Jones said. "Kelsea Ballerini, she'll be taking the stage. Going out on a limb here — are you a fan?"
"Absolutely I'm a fan," he replied. "Yeah, who isn't a fan?"
Sheinelle then said, "For those of you who don't know, they're... dating?" to which Stokes nodded.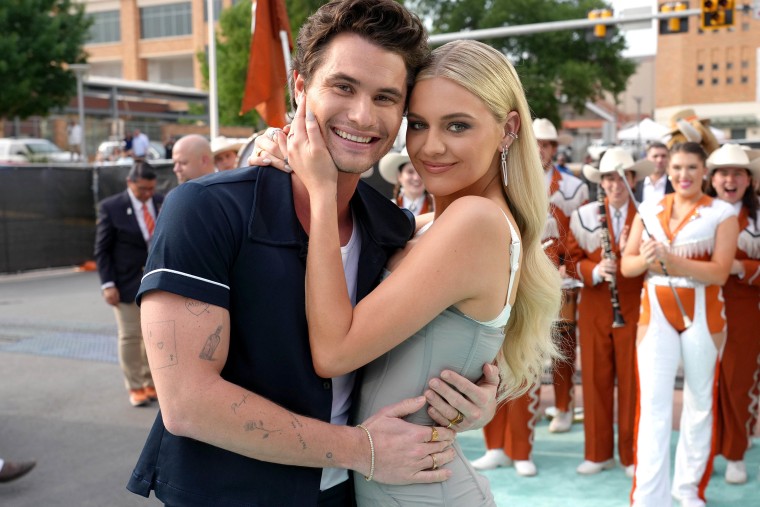 Chase Stokes and Kelsea Ballerini make their red carpet debut
Ballerini co-hosted the 2023 CMT Music Awards on April 2 and took the actor as her date. The event marked their first red carpet appearance together after publicly confirming their romance.
The two showed PDA by hugging and holding each other while posing for photos ahead of the awards ceremony.
From then on, Ballerini and Stokes would continue to share little snippets from their adventures on social media. They also continued to attend public events, like the Broadway premiere of "Shucked" on April 4 in New York City.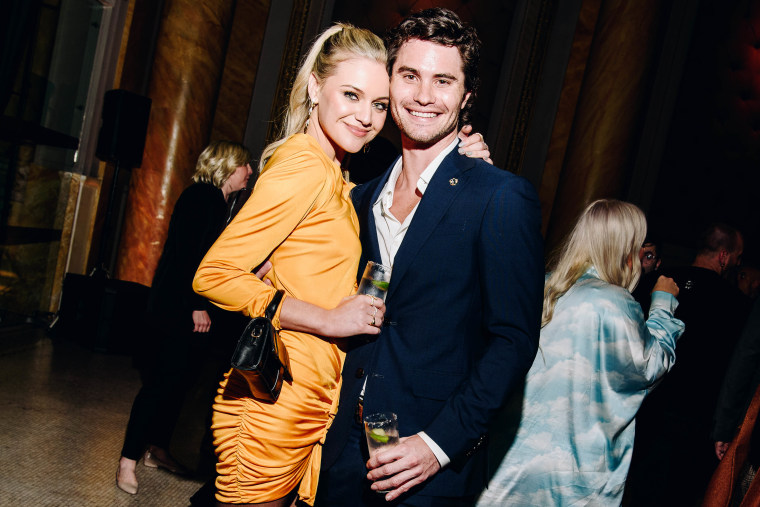 Kelsea Ballerini shares why she decided to go public with their relationship
In a July interview with Stylecaster, Ballerini explained why she and her beau decided to share their love with the world.
"The thing that we've decided, and to each their own, is when you're with someone that you feel secure with and that you're proud to be with, why not share it?" she said. "He's also a Virgo; we're both Labrador retrievers in human form. It doesn't take much conversation to be on the same page. It's been half a year and it's been great."
After performing on TODAY Aug. 11, Ballerini gave a glowing relationship update to Sheinelle Jones.
"I'm so happy," she said. "It's nice to feel so supported and seen. He's such a wonderful, wonderful human being."
Kelsea Ballerini and Chase Stokes celebrate her 30th birthday at the VMAS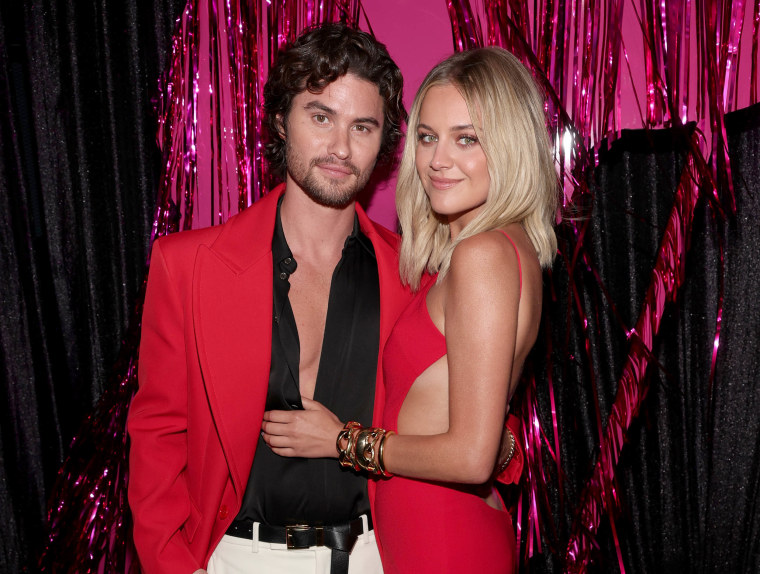 The 2023 VMAs doubled as a birthday party for the country star, who was joined by boyfriend Stokes on the red carpet. The two donned matching red color schemes as they shared a PDA-filled moment, with a kiss for the cameras.