As one of the breakout stars of Netflix's "Outer Banks," Chase Stokes knows the world sees him as John B, a treasure-hunting teen swept away by first love and a quest for gold — and he's OK with it.
"As an artist, whenever your character that you've put a lot of time and effort into, and the emotions with it, lives in front of your self, it's a beautiful thing," Stokes, 30, shares in an interview with TODAY.com. "For me, being known as John B is an honor, because that means my character lives."
To the world, he's John B — but how has Stokes handled these two action-packed years offscreen? His rise to fame as the intrepid teenager has required soul-searching with himself and boundary-setting with his passionate fanbase, he says.
After its premiere in April 2020, "Outer Banks" soared to the Top 10 on Netflix, putting Stokes, as well as his fellow Pogues — Madelyn Cline, Rudy Pankow, Madison Bailey and Jonathan Daviss — in the spotlight.
"As the show started, we were just so enamored with the fact that people were watching us," he says.
Below, Stokes opens up to TODAY.com about finding himself in the middle of fame ... and holding onto himself in the process.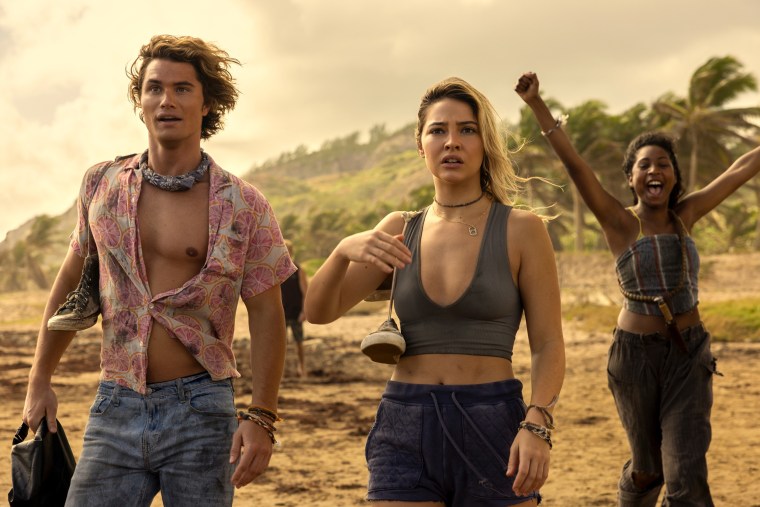 Fame can be 'hard to process,' Stokes says. Here's how he does it
The level of fame that came with the show can be "hard to process," he says.
"We all dove in so headfirst initially that we didn't really set quality boundaries," Stokes says. "So now it's very important for all of us to have our lives and protect that and protect our space."
"We all dove in so headfirst initially that we didn't really set quality boundaries."
chase stokes ON THE CAST'S RISE TO FAMe
The fans are "very aware" of the cast's need for space, Stokes says, and most of the time, mindful of it. "It's a very healthy relationship, usually, with a lot of the fans, and they respect it," he says.
Stokes sets similar boundaries between work and life and says he's always been able to "turn it off" in his brain after leaving set. Essentially, though "Outer Banks" has Stokes to fame, he tries to treat it like "any other job."
"As soon as I clock out, I'm clocked out, and it's back to Chase," he says.
Stokes compares the set of 'Outer Banks' to a non-stop 'comedy special'
Sure, it's a job – but the way Stokes tells it, filming "Outer Banks" in South Carolina and the Caribbean seems like a pretty fun job.
Whether on or off the clock, the set has felt like a constant party since Season One, Stokes says.
"Every day is just like a straight up comedy special for 12 hours," he says.
The fun is possible, he says, because the cast comes to work with the same level of commitment and accountability. For the actors, creating "Outer Banks" is a team effort — kind of like treasure-hunting is for the Pogues.
"We really make sure that we come to work prepared and have our s--- together and make sure that if we don't believe each other in the a moment, we'll call each other out on it," he says. "It's not taken in a negative way or a hostile way, it's very much like this is our baby."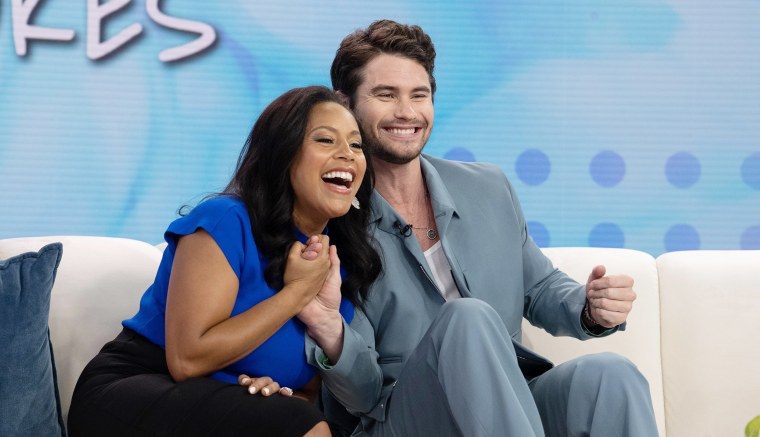 He guesses what's in John B's star chart
Stokes emphasizes he is not John B — even if it's the role the world knows him by. He shared one major difference between himself and his character: Their star signs.
Stokes is a Virgo, an Earth sign known for having an analytical nature, attention to details and patient outlook. According to Stokes, John B — the leader of the Pogues — is more like an Aquarius. Aquarius is known for their unique approach, forging their own path and leading others in the process.
"With his sassiness, he gives me a little bit of an Aquarius vibe," Stokes says.
Stokes says Season 4 will let the Pogues 'slow it down'
Season Three brought several twists and turns to the Pogue's fast-paced treasure hunt, from the discovery of a lost city of gold to John B's attempts to reconnect with his presumed-dead father.
Reactions to the season have ranged from "best season yet" to some missing the vibes of Season One — a ragtag friend group on an unlikely adventure together, laughing and soaking up the sun to songs like "Catamaran" by Allah-Las, Stokes' favorite from the soundtrack.
Stokes has a message to those nostalgic fans: He gets it, and there may be more kicking back and relaxing in the Pogues' future.
"10 out of 10 agree, I would recommend more of that," he says. "I think part of the pacing of a show is like flying on a plane — nobody really cares about how the plane takes off, it's how it lands. And so for us to get to a point to slow it down, you needed to have some sort of resolution."
Part of that resolution came about in the action-packed finale of Season Three, which saw two deaths and a conclusion to the quest to find El Dorado.
From what Stokes can tease so far, Season Four will allow the Pogues to "slow it down" to a pace reminiscent of seasons past.
I think the fans will be very pleased to know that there will be a lot more slowing down and a lot more of the Pogues in the future."
chase stokes on season four
"I think the fans will be very pleased to know that there will be a lot more slowing down and a lot more of the Pogues in the future," he says. "I think it's important for them to reflect on a lot of the things that have happened in the past 30 episodes."
Plus, the friend group has a new dynamic to explore, with everyone appearing to be coupled up. JJ and Kiara got together, as did Pope and Cleo, joining Stokes' character John B and Sarah Cameron.
"(The rule of) no Pogue-on-Pogue macking just flew out the window," Stokes says, with a laugh.
"I'm a sucker for a good double date, who doesn't love that?" he adds.
Stokes weighs in on North Carolina-related debates
While not a North Carolina native, Stokes has become familiar with the state — including its rich ties to college basketball. Ahead of the March 4 men's basketball match-up between UNC and Duke, Stokes says he's rooting for the Tar Heels.
"I've always been a huge Michael Jordan fan," he says. "So I'm gonna go with UNC. Go Heels."
He also assures fans from North Carolina that he knows you can't take a ferry from the Outer Banks to Chapel Hill, a viral observation from Season One. There was originally a scene of John B and Sarah getting out of an Uber to arrive at UNC, he shares.
"I literally get out of the car and say, 'That was the longest Uber ride ever,'" he says.
Beyond 'Outer Banks'
While most people recognize Stokes for his work on "Outer Banks," he's also acted in other projects, including a cameo role in Season One of "Stranger Things."
Looking ahead, Stokes has a starring role alongside Joey King in "Uglies," a film adaptation of the Scott Westerfeld book series.
While "Outer Banks" allowed for improv and freedom to create a new world, "Uglies" involved diving into a world that's already been established, says Stokes, whose role has yet to be announced.
"There's a huge cult following for that," he says. "So to bring to life something that on the page was so beloved, that was pretty daunting."
The source material also specifies certain mannerisms, like how the characters talk, walk and operate, he says.
"It's a very different world," Stokes says. "But I'm super, super excited."