Kelsea Ballerini has been channeling all her emotions into her new music.
And while it wasn't easy to put her personal life on display, she told the New York Times, "I don't want to lose the openness that I've always tried to have."
The 29-year-old singer has recently made headlines after openly discussing her divorce from fellow country singer Morgan Evans. She was 24 and he was 32 when they got married in 2017, less than two years after they started dating. They officially called it quits in 2022.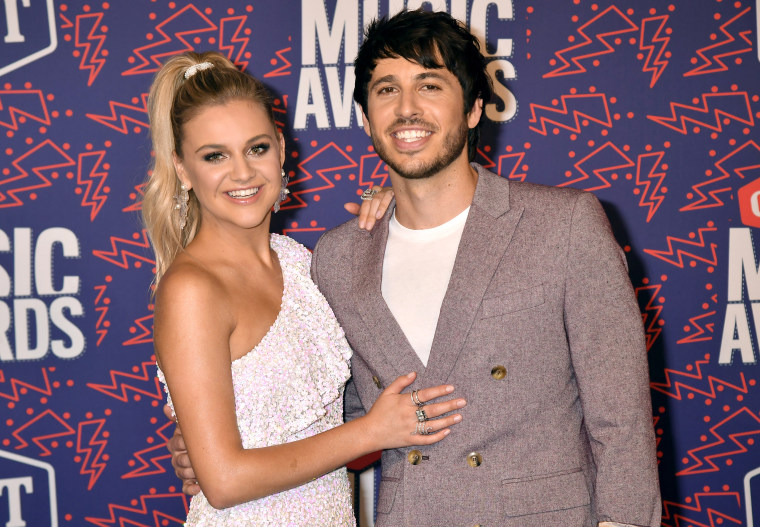 One of the most-talked about songs on her new EP, "Rolling Up the Welcome Mat," includes the song "Blindsided."
The song came out after Evans released "Over For You," which detailed his breakup and how it came as a surprise.
"How long have you been waiting/To take our pictures down?/How long have you been breaking?/Why am I just finding out?" he sings.
Whereas in "Blindsided," Ballerini sings back: "And now you're saying that you're lost and that's lost on me/Years of sitting across from me in therapy/I know the truth is hard to hear, but it wasn't hard to find/Baby, were you blindsided or were you just blind?"
When asked if the track was a response to her ex-husband's song, Ballerini confessed that it was, in part.
"Yes and no," she said. "I don't know if I would have written a song like 'Blindsided' had I not been responding to something that was already out there."
She did note, however, that at this point in her career, "I feel really seen, and understood, as an artist right now."
Ballerini has previously expressed how she didn't feel ready to get married, saying on the "Call Her Daddy" podcast, "I think I got married because of my parents. I think I got divorced because of me. I think me choosing to get out of that marriage was me kind of rewriting what divorce looks like and what it means."
While chatting with the NYT, Ballerini said she used to bad mouth her parents' divorce — they split when she was 12 — but now has a new outlook on it.
"I have a lot more grace for them," she said after going through her own divorce.
She also shared that she going through her breakup made her lose "so much hair last year — just stress. It's growing back, in, like, little sprouts. It's a whole thing."
As for Evans, the Australian musician did speak out on Ballerini's "Call Her Daddy" comments, in which she spoke about them going to therapy, their fights and her not feeling ready to have kids.
"It's really sad for me to see this person, who I spent so much of my life with, and loved with all my heart, saying things that aren't reality and that leave out what really happened," Evans wrote on social media. "She knows I'm not the type of guy to speak on those things publicly. If this is what she needs to heal, I hope it helps. All I ask is that if you're on my pages, please don't be mean. Don't be mean to Kelsea, don't be mean to each other. Life's too short."
Ballerini would go on to add a new verse in "Blindsided" during her "Saturday Night Live" performance that many took as a clap back to Evans.
In Evans' "Over For You" he sings, "I would have searched the whole world over for you / Took a flight, through the night / To be that shoulder for you."
Ballerini switched up her lyrics and sang, "Now you're singing it loud on the radio / You couldn't say it to my face / You would have searched the whole world over? / Yeah, sure, okay."
Ballerini has since moved on and is dating "Outer Banks" star Chase Stokes. The actor confirmed their relationship while on TODAY on March. 3.