ABC is giving viewers a first look at its upcoming "Roseanne" spinoff, "The Conners."
On Friday, the network shared a photo of the show's actors gathered together at a table read, and right away fans will recognize all their favorite "Roseanne" stars — with the exception of leading lady Roseanne Barr.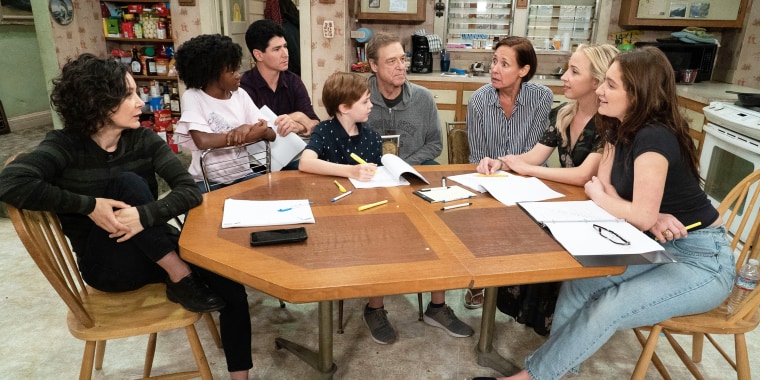 In the pic, Sara Gilbert (Darlene) sits at the head of the table across from her TV daughter Emma Kenney (Harris). They're joined by Jayden Rey (Mary), Michael Fishman (D.J.), Ames McNamara (Mark), John Goodman (Dan), Laurie Metcalf (Jackie) and Lecy Goranson (Becky).
Barr won't appear in the new spinoff series. In May, the controversial comedian tweeted a racist remark about top Obama aide Valerie Jarrett that caused ABC to ax the top-rated "Roseanne" revival.
In June, the network announced plans for a new series for the Conner family, but didn't share how the show would handle Barr's absence.
Barr's former TV husband, Goodman, 66, recently shed some light on the subject, revealing "The Conners" will pick up after the fictional Roseanne Conner's death.
"I guess he'll be mopey and sad because his wife's dead," Goodman told London's Sunday Times of his character.
Goodman, who revealed he was "brokenhearted" after the "Roseanne" cancellation, also defended Barr against allegations of racism.
"I know, I know, for a fact that she's not a racist," he said, adding that he was stunned that ABC pulled the plug on the hit reboot.
"I'll put it this way, I was surprised at the response," Goodman said. "And that's probably all I should say about it."
"The Conners" debuts on ABC on Oct. 16.