The stars and writers of "Roseanne" are responding to ABC's abrupt cancellation of the show's hit revival on Tuesday.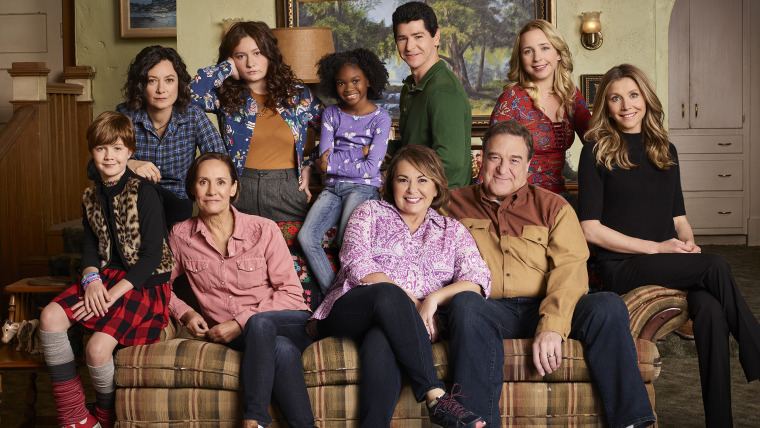 ABC shelved the second season of the top-rated comedy hours after the show's controversial star, Roseanne Barr, tweeted a racist comment comparing a black former Obama administration aide to an "ape" on Tuesday.
Sara Gilbert, who plays Darlene Conner on the Emmy-winning series, tweeted that she found Barr's comment "abhorrent."
"Roseanne's recent comments about Valerie Jarrett, and so much more, are abhorrent and do not reflect the beliefs of our cast and crew or anyone associated with our show. I am disappointed in her actions to say the least," Gilbert tweeted.
Gilbert — who's credited with spearheading its revival —weighed in again shortly after to express her disappointment.
"This is incredibly sad and difficult for all of us, as we've created a show that we believe in, are proud of, and that audiences love — one that is separate and apart from the opinions and words of one cast member," she wrote.
Michael Fishman, who plays D.J. Conner, responded with an emotional message on Twitter. "Today is one of the hardest in my life," he wrote, adding that he felt "devastated" for everyone who "poured their hearts and souls" into the show as well as fans who "welcomed us into their homes."
Fishman went on to "condemn" Barr's remark, writing, "In this moment, it is important to be clear. We must stand stand up against bias, hatred, bigotry and ignorance to make society a better place for us all."
Emma Kenney, who plays Gilbert's teen daughter on the revival, chimed in to say Barr's comments were reprehensible. "I am hurt, embarrassed, and disappointed. The racist and distasteful comments from Roseanne are inexcusable," tweeted the young star.
Later, Kenney revealed that she called her manager Tuesday to quit the show and was told it had been canceled.
Comedian and actress Sandra Bernhard, who's had a recurring role on the series since its original run, responded to a fan's sadness over the cancellation by writing, "Well, there's only one person to blame."
Shortly after Barr tweeted the vile remark, comedian and writer Wanda Sykes, a consulting producer on the revival, quit the show. "I will not be returning to @RoseanneOnABC," Sykes announced on Twitter.
Robert Iger, Chairman and CEO The Walt Disney Company, the network's parent company, also took to Twitter to share ABC Entertainment president Channing Dungey's initial statement calling Barr's comment, "repugnant."
"There was only one thing to do here, and (cancellation) was the right thing," Iger added.
Barr's ex-husband, Tom Arnold, a former writer and cast member on the show, congratulated network brass on the decision to cancel the revival.
"Ton of respect for Bob Iger. Tough decision with financial consequences for his company but right for America ... umm..now don't bug Bob but maybe someone else find out if I'm still banned from all of @ABCNetwork for calling Roseanne Barr out first on her racist conspiracy tweets?" Arnold wrote.