The "Roseanne" revival is kaput.
ABC has canceled the second season of the top-rated comedy after the show's controversial star, Roseanne Barr, tweeted — and then deleted — a racist comment about a former senior adviser to the Obama administration.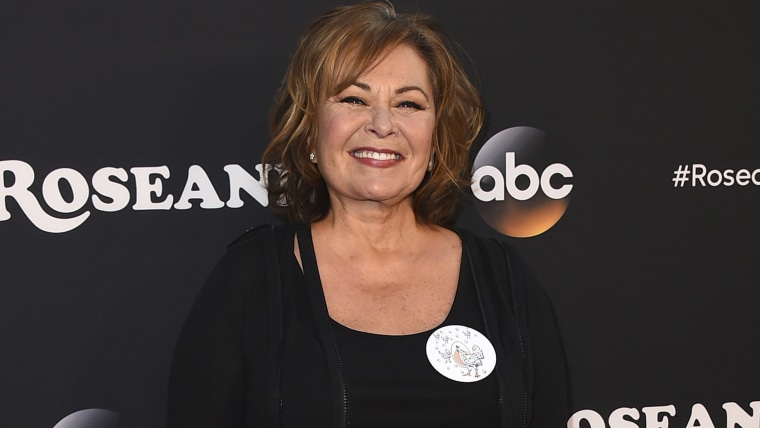 Early Tuesday, Barr, 65, tweeted that American attorney Valerie Jarrett, a black woman, was the offspring of the "Muslim Brotherhood & 'Planet of the Apes.'"
"Roseanne's Twitter statement is abhorrent, repugnant and inconsistent with our values, and we have decided to cancel her show," ABC Entertainment president Channing Dungey said in a statement to TODAY.
Barr's talent agency, ICM Partners, also dropped her as a client after she made the remark.
Barr deleted the offensive tweet and apologized for it, calling it a "bad joke."
"I apologize to Valerie Jarrett and to all Americans," Barr wrote on Twitter. "I am truly sorry for making a bad joke about her politics and her looks. I should have known better. Forgive me-my joke was in bad taste."
ABC's announcement comes after social media users outraged by Barr's vile comment demanded the network cancel the hit revival.
Barr's statement propelled comedian and writer Wanda Sykes, a consulting producer on "Roseanne," to quit the series Tuesday.
Sara Gilbert, who plays Darlene Conner on the show, also weighed in to say that she was "disappointed" in Barr.
"Roseanne's recent comments about Valerie Jarrett, and so much more, are abhorrent and do not reflect the beliefs of our cast and crew or anyone associated with our show. I am disappointed in her actions to say the least," Gilbert tweeted.
Late Tuesday, Jarrett responded to Barr's remark about her, telling MSNBC, "I'm fine. I'm worried about all the people out there who don't have a circle of friends and followers who come right to their defense."
Jarrett, who will appear on MSNBC's televised town hall "Everyday Racism" Tuesday night, added, "This should be a teaching moment."
"Roseanne" returned to television — and record ratings — in March, after its initial run on ABC ended in 1997.