Sara Gilbert is speaking up about the "Roseanne" firestorm — and she wants fans to know she supports ABC's cancellation of the show's hit revival.
The 43-year-old actress returned to television Monday on the first live episode of "The Talk" since ABC axed the comedy after star Roseanne Barr tweeted a racist remark about a former Obama aide.
"In addition to my statement, I would like to say this has been a very difficult week," Gilbert said during the program. "A lot of people have been hurt by this. I will say, I'm proud of the show we made. The show has always been about diversity, love, and inclusion, and it's sad to see it end in this way."
Gilbert, who played Darlene Conner and also served as an executive producer on the top-rated reboot, added, "I'm sad for the people who lost their jobs in the process. However, I do stand behind the decision that ABC made."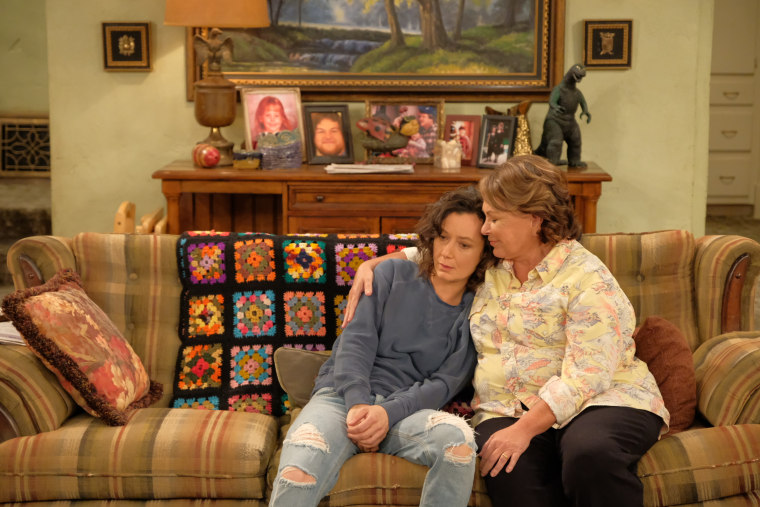 After news broke about Barr's tweet — which compared former Obama senior adviser Valerie Jarrett, a black woman, to an ape — Gilbert took to Twitter to condemn her.
"Roseanne's recent comments about Valerie Jarrett, and so much more, are abhorrent and do not reflect the beliefs of our cast and crew or anyone associated with our show. I am disappointed in her actions to say the least," she wrote.
"This is incredibly sad and difficult for all of us, as we've created a show that we believe in, are proud of, and that audiences love — one that is separate and apart from the opinions and words of one cast member," Gilbert added.
Barr responded angrily to Gilbert's comments, retweeting part of her statement and adding, "Wow! unreal." She also sent an irate tweet to Michael Fishman, who played D.J. Conner, after he expressed disappointment in her.
"You throw me under the bus. nice!" Barr told him.
Later, Barr tweeted the pair to let them know she'd forgiven them for speaking out against her.
"To michael fishman and sara gilbert: I forgive u both, love u both, just wish u could have called me personally 2 talk rather than do it in a public arena," she wrote. "I understand, tho. It's ok."
The "Roseanne" revival was the highest-rated series on broadcast television in its debut season. A second season was already in the works when the show was canceled.