John Goodman has shed light on what will happen to Roseanne Barr's character now that his TV wife won't be part of the "Roseanne" spin-off.
Goodman, 66, will reprise his role of Dan Conner on ABC's spin-off "The Conners" in October, which will not feature Barr after the rebooted "Roseanne" was cancelled by the network in May following a racist tweet by Barr about President Barack Obama's former adviser Valerie Jarrett.
"I guess he'll be mopey and sad because his wife's dead," Goodman told London's Sunday Times about Roseanne's TV character in his first interview since the show's cancellation.
ABC announced in June that it would spin off the show without its leading lady, but didn't address what would happen to her character in "The Conners."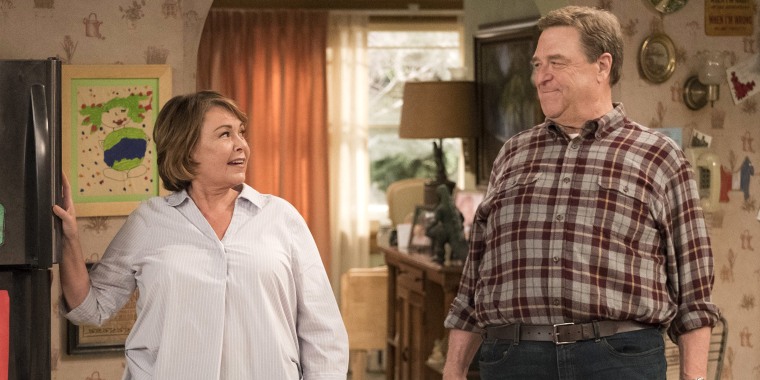 "After a sudden turn of events, the Conners are forced to face the daily struggles of life in Lanford in a way they never have before,'' the press release by ABC said at the time.
The rest of the cast is set to return, including Goodman, Laurie Metcalf (Jackie), Sara Gilbert (Darlene), Lecy Goranson (Becky) and Michael Fishman (D.J.).
Goodman admitted he was devastated after Barr was booted from the show.
"I was brokenhearted, but I thought, 'OK, it's just show business, I'm going to let it go,'" he said. "But I went through a period, about a month, where I was very depressed. I'm a depressive anyway, so any excuse that I can get to lower myself, I will. But that had a great deal to do with it, more than I wanted to admit."
He also defended Barr against allegations of racism in the wake of her since-deleted tweet, which called Jarrett the offspring of the "Muslim Brotherhood & 'Planet of the Apes.''
"I know, I know, for a fact that she's not a racist," he said.
Follow TODAY.com writer Scott Stump on Twitter.