Come spring and summer, I practically live in dresses. While some styles might seem more intimidating (or "dressed-up") than a more casual typical top-and-bottom combo to most, I find them to be just the opposite. Because they're one piece, I don't need to fuss over putting an outfit together (with the exception of throwing on a pair of wedges and a dangly earring).
My style preference is finding something that is loose enough that I won't have anything cutting into me throughout the day, which is especially important when I'm wearing something for a longer period of time.
Needless to say, I couldn't help but become intrigued when I heard rumors of a certain maxi (with pockets no less!) picking up momentum on Amazon.
I decided to try out the $28 maxi dress with almost 31,000 five-star ratings to get a sense of its versatility, comfortable material and flattering fit.
It comes in plenty of colors
One of the things reviewers seemed to appreciate about the dress is that it comes in an extensive range of colors and patterns, including purples, greens, florals and a few fancy hues like "wine red."
I, however, am located in New York and therefore live in black, so I decided to take a realistic (read: boring) approach and go with the old standby. This style has short sleeves, but there's also a long-sleeved version if you're looking for extra warmth or coverage.
It's soft and stretchy
The first thing I noticed upon unboxing the dress was its material. It's a blend of 95 percent rayon and 5 percent spandex, which absolutely lived up to the listing description of "stretchy, soft and comfy."
I was also excited to see that, unlike other maxi dresses I've ordered online, it was free of wrinkles. I didn't have to worry about having to press or steam it before heading out the door (another big sell for me).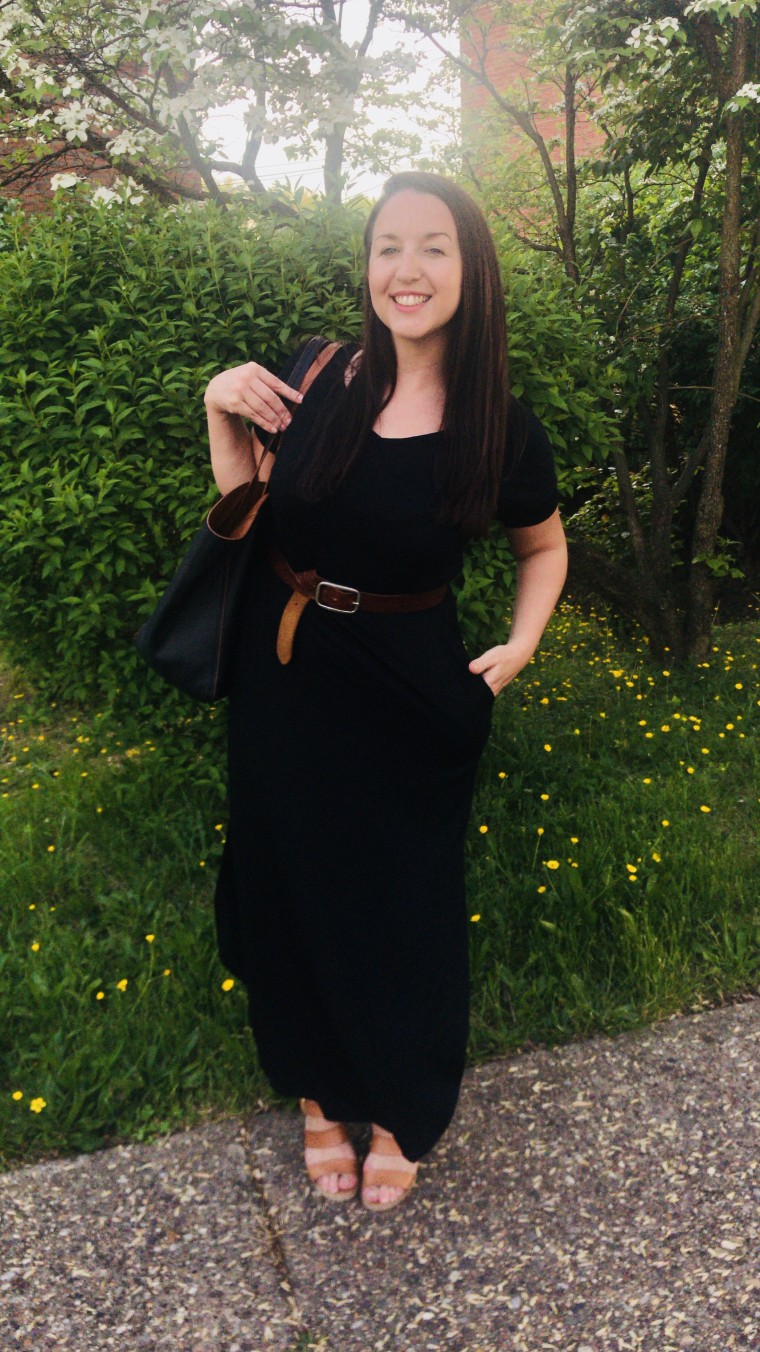 This maxi dress fits true to size
Not only did the dress fit perfectly (I'm 5 feet, 4 inches and ordered a S), but the neckline, pockets and (especially important for me) slits fell right in place — no wardrobe malfunctions here!
I decided to add some flair to the style with an embossed cognac belt, matching block heels and my go-to tote, and was out the door fast. Not only was the dress perfect for dinner, but I also received tons of compliments.
The real sign of a successful purchase: I won the coveted approval of my sister and mother. Plus, one of my friends was so convinced that she went on to purchase the style for herself in not one, but two colors.