We have so much to thank our skin for — like how it protects us from external factors, helps regulate our body temperature and more. But over time, it's natural for skin density and elasticity to decline depending on factors like age, gender, ethnic background, lifestyle and weight. With that said, the ultimate solution to reversing loose skin or dimpling isn't always one-size-fits-all.
But good thing are some ways to give your skin some TLC to keep it in as close to tip-top shape as can be. And one of those ways? Using a firming lotion.
"It can soften crepey skin, improve texture and tone of the skin, and decrease hyperpigmentation and photodamage," says Dr. Jaimie DeRosa, double board-certified facial plastic surgeon and founder and lead facial plastic surgeon of DeRosa Center Plastic Surgery & Med Spa in Boston and Palm Beach.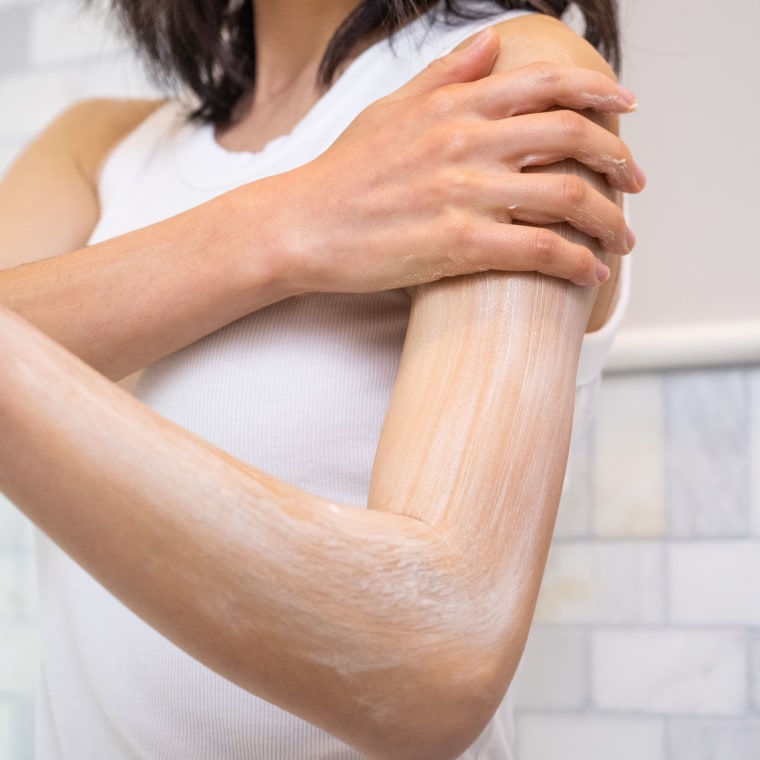 But it's important to keep in mind that the results of using a firming body lotion or other treatment will vary from person to person. For example, someone with moderate skin aging may see more improvements than someone with a lot of loose after significant weight loss.
Plus, different formulas are specifically formulated to target different skin types, areas and needs. These days, there are countless products lining shelves and claiming to do it all. So, where do you start? Beyond that, how do you know what works?
Before you get overwhelmed by these questions, take a deep breath, because we're here to help. Read on for a deep dive into all things firming lotions and treatments, and use the links below to easily navigate to different topics.
What to look for | How we chose | Best firming creams, according to experts | Top-rated firming lotions and creams | Top-rated firming body treatments | FAQs | Meet the experts
What to look for when shopping for a firming body lotion or cream
When you look for a firming cream, you want one that doesn't just hydrate the outer layer of the skin (the epidermis), but also works to improve the thickness and quality of the deeper layer of the skin (the dermis).
"Good-quality firming creams are formulated to help correct the loss of elastin and collagen in the dermal layer of the skin by reversing these changes and promoting the production of new, healthy collagen and elastin," DeRosa says.
The main takeaway is to start using a firming cream early to help maintain firmness and reverse the signs of aging as soon as possible. DeRosa adds, "No matter when you start using a firming cream, you can expect to see smoother, firmer skin that has better tone."
According to DeRosa and Los Angeles-based celebrity aesthetician Joshua Ross of SkinLab, the following are the key ingredients you should look for when shopping for a firming body lotion or other treatment:
Peptides: to strengthen and create collagen.
Retinol: aka the gold standard ingredient that thickens the dermis and prevents thinning.
Shiitake complex: to boost collagen synthesis and decrease its breakdown.
Caffeine: to increase blood flow and naturally tighten the skin.
Acetyl tetrapeptide-2: to support the production of new, healthy elastin.
L-glutamine: to boost collagen synthesis.
How we chose the best firming body lotions and creams
Shop TODAY enlisted the help of trusty skin care experts who shared their recommendations on products that work based on their experience. We also took their advice on which key ingredients to look for in firming body lotions, creams and other products and researched ones that fit the bill. We also included positive reviews from customers who have used them. In addition, we tested some of these products for ourselves for a first-person perspective on its effects.
Best skin-tightening lotions and creams, according to dermatologists
"I love this cream because, not only is it affordable, but it works. One of the main ingredients is coenzyme Q10, which acts as a strong antioxidant that helps to neutralize harmful free radicals that cause signs of aging," says Elena Marotta, a skin care expert and the owner of BodyBrite Spa in Roslyn, New York.
"You will be pleasantly surprised at just how good it is at tightening skin and reducing the appearance of cellulite. I saw visible results within the first couple of weeks," she adds.
"This serum contains a unique blend of ingredients to reduce puffiness, tighten and hydrate," says Dr. Sejal K. Shah, a board-certified dermatologist and founder of SmarterSkin Dermatology.
"It features a roller ball massage applicator to stimulate circulation and provide an additional smoothing effect, and the ingredients are micro-encapsulated so they are slowly released throughout the day."
Think of this as a mini massage in a bottle: You'll feel it work almost instantly, as it has a warming and tingling sensation.
"This product has a powerful mix of glycolic acid and moisturizing ingredients to exfoliate, hydrate and plump the skin. It also contains caffeine that produces an immediate tightening effect. I'd recommend applying it twice a day," says Dr. Arash Akhavan, founder of The Dermatology and Laser Group in New York.
Remember: consistency is key; continued use of this firming lotion can boost firmness as well as hydrate and refresh your skin.
Top-rated skin-tightening lotions and creams
Let this cream do the work for you overnight. Not only can it be used for fine lines and wrinkles, but it can also assist with discoloration and help even out your skin tone.
"I bought this for using on crepey neck and it really firmed the skin up," shared one five-star Amazon reviewer. According to a brand study, 93 percent of users had a visible reduction in lines and wrinkles in four weeks.
This one's a splurge, but it's well worth it considering its benefits, which are aplenty.
When it comes to the neck and décolleté area, you'll want something gentle enough so as not to irritate their sensitive skin, but strong enough to actually make a difference. That's where the Techno Neck Perfecting Cream comes in. According to the brand, when used properly, you may experience benefits like reduced crepiness and firmer-feeling neck and chest skin.
Apply the product in an upward motion on your skin and massage it gently until it fully absorbs.
Whether you're treating stretch marks after losing weight or pregnancy, Palmer's got you covered. This firming lotion is loaded with natural ingredients like raw shea butter and vitamin E to increase the production of collagen in your skin while reducing the appearance of skin imperfections.
No wonder there's more than 13,900 verified five-star ratings on Amazon. One of those reviewers noted, "Smells amazing, very hydrating. I've been using this lotion for a few months, and it is fabulous. I can see a drastic improvement in skin."
Sure, it's hard to resist Sol de Janeiro's delicious scents, but this body cream actually works! Guaraná extract gives your skin a caffeine boost and tightens its appearance over time, while cupuaçu butter's essential fatty acids deliver plenty of hydration quickly. If that's not enough to convince you of its effectiveness, just listen to the over 21,500 shoppers who gave it a perfect five-star rating on the brand's website.
One of them raved, "I've been using the Bum Bum Cream for a few months now, and I've been obsessed ever since. The scent lingers throughout the day, and I get compliments all the time. For the price it's so worth it; do yourself a favor and buy it now!"
Your skin won't mind working overtime when it comes to this night cream from First Aid Beauty. A brand study showed that 90 percent of users reported softer, smoother and more supple skin after four weeks of use. This is thanks to powerful ingredients like sodium hyaluronate, which boosts skin's natural moisture content and reduces fine lines, as well as niacinamide (which restores your skin's natural tone, texture and bounce).
Another key ingredient: super calming colloidal oatmeal to relieve dry or distressed skin.
Combining nutrient-rich fatty acids, firming peptides and antioxidant-rich jojoba and botanicals, this vegan body moisturizer works to smooth your skin from head to toe.
Another perk? The Vitamin C in this rich formula helps brighten the appearance of skin.
This Caudalie product may look like whipped cream, but it's much more powerful than you'd expect. Its clean blend of grape polyphenols and iris extract works to visibly firm and tighten difficult areas like your underarms, chest and behind.
Grapeseed oil, one of the key ingredients, nourishes skin with lots of antioxidants as well as omega-6 and omega-9 fatty acids.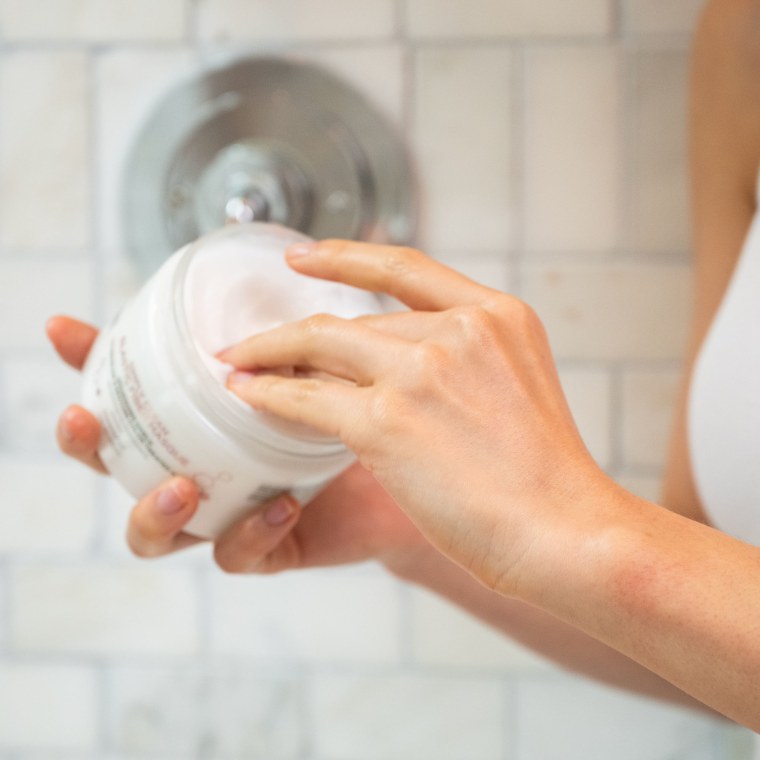 Specially made to improve the appearance of crepey skin, this transformative body cream from StriVectin is loaded with proactive peptides and nutrient-rich extracts to visibly tighten and brighten your appearance.
What's inside? Jojoba seed extract (to firm and tone skin), turmeric root extract (to boost skin luminosity and even skin tone) and butter blend (to deeply moisturize skin).
This one comes with a higher price tag, but it's also highly recommended by Ross.
"This is a peptide- and caffeine-heavy formulation that helps to lift as well as work on the crepey texture of the skin. It also supports the skin's microbiome, which will help prevent further loss of elasticity," says Ross.
Check out the brand's website for dramatic before and after photos of skin after 12 weeks of use.
Body care brand Maëlys focuses on creating products to lift, firm and smooth bodies to help people feel good in the skin they're in. This cream (infused with red algae and kangaroo paw flower extract) specifically targets sagging and loose underarm skin, giving it a tighter, sleeker appearance. Use a generous amount on your arms twice a day, feel the warming sensation, and let the purple-colored formula work its charm.
On Maëlys website, there are more than 1,600 five-star reviews, with many users showing off their toned arms. One reviewer said, "Have had this cream for a few weeks and can already tell the difference! Love how you can practically feel it working when you apply it. And it smells great too!"
It's also worth noting Maëlys' other firming products, which include the B-FLAT Belly Firming Cream and the B-FOXY Inner Thigh Firming Cream.
Since we know retinol is a key ingredient to look for in a firming cream, we couldn't not include this fitting find by Advanced Clinicals. In addition, this one is made with green tea, aloe vera and chamomile to fight visible signs of aging. Plus, the pump makes application a breeze.
Amazon users can't seem to get enough. More than 48,200 people rated it five stars. One user noted, "I love this stuff! I'm on my second bottle and I love that it's not a greasy feeling. I feel like my skin is more firm from using this nightly."
Plant-based, Brazil-born body care brand Nativa SPA is all about quinoa, aka the "golden grain" that's rich in omegas and nutrients. Did you know that quinoa oil is 30 times more nourishing than coconut oil?
I've been using this cream for months (along with the brand's Quinoa Firming Oil) and truly can't get enough of the warm fragrance and luxe texture that's not too light or heavy. One of many happy reviewers noted, "I love the texture and scent! It goes on smoothly and absorbs into the skin without leaving any greasy feeling."
Nature and science come together in this contouring cream that's clinically-proven to improve muscle definition, tone and firmness of the skin, according to the brand. What I love most about this cream is the rich, creamy texture that just melts into the skin. It's filled with active marine ingredients from Bermuda and blended with murumuru seed butter and shea butter.
One user raved about it on the brand's website" "I've been using this daily, and I've seen great results in a few weeks! Firmer skin and less cellulite. ... Works great when you incorporate diet/exercise too!"
Top-rated skin-tightening body treatments
A light serum with major impact, this option from No7 boasts benefits like making your face and neck feel firmer and look visibly less crepey. It's made with complexes that contain hydrating ingredients like hyaluronic acid, ceramides, calcium and hibiscus peptides.
One of the many glowing reviews on Ulta's website notes, "I have tried a zillion things under the sun, and nothing helps the lines on my neck — EXCEPT THIS! I use this in the morning after I wash my face and before I put on makeup, and again at night before I go to bed. I'm not even done with my first tube and have noticed a huge improvement. I don't feel confined to turtlenecks anymore!"
Designed to tighten your core area, this hydrating formula contains caffeine and shiitake mushroom extract to stimulate your skin and restore elasticity and firmness.
This tummy-toning gel is also infused with menthol to give you an uplifting cooling sensation and stimulate your skin to help detoxify, tone and tighten it.
What makes this product different? "It targets the environmental stresses such as pollution that help to deplete the skin elasticity," Ross explains. He adds, "It is high in collagen-synthesizing ingredients such as l-glutamine and genistein."
Specifically, it's designed for our modern world where "tech neck" is a real thing, helping to improve the appearance of horizontal neck lines and skin crepiness.
"This cream goes on silky smooth while firming up the skin and working to increase the production of healthy collagen," DeRosa says.
She emphasizes its ingredients, including shiitake complex (to helps boost collagen production and reduce the breakdown of existing collagen), L-glutamine (to also stimulate collagen production) and genistein (to help to improve the quality of existing collagen and also improve the skin's elasticity).
FAQs on firming body lotions and creams, answered by experts
What's the best way to apply firming body lotion?
"Firming lotions are best applied in circular massaging movements," says Ross. "This really allows the product to stimulate blood flow to the surface of the skin to pull the active ingredients in and help them to do their best job," he explains.
Are there factors to consider when choosing firming lotions? Are there ones for overnight use, for certain skin types, or for certain body areas like the stomach, upper arms?
In general, products geared toward firming a specific body part are mostly marketing since the skin on your tummy is no different than the skin on your back, for example, Ross explains. He adds, "The most important factor to consider is the overall ingredient formulation and active hero ingredients of the product that specifically target firming."
Does putting firming lotion on my body help with cellulite?
First off, let's talk about what cellulite is.
DeRosa notes, "Cellulite forms when fibrous bands that connect the skin to the fascia (a fibrous covering over muscles) pull down on the skin or start breaking down, allowing the fat underneath to be seen." This is why with cellulite you see a "cottage cheese" appearance with an irregular, dimpled skin contour.
Since cellulite is not simply a skin problem, firming creams or lotions can work only to an extent, and further reduction in the appearance of cellulite requires more invasive treatments.
In response to the above question, DeRosa says that a firming lotion can indeed contribute to the appearance of less cellulite. "The reason is that it helps to improve the thickness and texture of the skin, usually by increasing the collagen in the skin," she explains.
Is there anything else I can do to tighten my skin naturally?
There are several ways to improve skin firmness naturally.
"At home, one can work to improve the skin's hydration by maintaining a healthy diet that avoids foods and drinks that tend to cause dehydration, including sodium and alcohol," says DeRosa. "Strengthening the muscles underlying loose skin can help make the skin look tighter too," she adds.
In addition, DeRosa mentions at-home treatments such as micro-needling or skin rollers that can help stimulate the production of new, healthy collagen in the skin.
Meet our experts