My curly hair and I never really got along until I learned how to take care of it. I, like many of my friends, spent most of my teenage years flattening it with a straightening iron and trying to get rid of any sign of a curl.
However, as an adult, I've learned to embrace my bouncy curls and no longer try to hide them. I've ditched most of my heating tools and replaced them with a hair regimen that lets them shine on their own.
To accomplish this, I turn to a few styling products, and my styling method of choice — the hair "plopping" method that has been growing in popularity lately. Below I explain my plopping technique, and review the Sun Bum (yes, the brand that makes sunscreen) Curls and Waves collection that I had the opportunity to try.
What is hair plopping for curly hair?
After I step out of the shower, I use a T-shirt towel (from the collection) to lightly squeeze out excess water and then apply the leave-in conditioner and detangler so that I can comb through my hair and work through knots with ease.
From experience, I've noticed that you have to apply hair product the moment you step out of the shower if you want your hair to hold onto moisture and style correctly. After I make sure all of the product is absorbed in my hair, I get ready to "plop" my hair.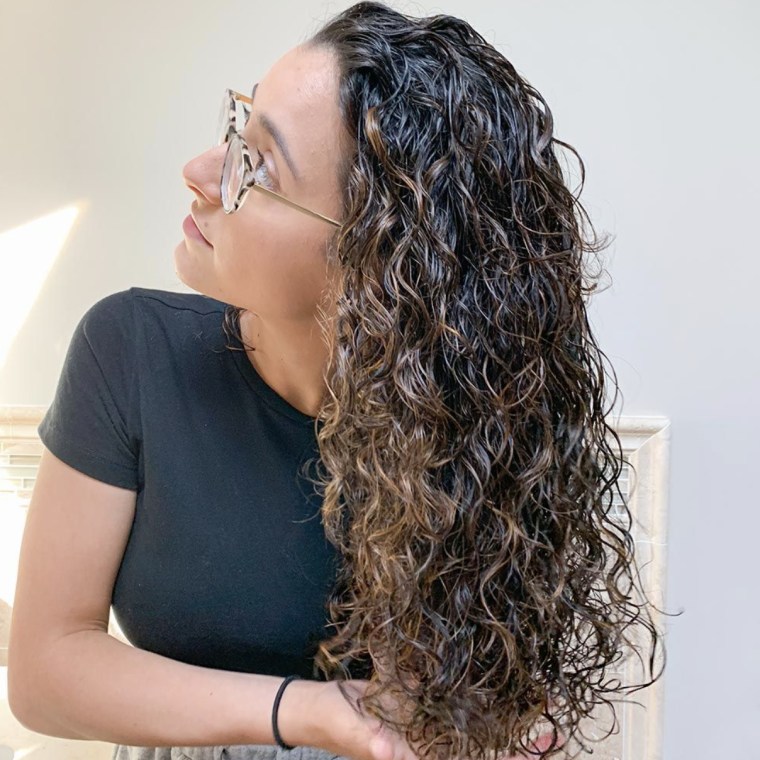 Plopping is essentially what it sounds like: Taking your hair and plopping it on top of your head to keep your curls intact. The process involves piling your hair in a cotton tee or microfiber towel, tying it atop your head and leaving it to dry for a bit.
For me, I start by placing the shirt down on my bed (the one I use from the collection is no longer available, but any tee or microfiber hair wrap will work), placing the side with the neck and sleeves closest to my head; I place my hair down in the center of the shirt (as best as I can) and then fold the bottom of the shirt over my head. Finally, I take the sleeves and tie them over the bottom of the shirt (it should be touching your neck), and voila, curls are plopped!
I've tried just about every technique to enhance my curl pattern without heat, but nothing works as well as this technique. In my opinion, plopping helps my hair hold on to products I use and gives my curls more definition than if I were to let them air dry or even use a diffuser (partially due to the fact that I am still learning to use it).
My curly hair routine
I tried to incorporate Sun Bum's line into my normal routine. The entire line consists of six products (shampoo, conditioner, detangler, leave-in conditioner, styling cream and a mousse), plus, a T-shirt hair towel that can be used for plopping curly hair.
All six Sun Bum products are DMDM-H free, as well as vegan, cruelty-free and UV-protecting, the brand says. Since my hair is color-treated, I also appreciate that these products are also color-safe and sulfate-free.
Ingredients like coconut oil, seaweed protein and kukui nut oil, which help protect your locks from breakage according to the brand, can be found in almost every product in the line. Keeping curls hydrated is crucial for avoiding frizz, which these ingredients also help with.
Out of habit, I try not to shampoo my hair too much (it can dry out curls faster), but working this shampoo into a lather feels and smells good — and even better when you throw in a scalp brush. After I rinse, I apply the conditioner to my ends and let it sit for a couple of minutes so my hair can soak up the ingredients that the brand says will benefit my curls.
I usually leave my hair plopped for an hour or two after applying a few drops of the styling cream and pass the time by moving onto the next part of my beauty routine. Since the shirt, when tied, helps lock-in heat and moisture, your curls are supposed to look more defined afterwards (so, the longer you can leave it on, the better).
After plopping, I'll take down the towel and scrunch the styling cream through my hair again, to really seal in moisture and add definition. Then, I apply the mousse to finalize my style before heading out the door.
I feel like mousse gets a bad rap, but this formula doesn't feel sticky on my hands or in my hair and doesn't take long to absorb. I've found it doesn't leave that "crunchy" feeling behind, too.
The only thing I feel this line is missing is a kind of curl refresher that I could use on the days between washes. Other than that, I've enjoyed stepping out of my curl comfort zone and found a few new essentials for my hair routine.
While scented products can be a turn off for some, I like that I can smell the products throughout the day, so that I know they are still holding in my hair.