While we search for comfy essentials to get us through the summer season, we'll be grabbing pieces that are soft, breathable and flattering. We'll also likely resort to wardrobe staples to create outfits that are effortless but highly fashionable.
The right skirt or pair of shorts might be hard to come by, but dresses come in plenty of different styles and designs that make them easy to fall in love with. Maxi dresses tend to be one of the most popular style of dresses, and also one of the most versatile items in any capsule wardrobe — they can easily be dressed up or down, transitioned from season to season and might never go out of style.
It's no secret that maxi dresses meet all of the important criteria — comfortable, breathable and versatile — and we may have just found the perfect maxi to wear all throughout the warmer months, and even into the fall. Oh, and did we mention it has pockets?
This top-rated style has amassed more than 7,500 verified reviews from customers who have purchased it for all sorts of occasions, from beach wear to graduation events to everyday wear. Another reviewer even took to their creative side to turn one of quarantine's hottest DIYs into a fashionable look.
Crafted from a rayon-spandex blend, the fabric of the dress is light and flowy enough to keep you feeling cool on warmer days, but can also be layered under a denim jacket on chilly nights. Whether you opt for a sleek pair of fashion sneakers or a comfortable pair of flats or sandals, you can keep your look casual or dress it up for a number of occasions.
The floor-length dress is available in sizes XS to 3XL in 25 different colors and patterns — and every one of them has pockets. The combination of the fabric and length provides enough coverage for you to feel confident all day long, and even features a figure-flattering elasticized waistband that can enhance curves and is perfect for adding a fashionable belt.
Since this popular maxi dress seems almost too good to be true, we had five women try the top-rated styles and share their honest opinions, just as we did with Amazon's bestselling swimsuit and this popular wrap dress from Walmart. Read on to see what each woman thought of the dress.
Size Small
Jill is wearing a size small in the wine red style of the popular dress, and said the dress is so soft she feels like she could spend a whole day in it.
"I think the dress fits really comfortably, I was worried about it being a little clingy but I think it flows nicely at the bottom and it's not too tight — it's loose fitting," she said.
Jill says it can be a little sheer at the top since the fabric stretches, and recommends putting a camisole under the dress if the sheer is worrisome.
She styled the dress with small silver hoop earrings, a studded belt and black boots for a look that can be worn in the summer or in the fall.
Size Medium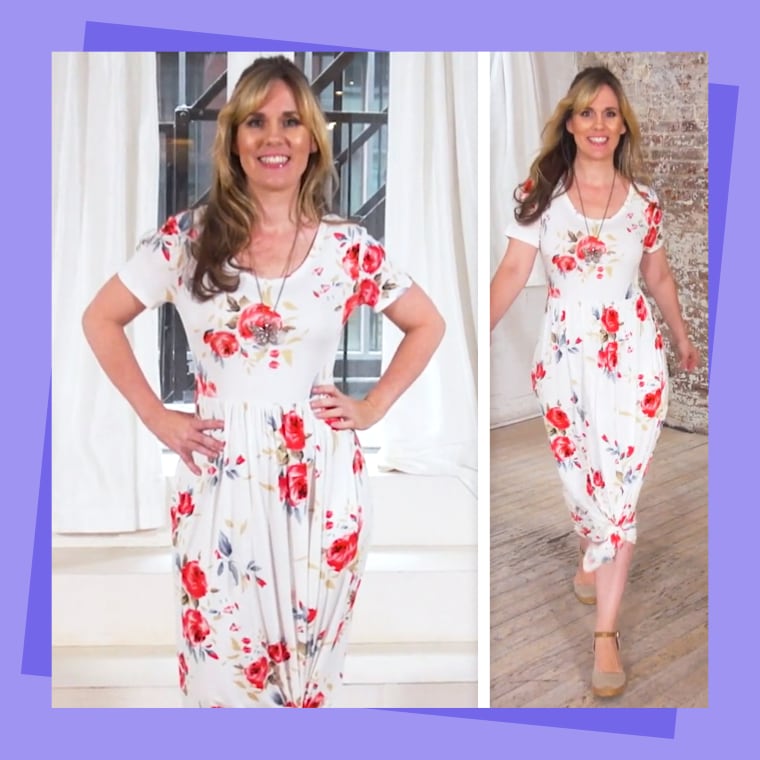 In the white floral style of the dress, Elissa felt ready to take on the summer season.
"The dress feels nice, it's a little thin so it's perfect for summer," she said. While she thought the dress ran just slightly larger than a true-to-size fit, she says it is an easy fix with the right pair of shoes.
She paired the dress with a statement necklace and chic nude espadrilles for an outfit that is ready for any summer activity.
Size Large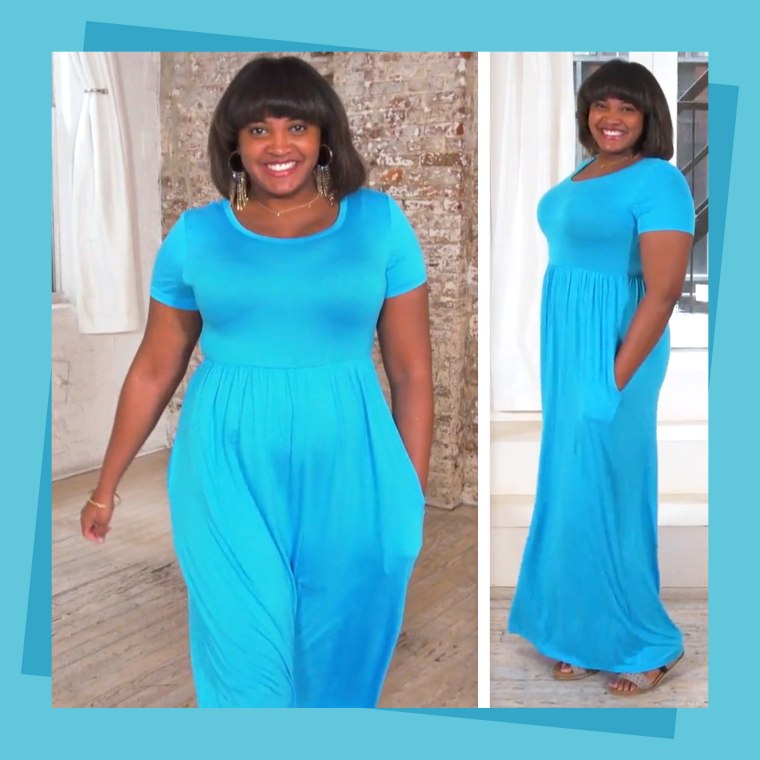 Kourtney is wearing a size large and loves the overall style of the dress, and found the fact that the dress has pockets to be another plus.
Though she paired the dress with a simple pair of sandals, she recommends wearing a shoe with a little more height.
"If you are also a little on the taller side, even though it's a long dress you still even might need to wear a little bit of a heel because it definitely does fall to the floor."
Since the dress is perfect for those who prefer a more casual but put-together look, Kourtney says she would wear the dress when catching up with friends.
Size XL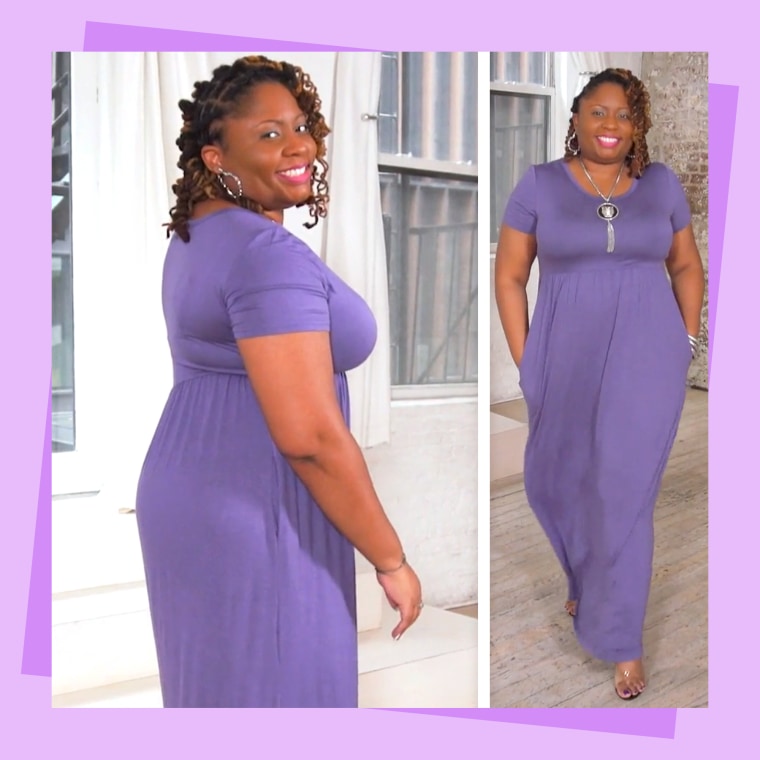 "Every woman knows a dress with pockets is the best dress ever, and this dress definitely has nice pockets," DeAndra said.
While the pockets add a nice touch, she also says the dress is flowy, which makes for a versatile, cute look that you can wear anywhere. DeAndra also recommends pairing the dress with heels if you don't prefer the floor-length fit.
She accessorized the dress with simple silver hoops, bangles and a statement necklace and completed the outfit with clear pumps.
Size XXL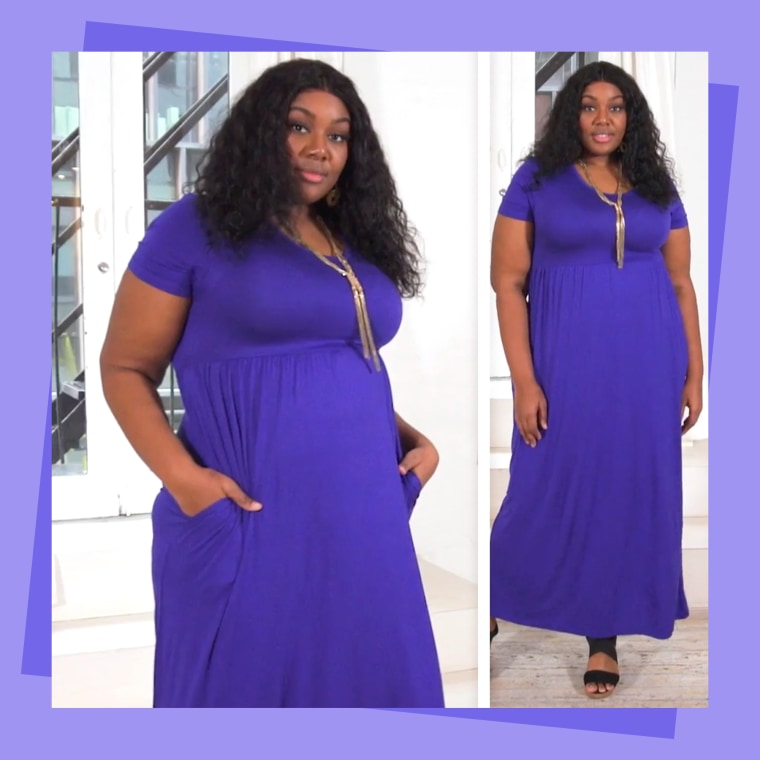 Brittany is wearing a size XXL and loves the soft feel of the dress. While she felt the fabric of the dress helped keep it flowy, she found it to be a little bit thinner than she thought it would be.
"I would wear this dress really anywhere — I would probably dress it up or, going to like the store I'd wear it as is with maybe some like, sandals," she said.
Though she found the pockets on the dress to be a little low, she still says it's a great dress. Brittany styled the vibrant print of the maxi dress with a statement necklace and wedge sandals to add some contrast to her look.
For more stories like this, check out:
To discover more deals, shopping tips and budget-friendly product recommendations, download the new TODAY app and subscribe to our Stuff We Love newsletter!