Believe it or not, we're already reaching the tail-end of 2023, and it's been a long season in the world of fashion. We've seen the bubblegum pink emergence of "Barbiecore," the revival of Y2K (whether you wanted it or not) and even a spin on every grandmother's favorite aesthetic with coastal cowgirl. It's been a year of bold and unexpected dressing — but such "loud" styles aren't for everyone, which is perhaps why another trend is making noise amongst minimalist dressers ... in the quietest way possible.
"Quiet luxury" made headlines earlier this year, but it has continued gaining traction for its "un-trendy" (but actually super trendy) and timeless vibe. In fact, according to Google Trends, searches for "quiet luxury trend" spiked by 70% in just the last week. The look is often characterized by understated yet sophisticated pieces made with high-quality materials. Sounds expensive, doesn't it? Well, it normally is, but we turned to Target and were impressed with the selection of products available to capture the look for less.
For our Shop This List series, we scoured the retailer's latest in clothing, accessories and decor to find the best picks that fit the masterfully classic and polished look of quiet luxury — with a more than reasonable budget in mind, of course. From sleek jewelry and wardrobe staples to subtly stylish home decor, our favorite finds will help you go from simple to ... well, a more stylish and expensive-looking kind of simple.
Keep reading to shop our picks — you can even add them all to your cart in just one click.
TODAY earns a commission on purchases through these links.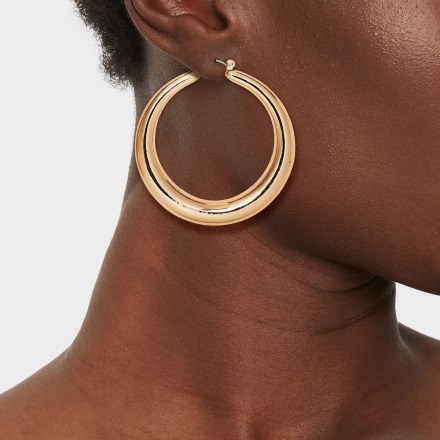 1 of 12
Thick Hoop Earrings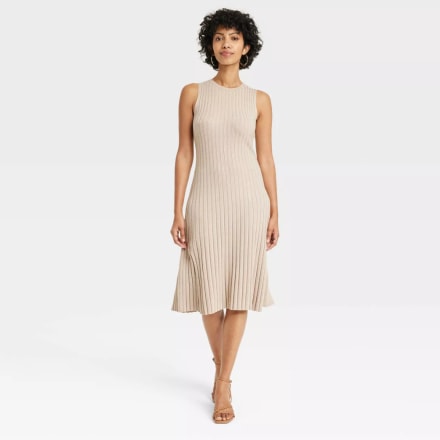 2 of 12
Sleeveless Sweater Dress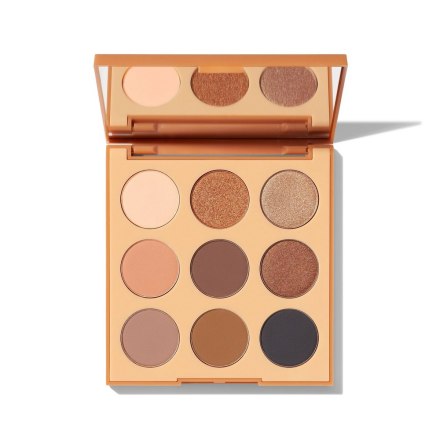 3 of 12
9T Neutral Territory Artistry Palette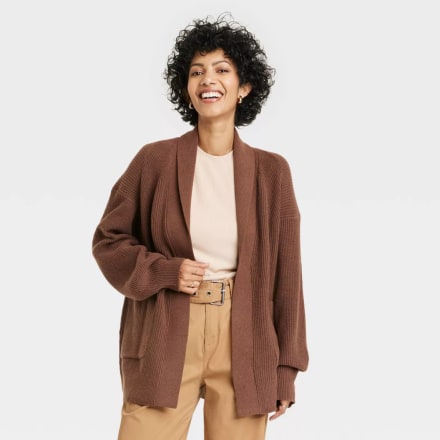 4 of 12
Open Layering Cardigan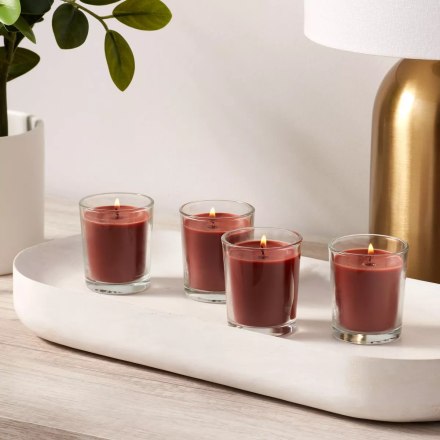 5 of 12
Warm Cider & Cinnamon Glass Votives (Set of 4)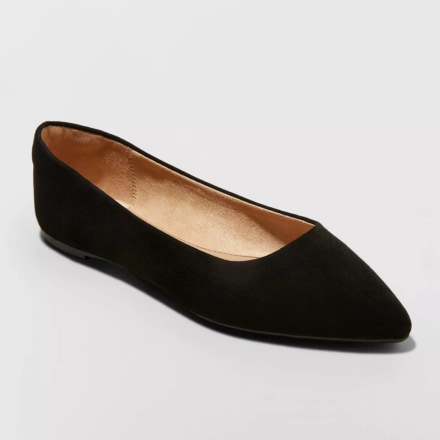 6 of 12
Women's Corinna Ballet Flats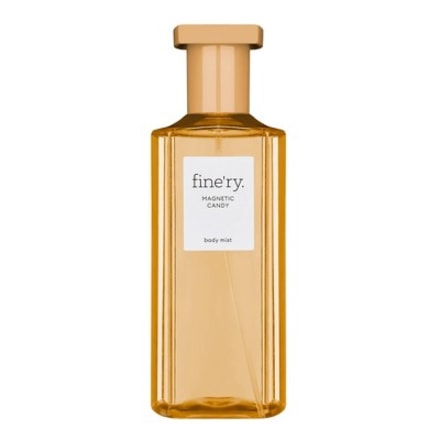 7 of 12
Body Mist Fragrance Spray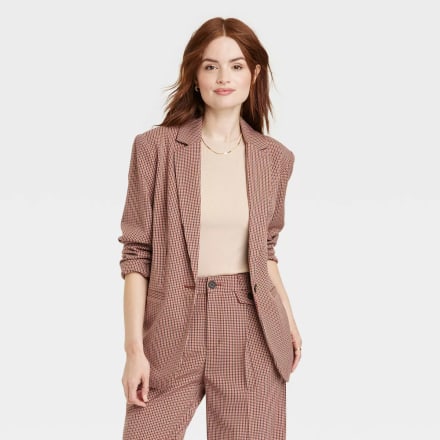 8 of 12
Oversized Fall Blazer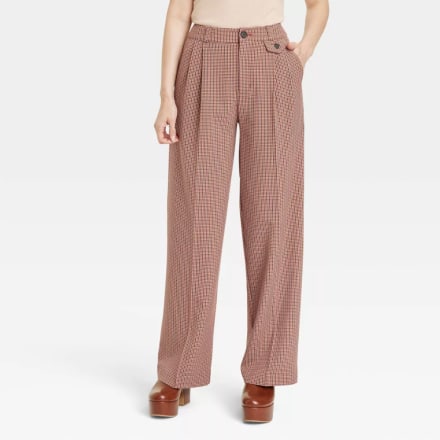 9 of 12
High-Rise Relaxed Fit Full Length Baggy Wide-Leg Trousers
10 of 12
Tortoise Shell Wall Mirror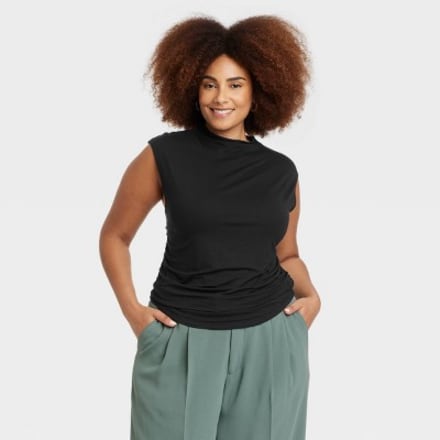 11 of 12
Short Sleeve Side Ruched T-Shirt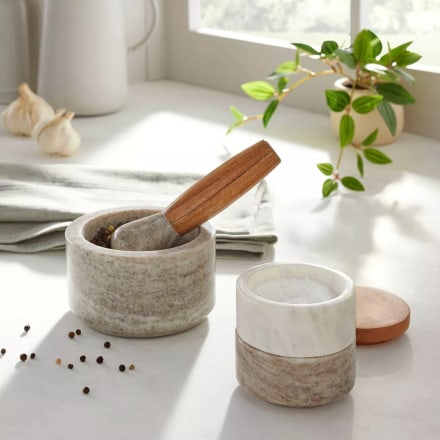 12 of 12
Marble Stacking Salt & Pepper
Nothing elevates an outfit like a classic gold hoop. While its chunky design will seemingly never go out of style, its bold, statement-making look is definitely on-trend right now. The accessory features a hinge closure (no more losing tiny backings), and while the finish is gold-toned, the brand says the material is a nickel-free metal to keep sensitive skin unbothered — and your look on point.
Having this in your fall wardrobe will change the way you dress this season. There is no limit to how many looks you can create with this piece, but for that "quiet luxury" vibe, we suggest a chic belt and neutral blazer, a trusty pair of flats and a cute clutch to finish the 'fit.
Unlike many high-end, dry-clean-only garments, this ribbed knit midi dress is machine washable, so you can easily give it a quick clean before re-wearing for you next trip to the office, date night or special occasion.
With your beautiful breezy outfit, you of course need the makeup to match — and neutrals will be key to nailing this look. With this eye palette, featuring a mix of warm beiges and browns, metallics and darker shading shadows, you can create an effortless eye look you can rock every day. According the brand, the formula is "beyond-blendable," extremely pigmented and made to mix and match.
When 92% of shoppers say they would recommend this cozy cardigan, they're worth listening to. "Chic and comfortable. Can't wait to wear to work this fall," said one five-star reviewer. Another raved, "[I] love this cardigan, [it] goes with so many outfits."
But let us tell you why we love it: The six neutral colors to choose from, the soft cotton blend, the shawl-like fit, the size range (XS-4X!!) ... it just screams laid-back luxury — but again, quietly.
We all wish our space smelled like the luxurious lobby scents wafting through posh hotels or restaurants. Well, with the right candle, you can get one step closer. If you hold a special place in your heart for autumnal aromas, these cider and cinnamon votives will help you embrace the season — and create a more luxe environment. And because these come in a pack of four, you can spread them out from room to room to extend the fragrance.
When you don't want to sacrifice style for comfort, these ballet flats can offer you the best of both worlds. Trendy heels and boots can become overwhelming (not to mention, induce foot pain after long periods of time), but a faux-leather shoe like this one fully embodies the "quiet luxury" look. No one would guess they're just $15!
A luxury perfume can set you back a pretty penny, but we know smelling good can be just as important as finding a great outfit. Not to mention, it can work wonders on your mood, especially when someone stops to ask what you're wearing. This brand makes finding your signature scent at an affordable price point easy and enjoyable. This $13 fragrance features notes of pink pomelo, sugared violet and cotton candy. A little bit of sweet, a little bit of citrus, a whole lot of luxury.
The easiest way to elevate your style is to throw on a matching set. And just because it's easy doesn't mean it won't turn heads as you walk out of your home, office, cocktail bar — aka, wherever you go. This oversized blazer (and the matching trousers below) will have people wondering what important event you're headed to.
Admittedly, we're absolutely obsessed with this checkered pattern. But we might like the under-$40 price tag even more.
While it will be hard not to add the matching blazer to your cart, these statement-making wide-leg pants can easily stand alone when paired with a solid-hued top or neutral sweater.
If you're going to admire your new "quiet luxury" look, you might as well do it in a mirror you love to look at just as much. This tortoise shell-patterned piece will look lovely as entryway decor and can even make for a great conversation starter. If you need a centerpiece for your next gallery wall, we recommend grabbing this one while it's on sale for 30% off!
Beautiful basics seem to be the foundation for quiet luxury fashion. This ruched top stands on its own but can also pair well with an oversized cardigan (imagine that mock turtleneck peaking through!) or a blazer for a more professional look.
We've talked fashion and living space decor, but why not bring the quiet luxury trend into your cooking space as well? Don't let something as arbitrary as unflattering salt and pepper shakers ruin the subtly chic vibe of your kitchen. This three-piece marble set oozes luxury, but will only set you back $15.
More Target shopping guides: