When it comes to jeans, the old adage "everyone has an opinion" always rings true. There are those who've hopped on the current "mom" jean trend, while millennials prefer to cling to their tried-and-true skinny styles. Others are finding new denim favorites from retailers that have had a long-overdue rebrand or brands bold enough to say they make the "world's best jeans."
As far as my taste in denim goes, it's more like a list of requirements.
They need to flatter my waist and thighs
They must fit my 5 foot 3-inch frame
They must have pockets
Anything that meets those standards is a win for me. I almost don't care what they look like — I'll give any wash, pattern or style a go. With all that said, shopping for jeans would have been a lot easier for the last 32 years of my life if I had just discovered the magic of NYDJ sooner.
The brand recently sent me a few pieces from their 20th Anniversary Collection (worth a look if you're considering a spring wardrobe refresh), but the brand-new Blake Slim Flared Jeans were the clear stand-out. So much so, that I broke the fashion protocol of wearing white after Labor Day to give them a whirl. To say they checked all my boxes is an understatement.
Even better, you can snag a pair, and the five other washes, for yourself for 30% off using the code TODAY30 at checkout!
When NYDJ was first founded back in 2003, the brand decided on one thing: To create clothing that fits every shape, size and age. From there, its Lift Tuck Technology came to be a staple within many of NYDJs bottoms. The special design pairs a proprietary slimming panel and a patented criss-cross design to create pants that appear to contour and slim the body. It's because of this technology and popular stretchy fabric that the brand recommends shoppers buy a smaller size down. So, that's what I did.
As I've mentioned, I'm pretty short. I'm also very busy (OK, fine — lazy), and won't go to a tailor to hem anything. I refuse to count the items of unworn clothing in my closet that just need a quick cut and stitch, but you get the point. When I was told I was receiving a few NYDJ items, I just assumed any pant style I got would be a problem, despite them having my preferred size. From past experiences ordering online, I've seldom had a pair I hadn't returned due to stepping on each too-long pant leg.
You can say I was more than surprised to find that the hem was "chef's kiss." When paired with my favorite booties (with flared jeans, I always prefer to wear them with a heel of some kind), they hit about an inch above the floor. Not too long, not too short — just right. I'm not too concerned about the slimming factor, but they definitely give my legs an elongated look.
For a brand that has a mission statement dedicated to meeting "women's head-to-toe style needs," they sure delivered.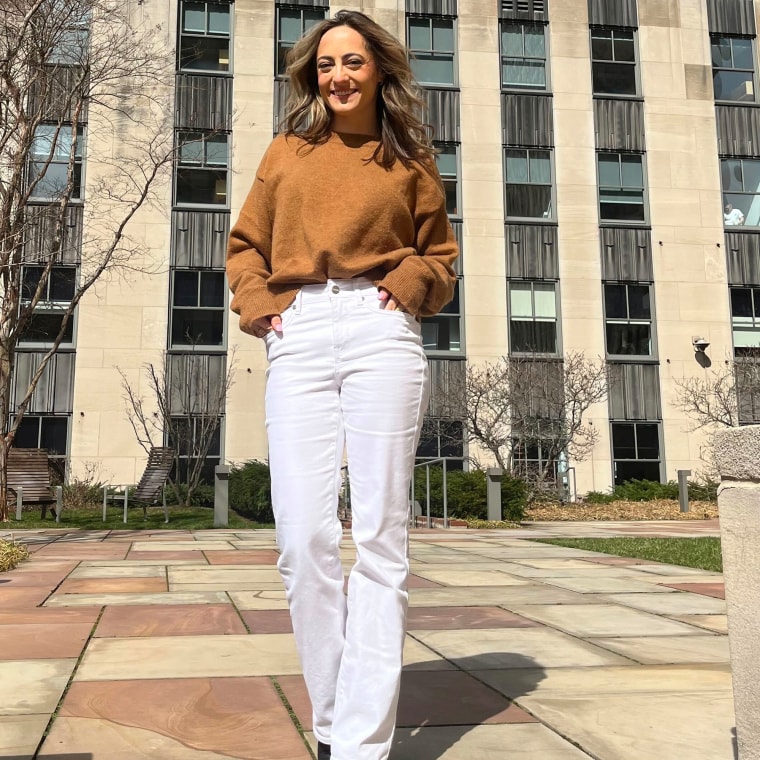 They also aren't playing around when they say "stretchy." I think I could have worn these jeans on a hike or a bike ride and still felt comfortable. The material clings to my thighs in all the right places, and despite having ordered a smaller size, I probably could have gotten away with going another size lower for an even more form-hugging fit. That's not to say the brand isn't size inclusive — this pair is available in 00-18. The cozy cotton material perfectly conforms to my waist, as well, and sits pretty high up. As for the pockets, although stretchy, storing my phone or other objects in them won't weigh the pant down.
My only complaint is that this style doesn't come in more colors. I'd honestly consider paying NYDJ for a pair in black because I know those would complete my work wardrobe. Until then, I will grab this white pair any chance I get. They are the perfect year-round staple to pair with winter sweaters, summer crop tops and literally anything in between.