In a time when we are prioritizing comfort and ease of dressing when it comes to our wardrobes, it makes sense that minimalist slip dresses and skirts are seeing a resurgence. The sexy '90s slip can be worn just about anywhere if you style it right, and there is no shortage of outfit combinations with a slip skirt.
"Slip dresses are very now, they're completely acceptable to wear out in public. You can wear them many different ways, they are very flattering on a lot of different body types," Carrie Cramer, a celebrity, wardrobe and personal stylist based in Los Angeles, told Shop TODAY.
"They're a little bit like '90s revival, which I like, but you can do an updated version now. There's just so much pretty fabric that you don't have to do a plain one anymore," she added.
Slip skirts
Leopard print skirts feel timeless. Animal print seems to be the new neutral, so you can style it with just about any sweater or tee.
This simple midi skirt has a high-rise waist and an A-line fit to create a flattering silhouette. You can find it in sizes XS-4X and in several colors, including a green and a bright orange that feels cheery for summer.
There's so much to love about this slip skirt — from the champagne hue to the side slit and elastic waist. The smooth satin fabric will give any outfit an elevated look, especially with a pair of heels and a fun top.
Available in nine shades, this stunning skirt is more than its beautiful look. According to the brand, the fabric contains amino acids that can nourish the skin and help the wearer maintain their body temperature.
Slip dresses
We're already picturing this affordable option in our own closets. With a V-neck cut, you can pair this with a tee underneath or alone on hot summer days.
For a midi option, A New Day also has this V-Neck option. It comes in five colors, ranging from neutrals to pops of color, and can be easily dressed up or down (even for the office!) with carefully selected accessories.
Due to the viral nature of the trend, this dress in particular found its way to Amazon's Internet Famous curation. It comes in a range of colors and is made from a blend of spandex and polyester, which makes it a breathable option for summer.
This under-$40 option from Asos has fixed straps and is designed to fit cup sizes DD-G, according to the brand. It can be dressed up easily with heels and a clutch, or dressed down with a light sweater and sneakers.
We found your new fancy summer event go-to outfit. Bridal shower? Check. Garden party? Check. Drinks at that new rooftop bar? Check. And don't forget to check out the pee-a-boo side slit.
How to style slip dresses
For spring and summer, Cramer recommends choosing a brighter slip dress or skirt. If you want a dress or skirt that feels timeless, go for a black style.
"There are so many fun colors out now, like all these bright hot pinks, fuchsia, chartreuse — all these pinks and greens are really fun, because they can also go with a lot of whites, which is a good combo for spring," she said.
Cramer says she would never wear a slip dress without wearing something like a trench coat or a blazer over it, but there are plenty of other ways to style the wardrobe staple, during every season.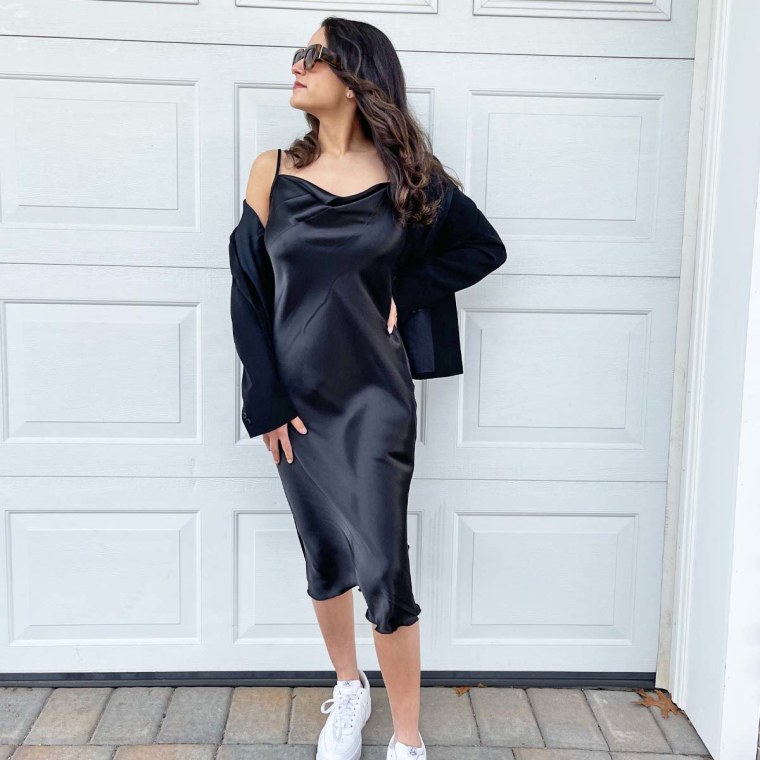 For a casual look, try throwing on a white T-shirt underneath a cami slip dress and pairing it with white sneakers. If you don't want to wear a tee and prefer to have your arms covered, Cramer recommends wearing a white button-down over the dress and tying it at your waist.
When the weather starts to feel colder, you can wear a turtleneck underneath the dress and throw on a pair of sleek knee-high boots to match. If you prefer to wear something over the dress, a chic oversized sweater and a pair of pumps can work.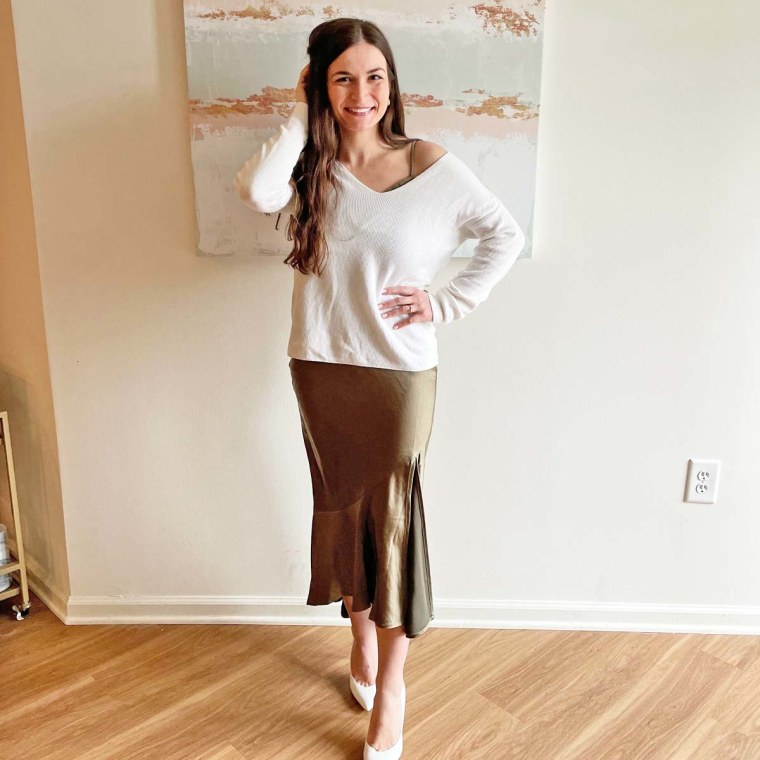 For those in-between days, toss a belt around your waist and pair it with a cropped jacket and combat boots for a look that can take you from day to night.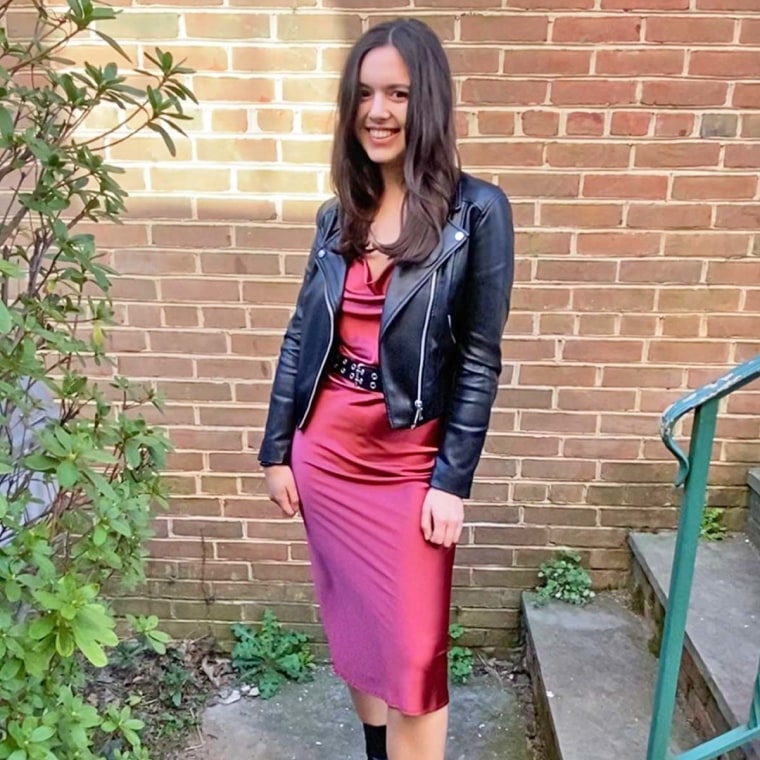 How to style slip skirts
With slip skirts, you can tuck your favorite tee into the front and layer it with a denim jacket and comfortable sneakers or flats to match. For anyone headed into the office, try swapping your denim jacket for a blazer and replacing the sneakers with a Chelsea boot or strappy heel.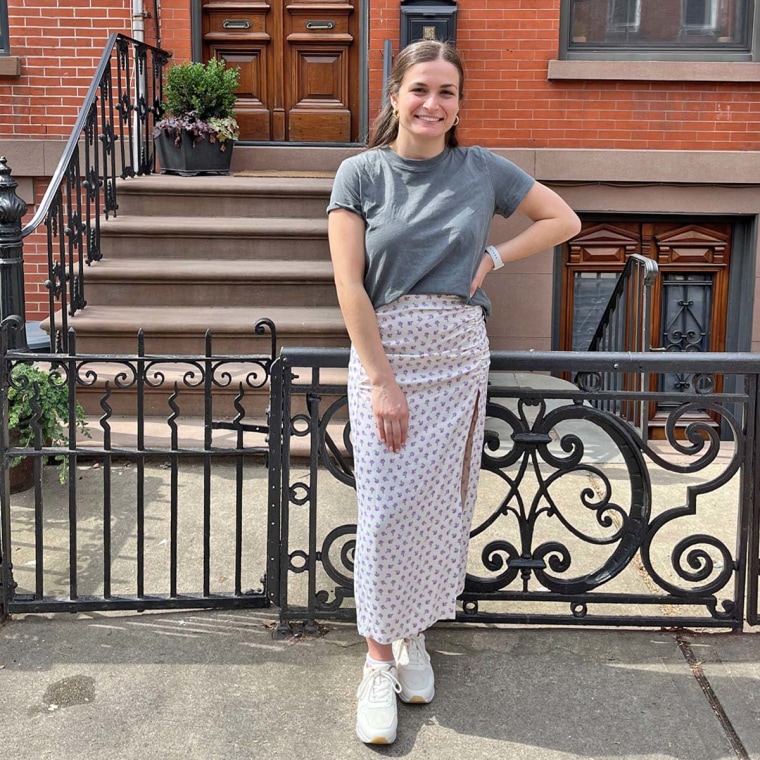 If you want to for a super casual look, Cramer says pairing a nice sweatshirt with a slip skirt and sneakers (or combat boots) "girls it up a bit."
"Be prepared to be creative with [them] and layer them," Cramer said.
With these styling tips, slip skirts and dresses can easily become a part of your capsule wardrobe.