We stack them. We slam them on top of the stovetop. We bellow out in agony if we touch them while they're still too hot. Baking pans and cookie sheets play an integral (and oftentimes everyday) role in cooking sweet treats and easy meals for many.
But are you taking care of them properly? Turns out the way you clean and store them is taking a toll on the baking tool's longevity. From the sponges you use to the way that you stack them in your cupboard, these details may seem minor, but they have serious impacts on their quality over time.
We spoke with several experts on the little things that make these big cookware items last longer.
What makes a baking sheet high-quality? | Cleaning tips | Storage tips | How can you lengthen the lifetime of baking sheets? | When should you replace them? | Baking sheets vs. cookie sheets | Pan accessories to shop | Baking sheets to shop | Cookie sheets to shop | Meet the experts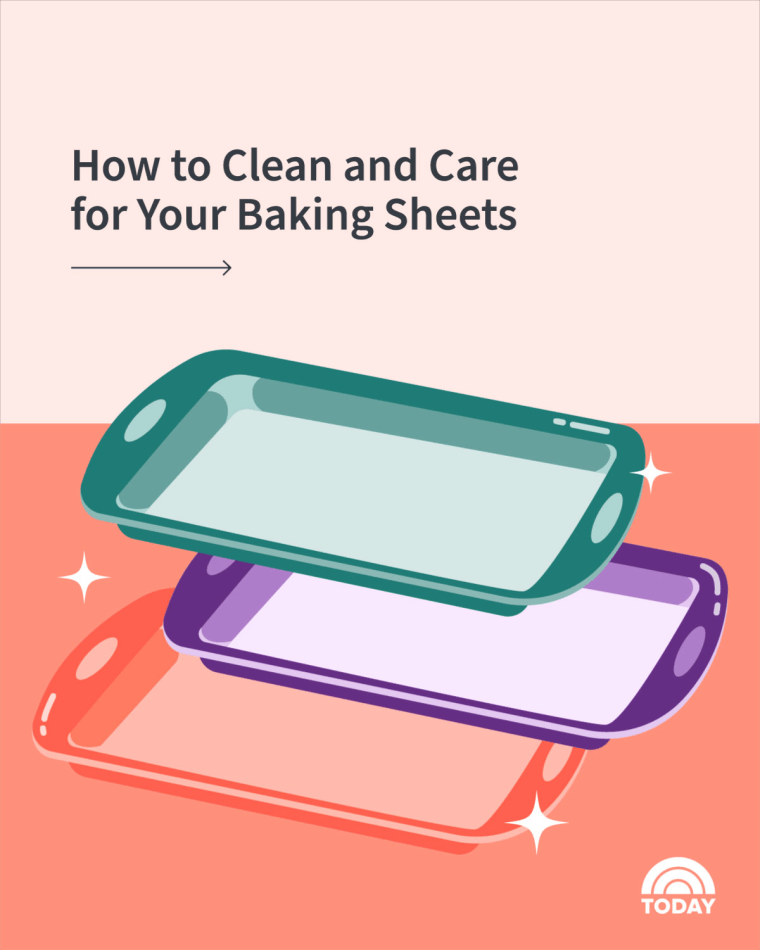 What makes a baking sheet high-quality?
While there's a time and a place for a more aesthetic baking sheet, chef Elise Smith is "a really staunch believer in a good 'ol traditional aluminum baking pan."
"They're all going to render different results, but the one that has been noted for having the most consistent temperature control — so getting that consistent result, whatever you're cooking, anywhere from breads to cakes to meat — is a good 'ol traditional aluminum baking pan."
How should you clean baking sheets?
When it comes to cleaning baking and cookie sheets, Smith follows two rules:
Don't put them in the dishwasher.
Only use natural ingredients to scrub them clean.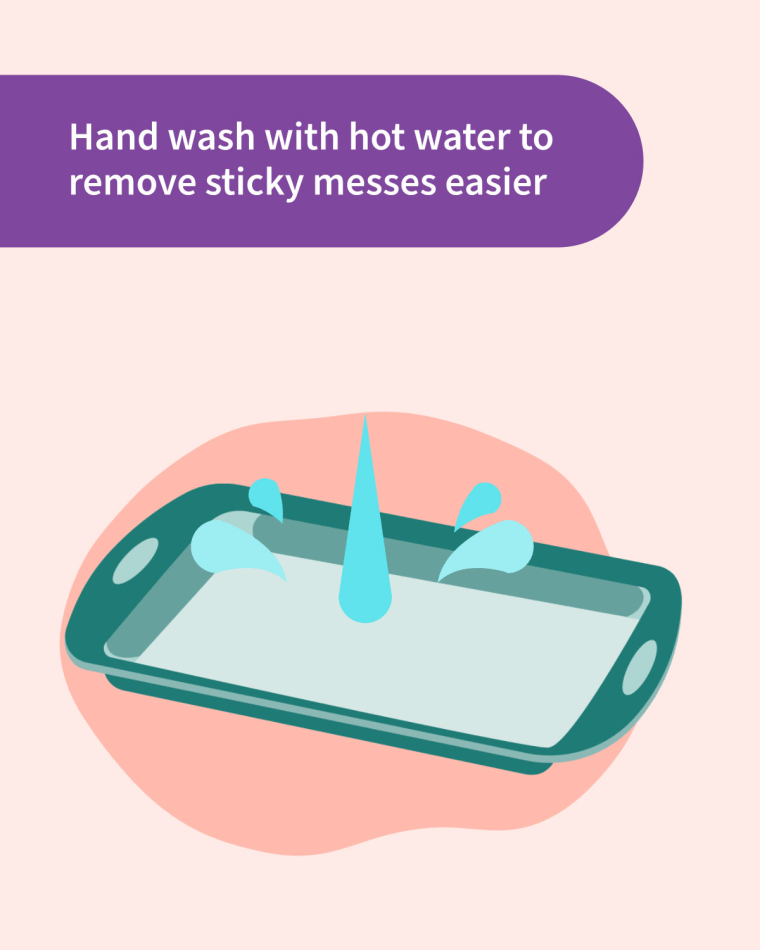 "I would never use any harsh chemicals. It's something that you're cooking with, [so] you want to keep things pretty natural," says Smith. Ingredients that can double as agents for getting rid of stains and burn debris are vinegar and baking soda.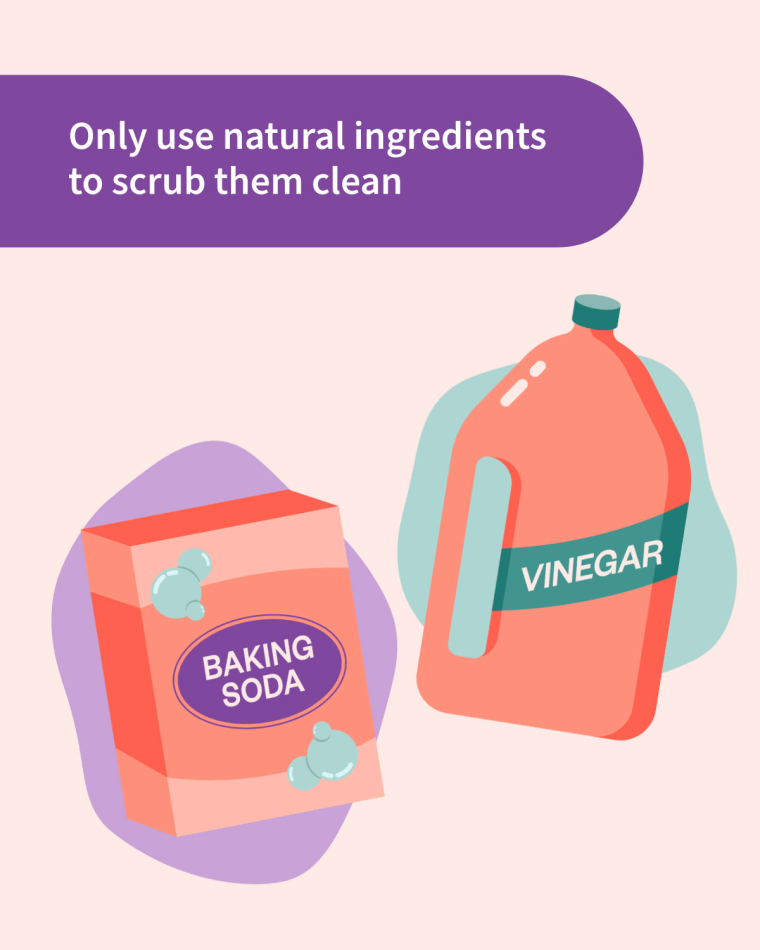 While putting your baking pans in the dishwasher or not to is a debate that differs from household to household, Smith urges you to do the latter.
"It becomes this dense, hot pocket because it's in the dishwasher and...it can degrade the integrity of the pan over time," she describes. "Also, you're likely not to be able to wash the rest of your things effectively, because they have jets and those pans block the jets."
Now that you know what to avoid when cleaning your baking sheets, what are some best practices to follow while tackling this chore?
"I'm a big believer in good 'ol soap and water, allow things to sit as need be," recommends Smith. Rather than "shocking" the pan with cold water when rinsing, Smith encourages users to use hot water so sticky messes come off easier.
When it comes to the equipment you use for scrubbing, Jessica Ek, senior communications director for the American Cleaning Institute, recommends anything but abrasive scrubbers (such as steel wool), especially for nonstick pans.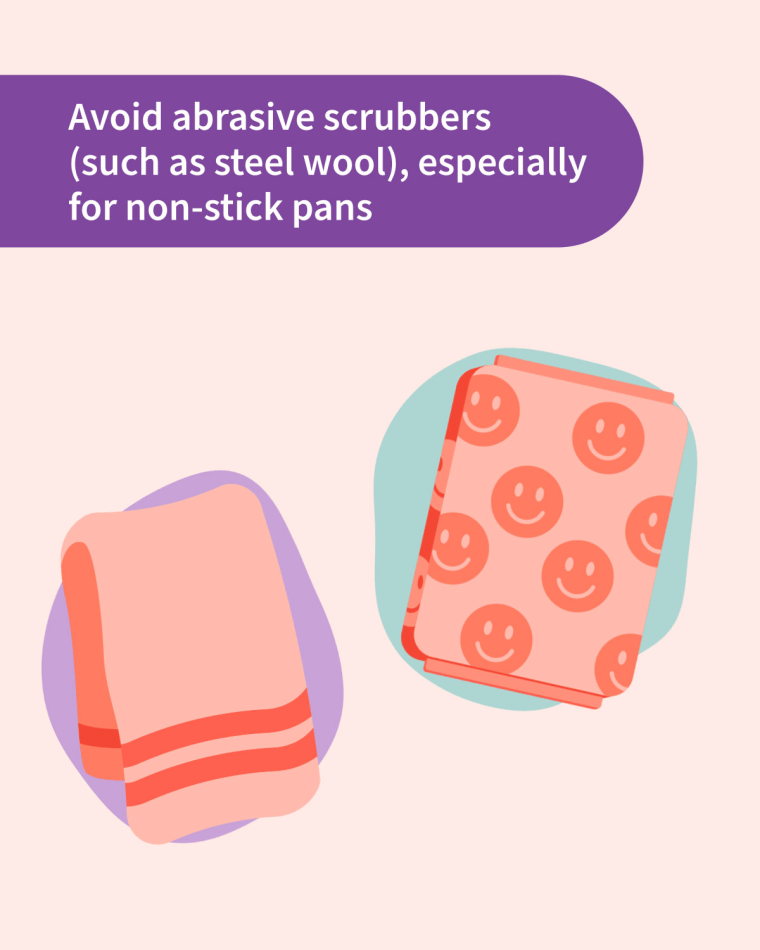 How should you store baking sheets?
Once you're done cleaning your baking pan and it has dried properly (aka either wiped down with a non-abrasive cloth or left sitting out to air-dry), Smith recommends storing it vertically. In order to prevent rust or molding, give them some space when storing them in your cabinets.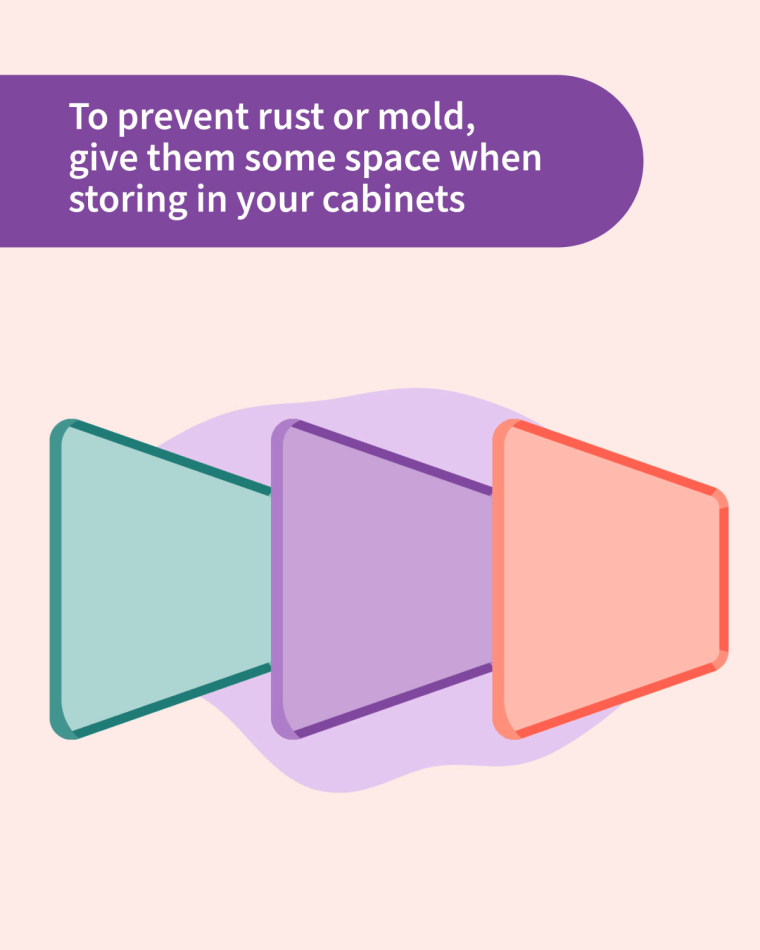 "I store my pans vertical but on a slant. I typically don't do a lot of stacking with them," she says. "It can warp it, it can cause pressure [and] they're not as flat and flush as you think they might be. The only other way I store my pans is flipped when I have my rack out."
"Treat it with care. You took the time to invest your money in it, [so] don't treat it as an afterthought is what I would say," suggests Smith. "I think a lot of people, they buy the things, they use the things and then they don't necessarily want to put in the effort to maintain said thing."
How can you lengthen the lifetime of a baking sheet?
To start, Smith says it helps to follow the instructions on the pan or on the packaging. She also advises against throwing them in an oven with a temperature above 450 degrees Fahrenheit, especially with additional items such as parchment paper or aluminum foil on them. However, if the parchment paper packaging says to never go above a different temperature, abide by that.
"Perhaps it is a time to swap in your aluminum foil for a reusable silicone baking mat," suggests Smith. Using a reusable mat not only makes the clean-up process easier, but it can lengthen the lifetime of a baking sheet or pan because you're not scrubbing the pan itself or leaving residue to sit afterwards.
Smith also recommends avoiding exceeding the temperature limits of the elements that you're cooking with so then they don't further damage your bakeware.
Finally, using nonstick sprays on nonstick pans is a no-go and can quickly deteriorate the quality of your pans and sheets, according to Neil Prendergast and Kristina Wasserman from cookware brand Our Place.
"Nonstick sprays are generally not recommended for nonstick coated bakeware or cookware," they allude. "This is because the tiny droplets burn and carbonize to the surface and can block the nonstick from working over time."
Baking pan cleaning and maintenance products to shop
Smith recommends only using natural ingredients to clean your cookware, and this liquid dish soap from Seventh Generation is made with plant-based materials. It's fragrance-free as well, meaning it won't trigger sensitive sinuses or allergies.
This three-pack of Scrub Daddy sponges features a mesh outer to protect pans from abrasions that tougher sponges sometimes often produce. Scrub Daddy has become a household name for whimsical sponges that truly work and last longer than the average sponge.
With ingredients derived from plants, this cleaner is sustainable in more ways than one. Rather than purchase a new bottle each time you run out, you can buy refill containers to keep stocking your dish soap container.
With space for eight baking or cookie sheets, this simple organizer is available in a number of metals, including silver and rose gold. Long gone are the days of sifting through pans and sheets to find the size you need. Reviewers love this organizer because it's "stable and effective."
Silicone on one side, cloth on the other, these pot holders ensure your safety when removing baking and cookie sheets from the oven. Available in 20 colors, from lavender cream to coral and beet, these holders can withstand heat up to 500 degrees Fahrenheit, making them the obvious choice to keep in your kitchen.
With a sleek white color that will match any modern or farmhouse-inspired kitchen, this organizer includes four spaces to store a set of baking or cookie sheets. This organizer is made out of steel, which reviewers note make it more durable and slightly heavier than they were expecting.
Wanting to be more eco-friendly? Consider swapping out tinfoil and parchment paper for these bestselling baking mats, that can be washed the same way as your baking sheets and used time and time again.
For easier access, opt for this roll-out organizer, that fits in any shelf or cabinet larger than 10" by 21". Made with steel and plated with chrome, this sliding organizer promises to be durable and help save space by storing eight or more pans.
At what point should you replace a baking sheet?
The lifetime of your pans is dependent on how often you use them. "[But] for someone who cooks pretty often, they're using that pan more than three times a week, you should be turning over your pans every four to five years."
While there are certain exceptions to this rule, like when your favorite brand releases an updated pan with a modification that improves its overall quality, you can replace them earlier than the four-year mark. "Not everything that's new is better, but if you know you have a tested, tried and true brand, you definitely want to stay rotating," she says.
For those who are cooking with baking sheets once or twice a week, you can usually scrape by with replacing them every six or seven years, according to Smith — that is, if you're taking care of them properly.
"You get a little bit more time because you're not putting your pan through the wringer quite as often as someone who loves to cook."
What's the difference between baking and cookie sheets?
The main difference is the dimensions of the pan. Baking sheets have a higher upper lip that makes it easier to grip when removing from the oven, while cookie sheets are flatter and have little to no edges.
"They're made with all the same things," says Smith. "I think if someone specifically does cookies, there's no loss in going that route and investing in strictly cookie sheets, but if you're looking to then make brownies with that same pan, then you're going to be up a creek."
Baking sheets to shop
This brand promises to prevent the warping that Smith warns users of when taking care of their baking pans. Included in this set are three pans of varying sizes, perfect for cooking meals both big and small. Also included are silicone handles, which make it easier to have a handle on removing them from the oven.
Reviewers love them because of their high-quality and low price, naming them "the best non-stick pans I've owned."
Perfect for hosting, this pan size can cook large-format meals, as it comes in at 17.25" by 12.25". While the brand claims that it's dishwasher-safe, they recommend hand-washing it (as does Smith!) for a pan that will last you a long time.
With both steel and ceramic as its main materials, this medium-sized baking sheet promises easy clean-up, which is music to our ears. This brand's claim to fame is their lack of toxic materials in their cookware, which is important to be mindful of when shopping.
Reviewers admit that this pan (and others in the collection) require a bit of extra TLC, but it's worth it to maintain the longevity and quality of a "terrific" pan like this one.
Not only do these sheets work in traditional ovens, but the smallest size in the set (the quarter-sheet pan) can also fit in many toaster oven models. They're made of commercial-grade aluminized steel for a more consistent cook. P.S. The brand advises against using rough sponges to clean them.
A multipurpose pan that can work wonders on the stovetop just as well as it does inside the oven, it also comes with an oven mat that replaces your usual parchment paper. With large handles that make it easy to grip when carrying when it comes to clean-up, the brand recommends scrubbing lightly with baking soda to avoid buildup over time.
Cookie sheets to shop
These cookie sheets are the tried and true example Smith is referring to when she explains that they're not always the most aesthetic, they're not always the prettiest, but they sure do get the job done. This two-pack is made out of aluminum and finished with a steel rim to help prevent warping.
"Nordic Pan is really great. Baking Pans USA, just all of those traditional, standard, so boring to look at, those are such great quality pans," says Smith. "I hate that, because I love new, I love innovation and like I said there is a time and place for substitutes, but if I were to ever recommend pans to people, what were two brands I would say, they're just such good ones."
With an upper lip at the rear to make placing it in and taking it out of the oven easier, this aluminized steel cookie sheet also features a texturized, ribbed surface. This surface helps to ensure that cookies and other items remain in place and don't slide around, especially since it's flush (or flat) on the other edges.
Reviewers love this sheet because it's "sturdy," "doesn't warp" and "hands down the best cookie sheet I've ever owned."
Meet the experts