Chef notes
A whoopie pie has the  best cake to frosting ratio in the land — yes,  even better than cupcakes. Essentially, a whoopie pie is a sandwich cookie made of two flat little pieces of cake — think cake-like "cookies," generously filled with frosting. The frosting is about the same height as one of the cakes (and maybe even a tad taller), which provides optimal amounts of cake and frosting in every single bite. 
Additionally, whoopie pies could not be easier to assemble and they bake in less than 10 minutes! The cookies are assembled in a single bowl and only require a whisk and a spatula. The filling does require a stand mixer, but truly the hardest part is remembering to soften the butter on the counter prior to making the frosting. The fluffy filling is a traditional American buttercream — it is simple to make and the perfect accompaniment to the not-too-sweet cakes, which are deeply chocolatey and soft. They aren't fluffy and moist the way chocolate cake might be (or, rather should be) and that makes them the perfect sturdy hand-held vehicle for getting fluffy frosting into your mouth when such a craving hits. 
Technique Tip: Do not overmix the whoopie pie batter or they will be tough.
Be sure to beat the frosting for an additional three minutes after all of the ingredients have been combined for a super fluffy frosting. 
Be sure to vigorously whisk the baking powder and baking soda into the wet ingredients to confirm they are thoroughly combined. 
Swap Option: Flavor the filling with peppermint extract for chocolate peppermint whoopie pies, and consider tinting it green or pink with food coloring. 
Ingredients
For the whoopie pies
3/4

cup Dutch process cocoa powder

1/2

cup very hot tap water

1/2

cup packed light brown sugar

1/2

cup granulated sugar

2/3

cup vegetable oil

2

teaspoons pure vanilla extract
1

large egg

1/4

cup buttermilk

1

teaspoon baking powder

1/2

teaspoon baking soda

1/2

teaspoon kosher salt

1¾

cups all-purpose flour
For the filling:
1/2

cup unsalted butter, room temperature

1/2

teaspoon pure vanilla extract

1/4

teaspoon kosher salt
2

cups confectioners' sugar

2-3

tablespoons heavy cream, room temperature
Preparation
1.
Preheat the oven to 350 F. Line two baking sheets with parchment paper.
2.
In a small glass bowl or liquid measuring cup, whisk the cocoa powder and boiling water — it will be very thick.
3.
In a large bowl, add the brown sugar, granulated sugar oil and vanilla and whisk to combine, about 30 seconds.
4.
Whisk in the egg, followed by the buttermilk and finally the cocoa powder mixture.
5.
Sprinkle the baking powder, baking soda and salt over the wet ingredients, one at a time, vigorously whisking after each.
6.
Fold in the flour with a flexible spatula. Stop folding when the last streak of flour disappears. Do not overmix.
7.
Scoop 1½ tablespoons of batter using a cookie scoop or measuring spoons and evenly place 12 cookies on each baking sheet. Bake for 8 to 9 minutes, rotating the sheets at the halfway point, and swapping their positions, until they're dry to the touch and bounce back when lightly pressed. Let cool completely on the pans before filling. Repeat with any remaining batter.
8.
To make the filling, beat the butter, vanilla, and salt in the bowl of a stand mixer fitted with the paddle attachment on medium-low speed until smooth. Beat in half of the confectioners' sugar until combined and then the cream, and then the other half of the sugar, scraping the bowl with a flexible spatula, as needed. Beat for an additional 3 minutes on medium speed until light and fluffy.
9.
Turn half of the pies upside down, top with about 1½ tablespoons filling and cover with an upturned pie, pressing gently. Whoopie pies will keep in an airtight container on the counter for up to 3 days, but are best eaten the day they are made.
How to shop TODAY recipes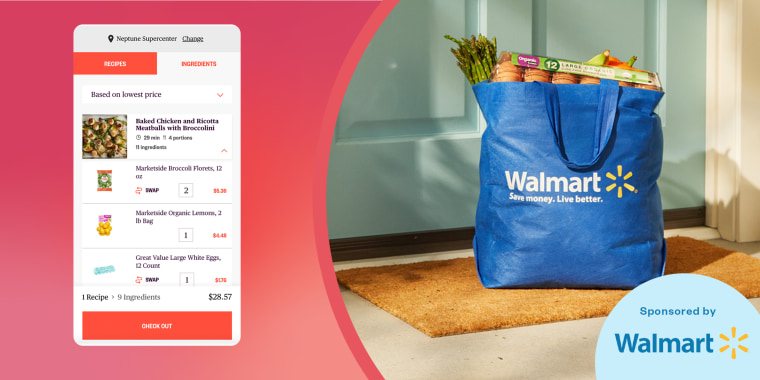 How to shop TODAY recipes
Here's everything you need to know about the cool new feature.
Learn More