Ingredients
2

pounds boneless, skinless chicken tenderloins, diced into 1½ pieces

1

large red bell pepper, sliced thinly (about ¼ inch thick)

1

small yellow onion, peeled and sliced thinly (about ¼ thick)p

4½

teaspoons ground chili powder

1½

teaspoons ground cumin

1½

teaspoons smoked paprika

1

teaspoon dried oregano

3/4

teaspoon garlic powder

1/2

teaspoon onion powder

1/4

teaspoon cayenne powder
1

tablespoon kosher salt

2

tablespoons extra-virgin olive oil

2

tablespoons fresh lime juice

3

tablespoons scallions, finely chopped
flour or corn tortillas, for serving
sour cream, for serving
guacamole, for serving
salsa, for serving
cilantro-lime rice, for serving
Chef notes
This is a fantastic weeknight recipe for the family—lots of flavor in just a little time, easy to pull together, and mostly hands off. And bonus, by making your own fajita spice mix, you can not only control the amount of salt, but also have extra for another night when you need a quick boost of flavor!
Technique Tip: Use chicken tenderloins for this recipe; they're quick-cooking, but still remain juicy after cooking with high heat (unlike the rest of the chicken breast). The longer you let the spice mixture sit on the meat, the more flavorful it will be. 
Preparation
1.
Preheat the oven to 375 F.
2.
In a large bowl, add chicken, bell pepper and onion
3.
In a small bowl, add all of the spices and salt and whisk to combine.
4.
Pour extra virgin olive oil and 4 tablespoons fajita mixture onto chicken and vegetables and toss until well-coated. Let sit at room temperature for at least 20 minutes.
5.
Line a sheet pan with foil or parchment paper and spread chicken and vegetables into single layer. Bake until chicken is cooked through and juices run clear, about 10 to 12 minutes, or until a thermometer inserted into the thickest part of the chicken registers 160 F. Stir once halfway through cooking. 
6.
Just before serving, toss chicken and vegetables with fresh lime juice and scallions. Serve in warmed tortillas with sour cream, guacamole, salsa, cheese and rice.
How to shop TODAY recipes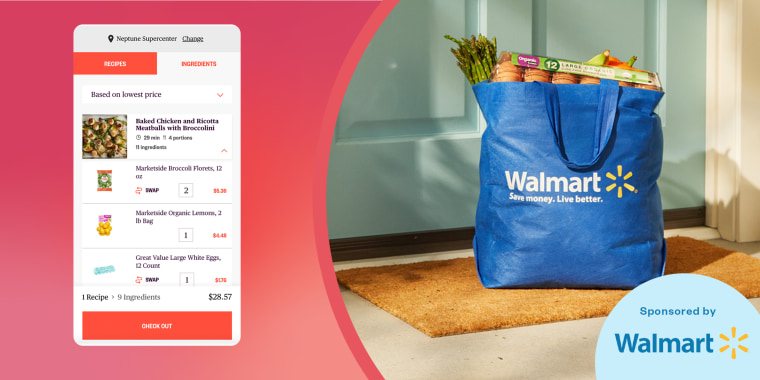 How to shop TODAY recipes
Here's everything you need to know about the cool new feature.
Learn More