In my laid-back surfer fantasies, I always emerge from the ocean with enviable, ever-so-subtle waves in my hair — naturally sun-kissed and glorious, à la the beach wave queen Blake Lively. In reality, my not-so-graceful exit from the water is usually followed up with me pulling seaweed from my swimsuit and trying to tame my limp and knotty locks.
In all my years, I have learned that great beach hair is seldom, if ever, achieved at the beach. Nowadays, when going for a sea-tousled look, I wash my hair at night and weave a loose braid to dry while I sleep. In the morning, I awake with what looks like fairly natural waves. This method works, but it takes at least eight hours to get my desired look.
Sure, there are much faster ways to achieve waves. But after one horrifying incident with a 9-mm curling iron ahead of my ninth-grade homecoming dance — my updo looked identical to that of a wind-swept British barrister's wig — I pretty much swore off all heat-based hair tools. That is, until I discovered Bed Head's No. 1 bestselling styler.
First and foremost, the Bed Head Wave Artist is not a curling iron. It is a "ceramic deep waver" that uses tourmaline technology to not only create long-lasting waves but also add shine and eliminate frizz. As someone who is perpetually seeking the perfect wavy hair, I was intrigued. (And it doesn't hurt that it's earned a five-star rating from nearly 30,000 reviewers on Amazon.)
The tool looks like a straightening iron and curling wand put together. It's made of two barrels that are sculpted into a deep U-shape. When used correctly, your hair will transform into impeccable beach waves as you move the iron down your strands. Unfortunately, using it correctly is not intuitive.
I spent several days trying to figure out how to master the Bed Head Wave Artist. My first attempts hearkened back to that ninth-grade dance with waves that appeared less beachy and more zigzag-y. But after some trial and error (and several showers), I finally landed on a working technique.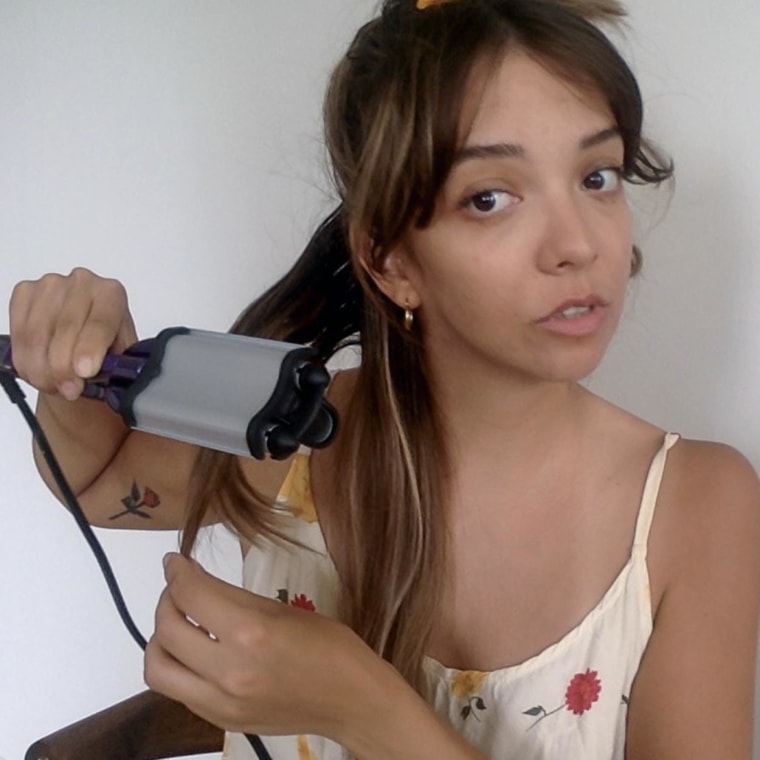 I discovered that the waves I liked best were those made from thick sections of hair — in my case, about three-inches wide. I went from root to tip, clamping down on my hair for a few seconds and switching the direction of the styler as I worked through each section. This approach helped me create texture, build volume and achieve a more natural look. (I'm not a fan of hairstyles that appear "too styled.")
If I had to guess why this tool is so popular, it's probably because it's made to suit any hair type. The Bed Head Wave Artist features three different temperature settings, each one suited to a specific hair texture. You can set the ceramic iron to "low" for finer strands, "medium" for naturally wavy locks and "high" (up to 400-degrees Fahrenheit!) for thicker hair that doesn't easily style.
After overcoming the initial learning curve, the Wave Artist was fun and easy to use. Not only is it a faster option than my wet-hair-in-the-night method, but it also creates waves with much more volume. And, yes, I'll admit: They even look more glamorous.
One thing I should note is that I didn't use any product in my hair before or after the Wave Artist. So as the day went on, my waves became more subtle, which I liked. But if you prefer a tighter wave, try spritzing hairspray onto your strands both before and after using the styler.
Although I'm not sure I'll abandon my wet night braid altogether (heat damage is real), this tool is an excellent option to have on hand to zhuzh up your hair — especially if you have less than an hour to fake that right-out-of-the-ocean beach wave.
This article was originally published on Aug. 3, 2021.