Washcloths have two problems: They can get shabby, quickly, and there are never be enough of them.
To solve these issues once and for all, I set out to stock up on the best washcloths I could find, on a budget. A few months ago, I came across the AmazonBasics washcloths — and I've been using them ever since.
1. You get a lot in one package.
Often, towel sets come with two bath towels, two hand towels and two washcloths. PLEASE, two washcloths?! If you have kids or use washcloths to wash your face at night, there are never enough. Well, the AmazonBasics pack comes with 24 — enough to stock a master bathroom, kid's bathroom and even guest bath with washcloths galore, and still not feel rushed to do laundry.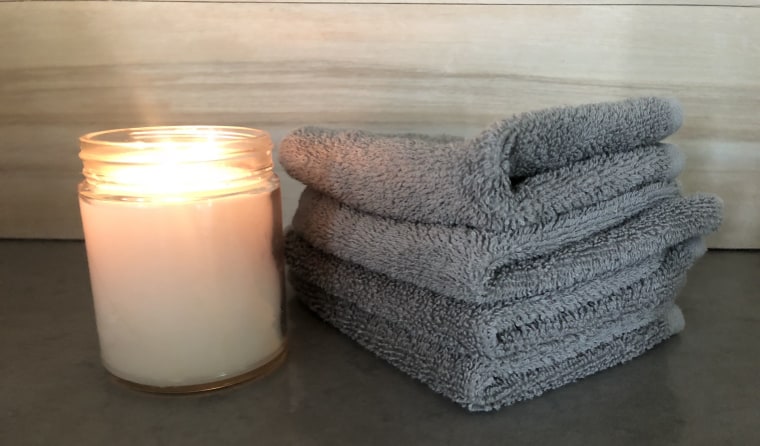 2. They make my house feel like a spa.
Is there anything more satisfying than seeing a stack of clean, fluffy towels in your bathroom? Even though the price tag on these towels is cheap, they feel anything but. They're thick and soft, and got even softer after a few washes. Plus, they've held up after months of use with no fraying or fading.
3. They come in great colors.
You won't find any boring beige here. Aside from the gray I selected, the colors include a pretty seafoam green, ice blue, bright white, light pink and lavender, which you can buy alone or in assorted color packs.
4. Oh, and they also have a near-perfect 4.6-star rating from over 4,600 reviews.
Nearly 50 people alone wrote they were "pleasantly surprised" by them, given the quality for the cost. "I am a super picky person when it comes to washcloths and towels. I can honestly say these surpass the one that I have looked at in the department stores that range from $4 to $8 a piece," one reviewer wrote.
I'd recommend you give them a wash before using: "They fluff up greatly when laundered the first time, thus seeming far more luxurious than they do when straight from the package," one reviewer said, adding, "These are fantastic washcloths, especially for the price." Agreed.
For more bathroom finds, check out:
To discover more deals, shopping tips and budget-friendly product recommendations, download the new TODAY app and subscribe to our Stuff We Love newsletter!