We all know that good sleep is vital in so many ways, but for some of us it remains elusive. By now, we're sure you've heard people talk about how great weighted blankets are for comfort, but did you know that they have other benefits that can make them a potential sleep aid?
Generally filled with glass pellets or other fills, weighted blankets provide pressure that some find can offer relief. "Many people like the feeling of pressure against their body and do find this pressure to be quite relaxing," Lynelle Schneeberg, a sleep psychologist who is also a fellow of the American Academy of Sleep Medicine, previously told Shop TODAY. "Lying under a heavy blanket can, indeed, be very soothing," she adds.
Weighted blankets can help stimulate the production of seratonin, reduce cortisol (the stress hormone) and boost melatonin, according to Sleep Foundation.
In addition to the relaxation, the deep pressure they provide may even help to "stimulate the production of a mood-boosting hormone (serotonin), reduce the stress hormone (cortisol) and increase levels of melatonin, the hormone that helps you sleep," according to Sleep Foundation.
Finding a good quality weighted blanket doesn't have to break the bank. While there are more expensive options out there costing as much as $300, there are also quality choices that are available for under $50. Check out our picks below, based entirely on research, expert interviews and customer reviews and ratings, for the 10 best affordable weighted blankets available right now. Keep scrolling or use the links below to jump to a specific category.
What to look for | Best under $75 | Best cooling | Best faux fur | Best jersey | Best under $50 | Best reversible | Best for travel | Best throw | Best for sleep | Best knit | Weighted blanket FAQs | Meet our experts
What to look for in an affordable weighted blanket
Material
Finding the right material for you will come down to your own individual needs. If you are someone who runs hot when sleeping, you would do best seeking out a weighted blanket made of a more breathable material, like cotton. Conversely, if you are interested in something more cozy, you can't go wrong with a faux fur that is made from polyester or a polyester blend. It's important to note that certain materials are easier to clean than others, and it's important to consider that when purchasing so that you know exactly what you're getting into.
Price
Cynthia Dudek, an occupational therapist at Newmark Education, tells us that price is often the first concern of people when purchasing a weighted blanket. Due to their larger nature and overall usage of more material, they're generally more expensive than standard blankets. And while you can purchase weighted blankets for well into the $300 range, there are also plenty of options that are available for much less. Every blanket on our list is under $100, with the majority being under $75.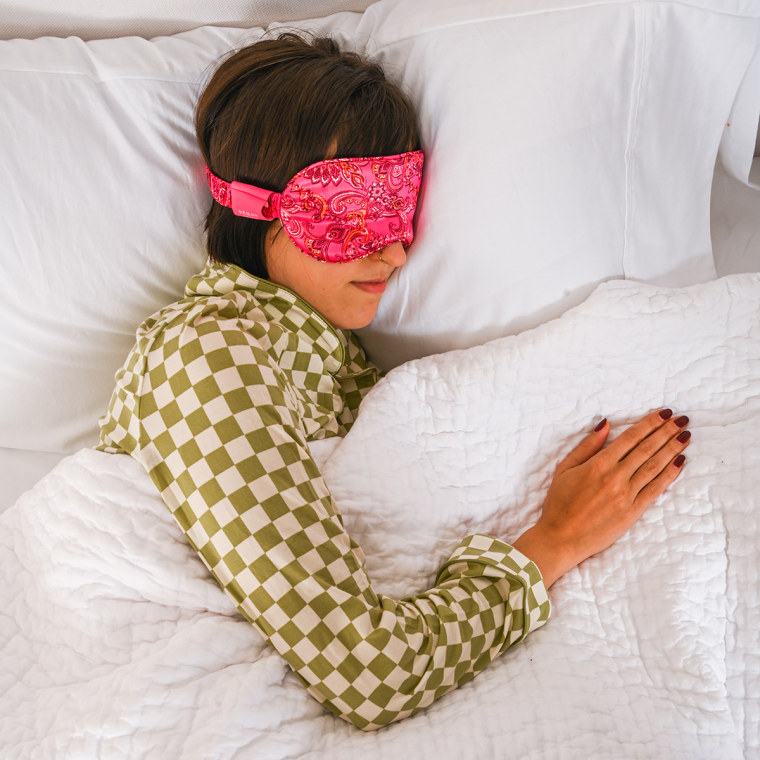 Filling
The way that weighted blankets achieve their desired weights is mainly through the filling they use. Most use glass microbeads to fill the blanket, and while these are great if the blanket is designed to hold them in place, it can pose an issue for people who shift around during the night if the blankets don't have pockets to hold the beads. Other blankets use fill, sometimes made of polyester, which can help to keep the price down further. Another style of weighted blankets creates weight by using more layers of material instead of filling.
Weight and size
Not surprisingly, the weight of your weighted blanket is going to be a pretty important factor to consider when purchasing one. When it comes to choosing the perfect weight for you, Dudek and Catherine Tafur, who is also an occupational therapist at Newmark Education, tell us that 5 to 10 percent of your bodyweight is ideal. Of course, this is also subject to personal preference; if you feel too crammed then you should lean toward the lower end of that spectrum, but if you like additional pressure, go more toward 10 percent.
In regards to size, Tafur notes that people who don't like feeling crowded should consider a smaller option to keep their feet free during usage. Additionally, if you want a larger option that acts more as a comforter, those are available. Conversely, there are smaller options and designs, like weighted throw blankets.
Best weighted blanket under $75
Material: Cotton | Filling: Glass beads | Weight range: 7, 10, 15, 17, 20, 25, 30 pounds | Care: Machine-washable
This option from YnM is a great choice for anybody who is looking for the comfort of a weighted blanket, but with the superior breathability that cotton provides. For under $70, it checks all of the boxes that we would expect from something much pricier, including the OEKO-TEX certification to ensure a quality and safe product. And for its price, it is a great investment; it will only become softer over time after more washes.
On the inside, you get just as much bang for your buck with seven layers that are designed to promote contouring to your specific body while using more glass beads and less fiber fill. And while it's available in different size and weight options, this one is 15 pounds for just $49.90 on Amazon (and around $60 on Walmart), making it a bargain.
One verified Amazon purchaser notes, "If you want a weighted blanket, look no further. You aren't going to beat the quality, or price."
Best affordable cooling weighted blanket
Material: Lyocell bamboo | Filling: Glass beads | Weight range: 10, 15, 20, 25, 30 pounds | Care: Removable and machine-washable cover
Buying a weighted blanket on a budget shouldn't mean sacrificing the things you really want, and Luna's Bamboo Cooling Weighted Blanket demonstrates that perfectly. It benefits from the natural heat dispersion and airflow-promoting properties that bamboo provides, making it an excellent choice for anyone who overheats quickly.
While other options on the market can cost well over $200 for a weighted bamboo option, this one comes in at just over $65 on Amazon. In addition to its breathability, bamboo creates a silky and smooth feeling against your skin and it's also one of the most resource efficient materials in the world. Plus, the glass beads Luna uses are medical grade and are actually woven into the fibers of the blanket to ensure even distribution of weight all night long. All of this combined has garnered it an average star rating of 4.5 stars on Amazon, with over 1,000 reviews.
Best affordable faux fur weighted blanket
Material: Polyester blend | Filling: Glass beads, polyester | Weight range: 12, 16, 20 pounds | Care: Machine-washable cover
Made with an equal blend of polyester faux fur and polyester microfiber, reviewers love this option for its overall comfortability and softness. It's everything a blanket should be: cozy, fluffy and soft, and at under $100, it's a bargain — other options of similar styling can cost more than double the price of this one.
It's machine-washable, which will help you keep it fresh; this is good because, although polyester is soft and cozy, it can hold onto odors. While it's a bit pricier than other options on our list, we like that its lifetime warranty acts as an investment to keep you protected. Available in both gray and ivory, there's definitely an option to complete your space while providing you with some deep pressure relief.
Best affordable jersey weighted blanket
Material: Polyester | Filling: Glass microbeads, polyester | Weight range: 12 pounds | Care: Machine-washable cover
If you're someone who loves the feel of T-shirt fabric, this jersey weighted blanket from Room Essentials is a great and affordable choice. Featuring both a knitted side and a solid color on the other side, it's versatile in its feel and style. Verified purchasers love it for its easily cleanable and removable cover, noting that it washes well.
On the inside, 91 percent of the fill is made up of glass microbeads, while only 9 percent is polyester, providing you with a lot of value for just $49. Of course, 12 pounds of pressure is lighter than other options on our list, but it's a great choice for people who don't want too much pressure.
EDITOR'S NOTE: The off-white color is currently sold out, but the dark gray is still in stock.
Best weighted blanket under $50
Material: Cotton, microfiber | Filling: Glass beads | Weight range: 5, 7, 10, 12, 15, 17, 20, 22, 25 pounds | Care: Machine-washable cover
With over 30,000 global ratings, Zonli's weighted blanket boasts a 4.6 average star rating on Amazon, and for good reason. With 5 by 5-inch small compartments that are sewn shut with precision stitching, as well as a seven-layer design ensures that the premium glass beads stay exactly where you want them to, all night long.
The attention to detail doesn't stop there: The cover (sold separately) features eight secure loops so you won't have to worry about it slipping off, but you can also remove it to machine-wash it.
Numerous reviewers note that this blanket is a good choice for sleeping, with one verified purchaser reporting, "The weight and coolness of the blanket allows me to fall asleep so quick and stay asleep throughout the night."
Best affordable reversible weighted blanket
Material: Polyester | Filling: Glass beads | Weight range: 12, 15, 20 pounds | Care: Handwash and hang dry (can machine-wash cold if necessary)
This weighted blanket from Ella Jayne is perfect for the tactile inclined. Featuring a velvety side and a microfiber side, you can flip it depending on your mood. It's designed with comfort and hotel-style luxury in mind, with one verified purchaser stating that it "feels like a giant hug."
Plus, with five color options and three weight choices, you will certainly be able to find something that's not just perfect for your body, but perfect for your space.
Best affordable weighted blanket for travel
Material: Micro fleece | Filling: Glass beads | Weight range: 10 pounds | Care: Machine-washable cover, handwash insert
Just because you are on the road doesn't mean that you shouldn't be able to take your safe haven with you, and for $50 you can have that with The Gravity Flex Travel Blanket. It's lighter in nature, coming in at just 10 pounds, but that lower weight and the included carrying case make it ideal for taking with you on the go.
The travel blanket is made from a breathable technical fabric for maximal moisture absorption and it's also machine washable for added convenience. And while it's super affordable, that doesn't mean it skimps on quality: It uses glass beads and precision-gridded stitching to keep them distributed evenly. One verified buyer, who bought it specifically for travel, calls it "perfect in every way."
Best affordable throw weighted blanket
Material: Polyester | Filling: Polyethylene beads | Weight range: 15, 18, 20 pounds | Care: Machine-washable
We love this weighted throw blanket from Brookstone because it feels as good as it looks draped over your furniture. At under $90, it's a great option for someone who wants premium plush comfort without breaking the bank. The 100 percent polyester cover offers a super-plush feel that consumers love for the soft and comforting feeling it provides, and 15, 18 and 20-pound weight options means that there is something viable for most adults.
Available in Navy, Taupe and Charcoal, you'll be able to find something that blends seamlessly into your home or even adds a pop of color if you're interested. Plus, a 15-year warranty should leave you feeling even more comforted.
Best affordable weighted blanket for sleeping
Material: Cotton blend | Filling: Glass beads | Weight range: 12, 15, 17, 20, 22, 25, 30 pounds | Care: Hand- and machine-washable (handwash preferred)
Customers say they appreciate Weighted Idea's Cooling Weighted Blanket because the breathable cotton blend helps them to not overheat, which in turn aids them in sleeping through the night. On the inside, glass beads are held perfectly in place by precision stitching. One reviewer calls it a sleep necessity, stating, "I don't sleep nearly as well when I'm not sleeping with it." Additionally, the company sells a companion duvet cover should you want to keep it protected.
With over 25,000 reviews, this blanket boasts a 4.6 average star rating on Amazon, with some reviewers even noting that it helped with their restless legs. For under $50, that's a lot of value.
Best affordable knit weighted blanket
Material: Polyester | Filling: Polyester | Weight range: 12 pounds | Care: Spot-clean only
Knitted weighted blankets can cost an exorbitant amount, which is why we had to include this option from Tranquility, which rings up at under just under $100. Aside from its stylish look, the knit pattern ensures that the weight is distributed evenly throughout the blanket. This option is also a great choice for anyone with allergies — the outside features antimicrobial protection, while the fill on the inside is entirely hypoallergenic.
With an almost-perfect five-star average rating, customers love the blanket's overall quality, with many raving that it feels like a hug.
Questions about weighted blankets, answered by experts
What are the benefits of weighted blankets?
Weighted blankets can help people achieve a feeling of calm. If you are someone who struggles with anxiety, Tafur tells us that the deep pressure that weighted blankets provide can help to regulate the nervous system and quell the physical symptoms of anxiety. Dudek also notes that a weighted blanket can help to improve sleep; according to Sleep Foundation's website, "Weighted blankets may calm the fight-or-flight response and activate the relaxing parasympathetic nervous system in preparation for sleep."
How much should a weighted blanket weigh?
The general consensus with weighted blankets, according to both Tafur and Dudek, is that they should weigh 5 to 10 percent of your bodyweight. These are just general guidelines for safety and overall comfort, however; if you prefer to have more or less pressure, it's important to listen to your body.
Are weighted blankets worth the money?
If you're facing issues with anxiety or sleep and you have a few extra dollars to spare, a weighted blanket is a worthwhile investment. It is not a guaranteed cure for any ailments, and human beings are highly individual, but there's a lot of praise from customers who have found them to be beneficial for a variety of needs. Thankfully, our comprehensive list of affordable options means that it doesn't have to be a particularly risky investment, and with so many brands accepting returns, it is absolutely worth seeing if it is something that can help you with anxiety, stress or sleep issues.
What are the downsides of weighted blankets?
Weighted blankets, while great for some, are not ideal for everyone. First and foremost, if you're considering using one and you have any underlying conditions, it's important to consult with your doctor. According to Tafur, certain people, including people with pulmonary issues, claustrophobia and sleep apnea, should be very cautious and should avoid weighted blankets. Dudek adds that people coping with skin sensitivities and joint injuries should absolutely check with a medical professional before using a weighted blanket.
Meet our experts
Cynthia Dudek and Catherine Tafur are occupational therapists who work at Newmark Education in Scotch Plains, New Jersey. Newmark is a group of state-approved, private non-profit schools that serve children living with autism spectrum disorders, mood and anxiety disorders, attention issues and other developmental disabilities.
Dr. Lynelle Schneeberg, PsyD, is a board-certified pediatric sleep psychologist and assistant professor of clinical psychiatry at Yale School of Medicine. She specializes in clinical sleep disorders and is the author of the book She is the author of the book, Become Your Child's Sleep Coach: The Bedtime Doctor's 5-Step Guide, Ages 3-10." Schneeberg is based in Farmington, Connecticut.