Who doesn't like to be snuggled when they sleep? If you're sleeping solo, using a weighted blanket for that purpose may have crossed your mind. But what if we told you that these blankets go beyond just helping you get cozier at night?
"Lying under a heavy blanket can, indeed, be very soothing," says behavioral sleep psychologist Dr. Lynelle Schneeberg. How? Look no further than the deep physical pressure the body receives from these blankets, which are, simply put, heavier than standard ones. More specifically, they're often filled with materials like glass beads or poly pellets to give them that soothing weight.
Sound simple? As a matter of fact, the effects on our well-being can be incredible. Catherine Tafur, an occupational therapist who works at Newmark Education, tells us that weighted blankets may actually help you sleep better and rest more deeply, in no small part due to how their evenly distributed pressure calms the body's sensations of anxiety and stress.
But, as you'll find out, there are many types weighted blankets out there, and you'll have to consider more than just their dimensions or colors when you start shopping for one. Keep scrolling or use the links below to find out what our experts say you should keep in mind, as well as our list of the 15 best, based on our research.
What to look for | Best cotton | Best washable | Most even weight distribution | Best comforter | Best throw | Best for sleep | Best cooling | Best reversible | Best value | Best for kids | Best sherpa | Best faux fur | Best knit | Best splurge | Best fleece | Weighted blanket FAQs | Meet our experts
What to look for when shopping for weighted blankets
Material
Like anything else that touches your skin, the proper material for your weighted blanket is going to mainly come down to your own personal texture preferences. Fortunately, there is no shortage of options for weighted blanket materials today.
As Tafur tells us, "The blankets are made of different materials, so there are many choices for people who may like the feeling of cotton but not that of a microfiber," for example.
Beyond the feeling of the material, different fabrics are ideal for different things. For instance, if you are looking for something a bit warmer and cozier, a faux fur or sherpa option will be your best bet. Conversely, if keeping cool is the goal, you can't beat cotton or Tencel to make sure the blanket is as breathable as possible.
Filling
To create the added weight in weighted blankets, manufacturers will oftentimes use beads made of glass, polyester fill, or even just extra material for added pressure. While many brands will take extra care to avoid the potential noisiness of beads, it's still something worth considering before purchasing. If you don't like the feel or noise of glass beads, you may want to consider an option that just uses extra material to create the added weight.
Weight and size
As noted by both Tafur and Cynthia Dudek, who is also an occupational therapist at Newmark Education, you'll want the weight of your blanket to fall within the range of 5 to 10 percent of your body weight. While experts recommend going as high as 10 percent, it's of course up to your own preference and level of comfort. If you prefer more pressure, you should go for 10 percent, but if you're new to weighted blankets and are fearful of feeling too confined, it would be best to lean closer to 5 percent.
Tafur says size is also very important to consider, noting that, for example, "some people may want to think about leaving their feet free if they are concerned about claustrophobia."
Price
"Price is usually the first area of concern when purchasing a weighted blanket," Dudek says, adding that that's because they're typically more expensive than a non-weighted blanket.
Fortunately, there are weighted blankets that are available all over the price spectrum right now. If you're looking to shop on a budget, there is no shortage of weighted blankets that cost less than $100. Similarly, if you are willing to shell out a few extra bucks to get something a bit more luxurious, you can find weighted blankets that cost closer to $300 or more.
Taking the above shopping criteria from our experts (as well as some of their recommendations), we combed through scores of customer reviews and ratings, as well as our own coverage of the sleep market, to round up the top 15 weighted blankets across several categories and budgets. Keep scrolling to see more.
Best cotton weighted blanket
Material: Cotton | Filling: Glass beads | Weight Range: 7, 10, 15, 17, 20, 25, 30 pounds | Care: Machine-washable
Dr. Hayden C. Finch, a licensed clinical psychologist based in Des Moines, recommends this bestselling weighted blanket on Amazon. It's made from OEKO-TEX-certified cotton, a label that means it has been tested for harmful substances. The result: A product that is as safe as it is cozy. That cotton also offers a cooler feel and more breathability when compared with other weighted blankets on the market. On the inside, it's filled with glass beads and wrapped in a breathable fabric to improve temperature control.
Beyond that, a unique seven-layer design conforms to your shape for a customized resting experience that's both cool and super comfy.
Best washable weighted blanket
Material: Cotton | Filling: Glass microbead | Weight Range: 12, 15, 20, 25 pounds | Care: Machine-washable
Sleep specialist Dr. Raj Dasgupta, who's based in Los Angeles, likes Baloo for its quality products and says this blanket a good option if you're looking for comfort akin to the feeling of warm cuddles. And if you're grappling with pain, the weighted blanket may also soothe discomfort, he adds.
Available in 15- and 20-pound weights and measuring the top of a queen-sized bed, it's made with breathable fabric that's 100 percent chemical-free, and can be tossed into the washing or drying machine. The quilted sections also keep the filling balanced, so it can properly lay on the pressure points of your body.
Best for even weight distribution
Material: Cotton | Filling: Glass beads | Weight range: 5, 7, 10, 12, 15, 17, 20, 22, 25, 30 pounds | Care: Duvet is machine-washable, but handwashing and hang-drying is recommended
Finch also recommends this well-priced option from ZonLi. "This one's great because it comes in a range of sizes and weights for folks with different needs," she says. Finch advises that blankets should be big enough to cover your body, but not necessarily your entire bed.
A nice additional feature with the ZonLi entry is that the small 5 x 5-inch compartments keep the beads in place, preventing them from shifting and promoting even weight distribution throughout the night.
Best weighted comforter
Material: Cotton | Filling: Glass microbeads | Weight Range: 15, 20, 30 pounds | Care: Spot clean
Brooklinen's Weighted Comforter sets itself apart from the pack by combining the comfort of a weighted blanket with the function and look of a comforter. Though Finch hasn't tried it herself, she tells us, "Its specifications are consistent with recommendations for how much the blanket should weigh." Plus, although it has a bit of a higher price tag, a 400-thread count cotton sateen shell, as well as corner loops that you can easily connect to your duvet, make this worth every penny.
Customers appreciate that while you get the support of a heavy weighted blanket, you don't feel overheated or cramped, with one stating, "The product is very nice. It feels like a warm hug, and it's breathable so I don't feel too warm at night."
Best throw weighted blanket
Material: Polyester, cotton | Filling: Polyester | Weight Range: 10, 15, 20 pounds | Care: Spot clean only
With so many brands to choose from, it can be reassuring to see a familiar face in the sleep product world. Casper has been innovating the mattress game for a long time, so it's no surprise that shoppers love the brand's weighted blanket.
The smaller 50 x 70 size makes it an ideal size for curling up and watching TV, and then tossing it back over a chair when you're done. Offered in four colors and three sizes, this blanket has a microbead filling and is inspired by performance outerwear, according to the brand.
Reviewers rave about how comfortable the blanket is, how it improves their quality of sleep and how good it is at dispersing weight. One raved, "The smaller compartments really helps in keeping the weight evenly distributed."
FULL REVIEW: Read about how one Shop TODAY writer who had trouble sleeping used Casper's weighted blanket — and fell asleep the first time she used it.
Best weighted blanket for sleep
Material: Micro-fleece | Filling: Glass beads | Weight Range: 15, 20, 35 pounds | Care: Duvet is machine-washable, weighted insert should be handwashed
If you are looking to step up your sleep game, Gravity's weighted blanket may just be your answer. In an independent study, the company found that 76 percent of users fell asleep more quickly and woke up more rested, while 72 percent of participants said they had more restful sleep overall. That comes as no surprise; Gravity has created a product that is both highly comfortable and highly effective.
A micro-plush duvet keeps you feeling cozy, while the gridded stitching keeps the fine-grade beads from ever shifting out of place. And in terms of aesthetics, we love that Gravity offers embroidery so you can make your weighted blanket a bit more special.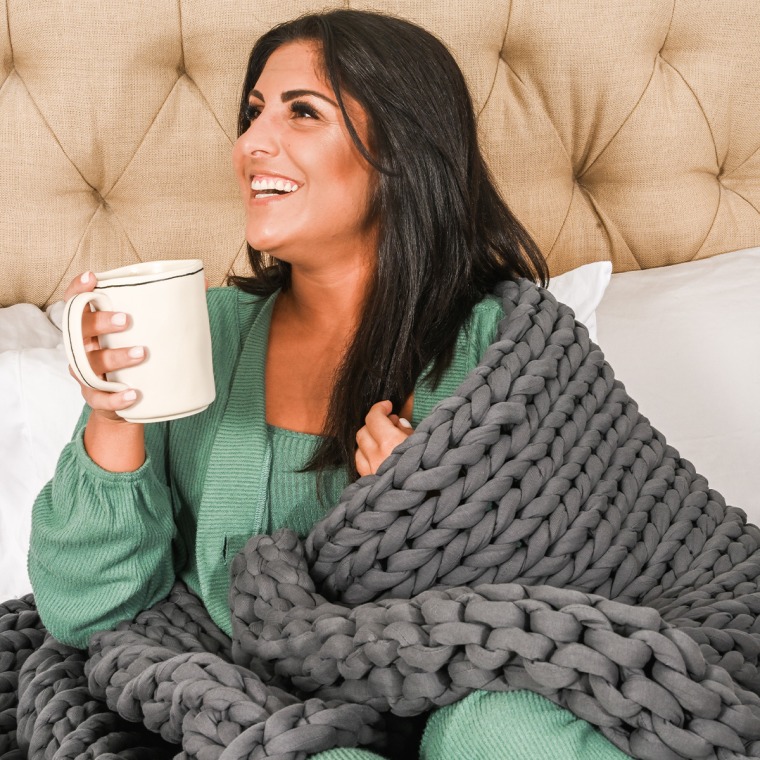 Best cooling weighted blanket
Material: Tencel/Minky | Filling: Glass beads | Weight Range: 10, 15, 20, 25, 30, 35, 40, 45 pounds | Care: Machine-washable
While this weighted blanket from Omystyle does feature a warmer plush side, it's the cooler side that drew us in. That cooler side is made with Tencel, a fabric that's composed of a eucalyptus fiber, which has close to a 12 percent moisture regain when compared with cotton's 8 percent. Additionally, Tencel is three times more breathable than cotton, making this our favorite option to save you from night sweats.
In addition to being cooling, this choice also has the widest range of weights available on our list, also making it one of our most universal choices.
Best reversible weighted blanket
Material: Polyester | Filling: Glass beads | Weight range: 12, 15 pounds | Care: Handwash and hang dry (can machine-wash cold if necessary)
We really like that this option from Ella Jayne is available in both 12- and 15-pound options, but we really love it for its reversibility. With a comfortable and velvety feel on one side, and a microfiber option on the other, you can switch up your choice whenever you need a change of pace.
To add to that versatility, this blanket also comes in a handful of different color options, so you can certainly find something to accommodate your space. Additionally, the box quilting ensures that the weight stays where it needs to and doesn't shift all night, giving you a more uniform pressure.
Best value weighted blanket
Material: Microplush, polyester | Filling: Glass microbeads | Weight Range: 12, 15, 18, 20 pounds | Care: Removable cover that is washable
For the price, it's hard to beat Tranquility's Temperature Balancing Weighted Blanket. A box quilt on the inside helps keep the glass microbeads from shifting so you can enjoy consistent pressure. And with 12-, 15-, 18- and 20-pound options, there's really something for everybody.
Its value is compounded by its functionality; while other weighted blankets are heavy and bulky and can be hard to wash in a residential washing machine, this one features a removable cover, making it a breeze to clean. In addition to the cleanability, customers particularly love it for its lower price tag and soft micro-plush feel.
Best weighted blanket for kids
Material: Lyocell bamboo, polyester | Filling: Glass beads | Weight range: 5, 10, 12, 15 pounds | Care: Machine-washable removable cover
Parents can breathe easy knowing that this option from Luna is hypoallergenic and free from harmful chemicals, thanks to materials like OEKO-TEX-certified cotton. While it comes in fun and colorful patterns (like a dinosaur option), it's also made from natural dyes to ensure safety. Plus, we all know how messy kids can be, so it's a blessing that Luna's weighted blanket features a zippered cover that's completely machine-washable.
Available in 5-, 10-, 12- and 15-pound options, Luna has you covered to accommodate a wide range of ages and sizes.
Best sherpa weighted blanket
Material: Sherpa | Filling: Ceramic beads | Weight Range: 12,15, 20 pounds | Care: Wash in cold water, separate from other laundry
If you're looking to upgrade your cozy factor when you sleep, it's hard to beat sherpa for its warm and fluffy feeling against your skin, as well as its stylish design. So it'll come as no surprise that this option from Uttermara boasts a 4.8 average star rating from over 6,600 reviewers on Amazon.
With an ultra-soft fleece top and plush sherpa on the inside, you're going to enjoy superior comfort under the weight of this blanket. In addition to the comfort of the sherpa, the range of 10 color choices ensures that you'll get the perfect look to complete your space.
Best faux fur weighted blanket
Material: Polyester faux fur, polyester microfiber | Filling: Glass beads, polyester | Weight range: 12, 16, 20 pounds | Care: Machine-washable cover
Therapedic's faux fur weighted blanket is perfect for someone who wants to double up their comfort. In addition to the soothing 12 pounds of pressure, the faux mink adds an extra layer of fluffiness that also happens to be easy on the eyes. And if you need some extra heat, customers note that the faux fur is soft but also great at keeping you warm if you live in colder terrains.
If you're concerned about faux fur collecting any dirt or odors, don't worry: The cover is machine-washable so you can easily keep this blanket fresh.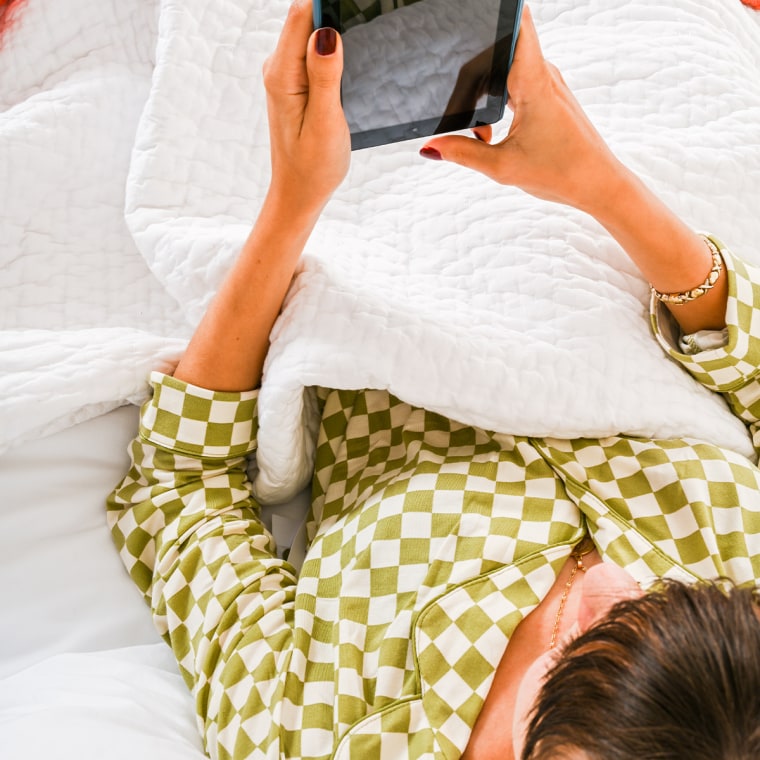 Best knit weighted blanket
Material: Tencel, cotton, spandex | Filling: None (Tencel layers create the weight) | Weight Range: 15, 20, 25 pounds | Care: Wash separately in cold water
Bearaby knocks it out of the park with this knit weighted blanket that is as stylish as it is functional — and it's comfortable. It has a unique open-loop knit structure, which, in addition to providing a chic look, ensures that this blanket has stellar airflow for an overall cooling experience.
The Tree Napper is also made with natural eucalyptus fibers, which is said to have a comforting cooling effect during sleep. But what really sets this apart from other options on our list is that it uses no fillers for the weight — all the pressure is a result of the Tencel layering. So if you're someone who hates the feeling of beads, here is your answer!
Best splurge weighted blanket
Material: Chenille | Filling: Polypropylene pellets | Weight Range: 12, 16, 20 pounds | Care: Machine-wash and dry
While the price tag may be a bit higher with this option from Magic Weighted Blanket, it definitely earns its extra dollar signs. Chenille fabric is woven from yarn and produces an incredibly soft product that engulfs your body like a cloud. Beyond its comfortability, chenille is particularly durable; you can see this blanket as a longer-term investment in your well-being.
Unlike other options, the duvet comes attached with this one, so you don't have to worry about handwashing anything — the entire blanket is machine-washable and dryable. And if all of that isn't enough, a lifetime warranty keeps you protected.
FULL REVIEW: Read how one TODAY writer's partner immediately "felt safe" after using this chenille Magic Weighted Blanket.
Best fleece weighted blanket
Material: Polyester, bamboo | Filling: Silicone beads, polyester fiber | Weight Range: 10, 15, 20 pounds | Care: Machine-wash gentle/cold and tumble-dry on low
This weighted blanket from Yaasa conjures up memories of the comfortable blankets and sweaters of our youth — it has managed to take all of the feeling of comfort that fleece provides and somehow optimize it further. While the soft fleece provides direct comfort to your skin, the inner blanket is made of bamboo to keep you from overheating.
And the attention to detail doesn't end there: The micro silicone beads were specifically chosen for how quiet they are, so your weighted blanket won't do anything but provide you with a calming experience.
Questions about weighted blankets, answered by experts
What are the benefits of using a weighted blanket?
Weighted blankets offer a wide range of purported benefits. According to Tafur, weighted blankets can help with anxiety's symptoms by helping regulate the nervous system. This is achieved through their deep pressure, which Tafur says is a "calming influence through the body's sensory system."
Dudek also points to the blanket's anti-anxiety benefits, adding that weighted blankets "aim to help improve self-regulation ... and sleeping patterns."
Beyond helping with anxiety, weighted blankets can also just generally help you to relax. Adding one to your bed can offer a sense of calm to your nighttime routine. "Many people like the feeling of pressure against their body and do find this pressure to be quite relaxing," says Schneeberg, who likens it to a hug or massage and compares it to why we swaddle newborns.
But while there's ample research showing that weighted blankets can help with sleep maintenance and reduce symptoms of fatigue, Schneeberg says it's unlikely to be the magic bullet for insomnia. Buy one to bliss out, but see a doctor if you're having struggles with sleeping.
Are weighted blankets safe for kids?
Firstly, "kids who experience stress or anxiety in different situations, or who struggle to fall asleep at night, may find a weighted blanket useful," says Heather Forst, an occupational therapist at Gillette Children's in St. Paul, Minnesota. The pressure they offer may help children with ADHD remain focused when doing schoolwork, and might aid those diagnosed with autism spectrum disorder, she adds.
But are they safe? According to Dudek, weighted blankets for kids can be perfectly fine. "If the children are using a weighted blanket that is 5 to 10 percent of their own body weight, it is considered safe," she says. However, it is worth taking some extra precautions, because "misuse of the blanket or using an inappropriate weight can be unsafe." Tafur tells us that parents should still consult pediatricians and be cautius with children who have asthma or other health concerns.
How heavy should my weighted blanket be?
While you should only use a weighted blanket that you feel comfortable with, there are some simple guidelines experts recommend to help you find your sweet spot. Both Tafur and Dudek agree that 5 to 10 percent of your total body weight is ideal. Fortunately, many brands offer different weight options to be able to find something in that range for yourself.
Is it OK to use a weighted blanket every night?
When it comes to nightly use of a weighted blanket, Dudek tells us "If you find the weighted blanket to be comfortable and beneficial to your sleep, it can be used every night." The usage of the word comfortable is important, as some people may find a weighted blanket to be great to use while they are awake, but too confining to sleep in. "They can be used to help fall asleep and then removed, or they can be used for the entire night of sleep," says Tafur. So while it is safe to use nightly, it will be up to your own personal preference to determine what's best for you.
What are the downsides of using weighted blankets?
Despite their purported benefits, weighted blankets are not a panacea, nor are they safe for everyone to use. Dudek tells us that the heavier nature of weighted blankets means they should be avoided by "anyone with skin sensitivities, joint injuries, or contraindications from a diagnosis, surgery or procedure."
Tafur adds to that list "people who have claustrophobia, sleep apnea or other pulmonary concerns." If you have a health condition, it's always worth being extra cautious and consulting with your doctor before purchasing and using a weighted blanket.
Meet our experts
Dr. Raj Dasgupta, MD, FACP, FCCP, FAASM, is a sleep and pulmonary specialist practicing at Keck Medicine of University of Southern California's division of pulmonary, critical care and sleep medicine.
Cynthia Dudek is an occupational therapist who works at Newmark Education in Scotch Plains, New Jersey. Newmark is a group of state-approved, private non-profit schools that serve children living with autism spectrum disorders, mood and anxiety disorders, attention issues and other developmental disabilities.
Dr. Hayden Finch, PhD, is a licensed clinical psychologist based in Des Moines. She uses research-based therapy to treat clients at the Arkansas Center of High Functioning Anxiety, and she is also the CEO and founder of Master Your Mental Health, educational platform. Finch is author of the book "The Psychology of Procrastination."
Heather Forst is an occupational therapist and clinical educator at Gillette Children's, a nonprofit children's hospital in St. Paul, Minnesota. She specializes in rehabilitation therapies.
Dr. Lynelle Schneeberg, PsyD, is a board-certified pediatric sleep psychologist and assistant professor of clinical psychiatry at Yale School of Medicine. She specializes in clinical sleep disorders and is the author of the book She is the author of the book, Become Your Child's Sleep Coach: The Bedtime Doctor's 5-Step Guide, Ages 3-10." Schneeberg is based in Farmington, Connecticut.
Catherine Tafur is an occupational therapist who also works at Newmark Education in New Jersey.