Ingredients
6

slices bacon, diced

2

boneless, skinless chicken breasts, cut into 1-inch chunks

1

onion, diced

1

jalapeno, deseeded and minced

2

cloves garlic, minced

1 1/2

cups chicken broth

1

14.5-ounce can diced tomatoes, with juices
1/2

cup whole milk

3

cups pasta shells

1

cup frozen corn

1

cup shredded cheddar cheese

3/4

cup barbecue sauce
Salt
Chef notes
If you have some leftover cooked chicken on hand, feel free to add it to the dish along with the cooked bacon and corn at the end instead of cooking the chicken in the second step.
Preparation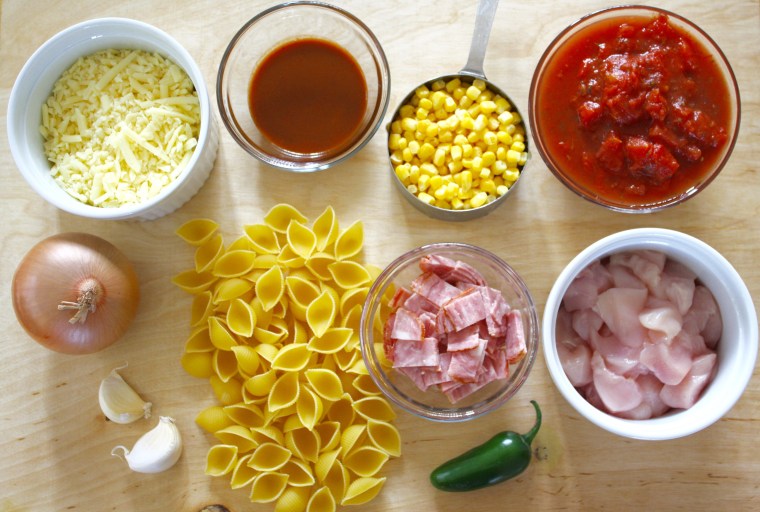 In a Dutch oven or other heavy-bottomed pot, cook the bacon over medium-high heat until browned and crisp, about 8 minutes. Remove with a slotted spoon and let drain on a paper towel-lined plate.
Drain all but 2 tablespoons of the bacon fat. Add the chicken to the pot and cook until starting to brown on all sides, about 5 minutes. Add the onion and jalapeño and cook, stirring frequently, until the onion is tender and begins to brown, about 5 minutes. Add the garlic and cook, stirring frequently, for 1 minute.
Stir in the chicken broth, tomatoes and their juices and milk. Add the pasta shells and stir to combine.
Bring to a boil, reduce the heat and simmer, uncovered, for about 14 minutes, until the shells are al dente. Stir in the cooked bacon and corn and let cook until warmed through, about 1 minute.
Remove from the heat and stir in the cheddar cheese and barbecue sauce until the cheese has melted. Season to taste with salt and serve.