Chef notes
Pep up boneless, skinless chicken breasts with sage, rosemary, garlic and lemon zest.
Ingredients
4

(6- to 8-ounce) boneless, skinless chicken breasts

12

large fresh sage leaves
Leaves from 2 sprigs of fresh rosemary

2

small lemons, zested

2

cloves garlic
1

tablespoon fine sea salt
Freshly ground black pepper

8

teaspoon extra-virgin olive oil, plus 4 tbsp for cooking

4

lemon wedges
Preparation
1.
Starting at the thicker side, make a lengthwise cut into the top two-thirds of a chicken breast, stopping before cutting all the way through. Fold it open like a book. (The chicken breast should still be in one piece). Put the breast between two pieces of plastic wrap and pound it out on both sides with the flat side of a meat tenderizer, working from the inside out, until it's spread to double its original size and about 1/4-inch thick. Repeat with the remaining breasts.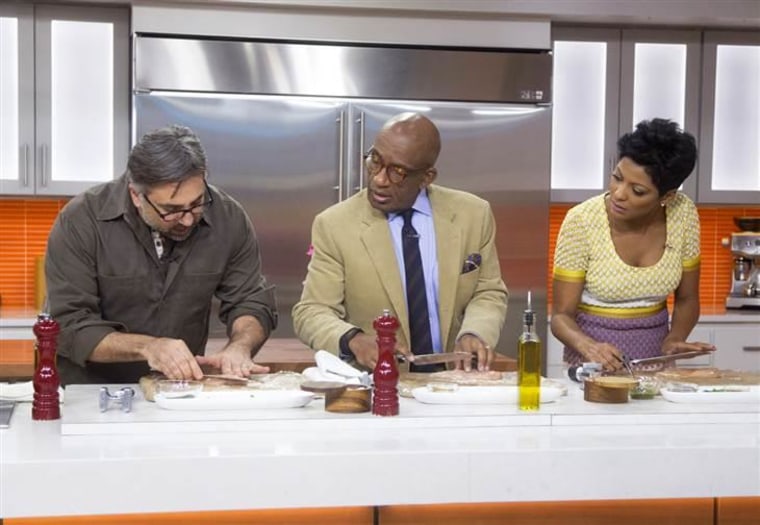 2.
Pile the sage, rosemary, lemon zest and garlic on a cutting board and chop together until blended. In a bowl, combine the herb mixture, salt, a few grinds of black pepper and 8 tbsp of the olive oil. Divide half of the herb paste evenly across one side of the 4 chicken breasts and rub it in. Cover with plastic wrap again and lightly pound in the seasoning with the toothy side of the meat tenderizer. Flip the breasts, rub the remaining herb paste into the other side of the chicken breasts. Cover with plastic wrap and lightly pound in the seasoning.
3.
In a large skillet heat 1 tbsp of the olive oil over high heat. Wait 2 minutes, or until it's smoking hot, add 1 chicken breast, put a weight on it (a teakettle or heavy pan) and cook for 45 seconds. Flip, add the weigh, and cook for another 45 seconds. Transfer to a plate and let it rest for 3 minutes. Meanwhile, repeat with the remaining chicken breasts. Squeeze a wedge of lemon over each flavor-pounded chicken just before serving.