Chef notes
While stuffed tomatoes look like a showstopping cooking project, they take less than 30 minutes to prepare, making them easy enough for a weeknight and fancy enough to serve at a gathering. The crowd-pleasing tomatoes are filled with rice, melty mozzarella, fresh herbs and seasonings. The filling is stuffed into a fresh tomato shell and topped with seasoned breadcrumbs for a crispy top that offers a textural balance to the tender tomato. These tomatoes are a great way to celebrate the fruit while it's at its peak but can be enjoyed any time of the year. 
Stuffed tomatoes can be customized to fit almost any palate. You can swap the rice for cauliflower rice, couscous, quinoa, farro or any other grain of your choice. You can add ground meat such as beef or chicken, or cooked lentils into the filling to bulk it up. Don't have fresh herbs? Swap out for store-bought pesto or use dried herbs. You can even take the flavor up a notch by cooking the tomatoes in a cast-iron skillet over the grill rather than baked in the oven.
Choosing the right tomato is important to this recipe. Beefsteak tomatoes and tomatoes on the vine are your best options. They are large enough to hold the filling and have stronger exterior walls than some other varieties, meaning they will hold up when cored and cooked . It's also important to salt the tomatoes; doing so will draw out any excess moisture. Don't skip this step or all that liquid ends up in the final dish, resulting in a mushy texture. You can save the tomato water and use it to make cocktails or chill, season it and serve it with cold soba noodles for a refreshing lunch.
Ingredients
6

medium beefsteak or vine tomatoes (about 2 pounds)

1

cup cooked rice, farro, couscous or quinoa

1

cup shredded mozzarella cheese

1/2

cup finely grated Parmesan cheese, divided

2

tablespoons finely chopped fresh parsley

1/4

cup chopped fresh basil, plus more for garnish

1

teaspoon garlic powder
1½

teaspoons Italian seasoning, divided

2¼

teaspoons kosher salt, divided

1/2

teaspoons freshly ground black pepper

1/4

teaspoon red pepper flakes

1/4

cup extra-virgin olive oil, divided

3/4

cup panko breadcrumbs
Preparation
1.
Place a rack in the top third of the oven. Preheat the oven to 400 F.
2.
Slice the tops off all of the tomatoes, right where the top curves and reveal the core. Using a spoon, slice around the core's perimeter, leaving about 1/4 inch shell, and scoop out the interior flesh and seeds. Season the inside of the tomato shells with 1/4 teaspoon kosher salt and set aside. Chop the tomato pulp and transfer the pulp to a fine mesh strainer set over a small bowl. Season with 1/4 teaspoon kosher salt and stir to combine. Set aside.
3.
In a large bowl, add cooked rice or grain of your choice, shredded mozzarella, 1/4 cup packed finely grated Parmesan, chopped basil, chopped parsley, garlic powder, 1/2 teaspoon Italian seasoning, 1 1/2 teaspoons kosher salt, 1/2 teaspoon ground black pepper, red pepper flakes and 2 tablespoons olive oil. Stir to combine, breaking up clumps of grains, as needed.
4.
In a small bowl, add panko breadcrumbs, 1/4 cup finely grated parmesan, 1 teaspoon Italian seasoning, 1/4 teaspoon kosher salt, and 2 tablespoons olive oil. Stir until the mixture is evenly combined and coated in oil.
5.
Drain any liquid from the tomato shells into the bowl with tomato water and place them in an 8-by-8-inch oven-safe dish or medium cast-iron skillet. Press the excess liquid from the chopped tomatoes, add them to the rice and cheese mixture, and stir to combine. Divide the mixture amongst the tomato shells, about 1/3 - 1/2 cup per tomato, gently pressing to pack into a flat surface.
6.
Divide the breadcrumb mixture on top of the tomatoes, about 3 tablespoons per tomatoes, and gently press into a flat surface. Transfer the baking dish to the oven and bake until the tops are deep golden brown, 15 to 20 minutes. Let cool for about 5 minutes. Serve warm topped with more basil.
How to shop TODAY recipes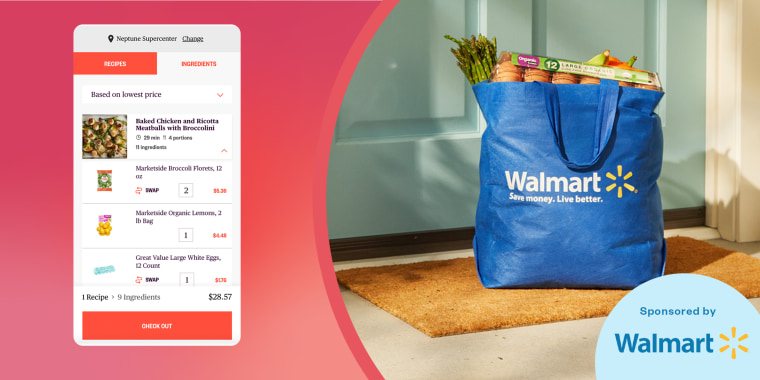 How to shop TODAY recipes
Here's everything you need to know about the cool new feature.
Learn More